I frittered away most of Thursday in a state of slow-motion panic. The majority of the day was spent sitting at the kitchen table, trying to make sense of the five pages, front and back, of scrawled notes spread out before me. I had to come up with a final menu and the corresponding to-do list, as well as the grocery list, or rather two or three grocery lists since I couldn't buy all the produce on Thursday because it would be starting to rot come next Tuesday and Wednesday when I would finally be ready to use it. I struggled through though, and by the time I went to bed that evening I had not only made my lists, but I had also gone grocery shopping, after which I picked over my Nicaraguan red beans while simultaneously attending a church council meeting.
I'm a skilled woman. Or else obsessed. Or else just skilled at being obsessed.
Right now there is a lull in all the craziness. My family (most of it) is here, the kids are resting, and everyone is lazing around, chatting and snoozing. In another hour it will be time for Mom's little birthday bash, but for now, I have my coffee and my computer and all is well.
So, would you like another cookie recipe?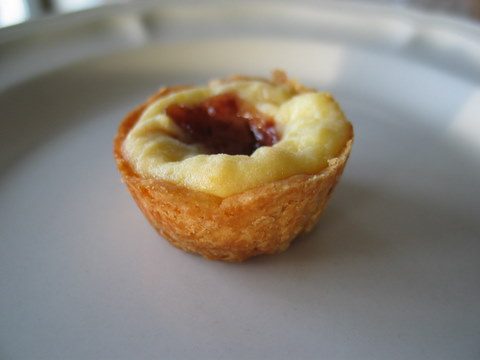 I said I would try to write up the recipes for all the Christmas cookies I make, but sadly enough, I've fallen short of my goal. That doesn't stop me from trying to catch up though.
Like I said, I'm skillfully obsessed.
These little cookies are oh-so-dainty, but yet they have Great Presence. They are a complete piece of dessert. You can't cheat with them, cutting one piece extra big, or secretly nibbling away at the edges. Which is kind of sad.

But what it lacks in snitching availability it makes up for in flavor. Each cookie stands on its own, and each cookie demands to be lingered over, savored, and enjoyed. And for the obsessed, that can be a pretty tall order. You know, repeated tastings and all that jazz.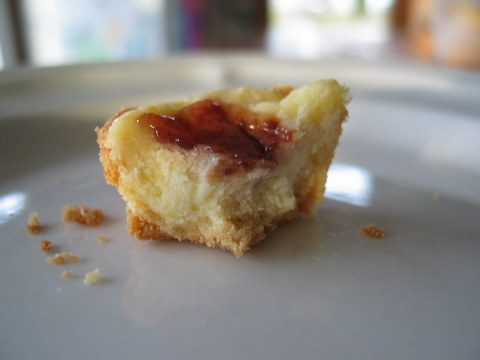 Sometimes it pays to be obsessed.
Lemon Cheesecake Tassies
Adapted from The All-American Cookie Book by Nancy Baggett
For the dough:
3/4 cup, plus 2 tablespoons, flour
5 tablespoons butter, cut into smaller chunks
1 large egg yolk
½ teaspoon vanilla
2 ½ tablespoons sugar
½ teaspoon lemon zest, finely grated or chopped
pinch of salt
Combine the flour and butter in a food processor and pulse until it has turned into fine crumbs. In a small bowl, mix together the remaining ingredients and then pour them into the processor. Pulse briefly, just until combined.
Using your hands, gently press the crumbly dough mixture together into a ball of dough. Divide the dough into 24 equal pieces.
Grease a 24-cup minimuffin pan, and press each little ball of dough into the muffin cups, shaping it so the dough rises up the sides. Bake the crusts in a 350 degree oven for 12-20 minutes, or until lightly browned.
For the filling:
1 8-ounce package of cream cheese
1/3 cup sugar
1 large egg
1 1/4 teaspoons lemon zest, finely grated or chopped
2 teaspoons fresh lemon juice
½ teaspoon vanilla
About 2 tablespoons seedless raspberry jam, well-stirred
Process all the ingredients, except for the raspberry jam, in the food processor until creamy and smooth. Scoop the mixture into the pre-baked crusts (there may be a little filling leftover—pour it into a little ramekin and bake it separately), making a slight indentation in the batter. Return the tassies to the oven and bake for 10-12 minutes. Put a little dollop of jam on top of each tassie and pop them back in the oven for another 3-5 minutes, or until the filling is puffed and brown.
Leave the tassies in the muffin pans to cool, though you may want to run a knife around the edge to loosen them up (especially in the places where some of the jam is touching the edge of the pan). Once the tassies are completely cool, remove them from the pan.

To freeze: Place the tassies in a plastic container, putting wax paper between the layers.