1. I keep a yellow legal pad on my desk so that I can jot down notes for this blog whenever new ideas pop into my head. Back when I first started this blog I jotted down "Thanksgiving—Pieces of April". I nearly forgot about that note, too, because there is a fairly large chunk of pages separating that page from my present scratching page.
But I remembered, thank goodness. And this is what I wanted to tell you. If you are in need of a refreshing and uplifting (my opinion, yes) movie (not appropriate for young children, though I can't really remember anything questionable—maybe one sex scene?) for the Thanksgiving weekend, go rent Pieces of April.
The plot is this: A young woman is estranged from her family (she was a wild child) and is living with her black boyfriend, and her family (her mother is dying of cancer) is coming to their apartment for Thanksgiving dinner. That's it. But you should see it, if for nothing else then for the sight of her stuffing the turkey with entire stalks of celery.
2. What is a post on Thanksgiving without a pumpkin pie? That's right. It's not a Thanksgiving post. Therefore, I shall gift you with my recipe. (You best mind your manners and be thankful.)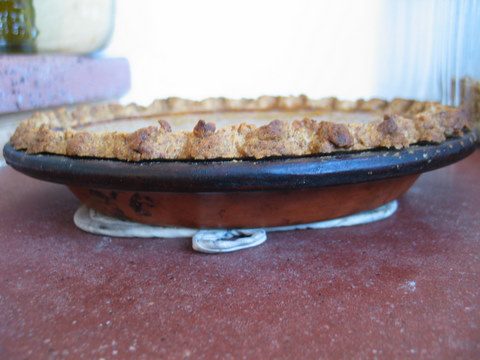 I normally make this recipe from butternut squash, but because I don't have any butternuts this year, I'm making do with the pumpkins and squashes I pulled from my garden—they serve the purpose just fine (though I think they are a bit more watery).

My children adore pumpkin pie. Yo-Yo Boy could easily tuck away a half a pie if I let him. And I often do because this recipe makes two pies (one an 8-inch and the other a 9-inch) so there is plenty to go around.
And besides, I consider this pie to be a breakfast pie; in other words, good enough to eat first off in the morning. It's mostly made of pumpkin, eggs, and milk, and if you use whole wheat in the crust, it couldn't get much more nutritious (don't argue with me about this). (Sure there's some sugar in the filling, but hey, it's not all that much—my baked oatmeal recipe uses almost as much sugar.)

Of course, the pie is very good with a dollop of whipped cream on top, but we reserve that for special occasions. My children are thrilled enough when they hear I'm fixing pumpkin pie—they don't even miss the whipped cream.

Pumpkin Pie
Adapted from The Mennonite Community Cookbook
Updated, December 2015: Fill one large 9 or 10-inch pie shell with as much pumpkin pie filling as possible. Put the remaining 1-2 cups in a container and freeze. The next time you make pumpkin pies, thaw the leftover filling and then you'll have enough for two large pies.
2 cups cooked pumpkin
1 1/3 cups brown sugar
2 cups milk, scalded
4 eggs
½ teaspoon salt
1 ½ tablespoons cornstarch
1/4 teaspoon ginger
1/4 teaspoon cloves
1 1/4 teaspoons cinnamon
2 unbaked pie shells (8-inch and 9-inch)
Using a hand-held mixer, blend together the pumpkin, eggs, sugar, and spices. Turn the mixer on low and slowly add the hot milk. Divide the pie filling (it will be very runny) between the two pie shells and bake at 400 degrees for ten minutes. Reduce the oven temperature to 350 degrees and bake for another 25-35 minutes, or until the filling has set and the pie is golden brown and slightly puffy.
Note: If you don't want to make two pies, just reduce the milk and pumpkin to 1 1/4 cups each, cut back the sugar to one cup, and keep the other spices the same—you should then have enough filling for one 9-inch pie. (I think.)