When my mother visited us earlier this week she told Yo-Yo and Becca Boo one of her Billy and Susie stories.
My mother started this story-telling tradition back when I only had two children, and when Sweetsie came along she added Marie Ann to the make-believe family, and then after The Baby Nickel, she added Jakey. My children beg for her dramatic stories (sometimes they involve a little play-acting on my mother's part, so enthusiastic and flair-ish is she), so when she comes to stay with us (or vice versa) Mom usually takes over the bedtime story responsibilities.
She schemes these stories in the car as she drives over the mountains to our house, or as was the case this last time, after we had finished dinner, right before it was time to tell the tale: I looked over at the vacated table and there was Mom, absentmindedly gnawing on her fork prongs and staring fixedly at the pumpkin cake. I thought maybe she had overdosed on the Julia Child potatoes, or that she was having an intense internal debate as to whether or not she should have a third piece of the cake, but when I gently called her name, she just grinned and said, "I'm thinking about the Billy story I'm going to tell." Oh.
Once in a while I put in a request for the kind of story I want since the stories tend to be chock full of important moral lessons (my mother is a very moral woman): Can you do a story about lying, please? We've been having a little trouble in that area. Or, The name-calling has got to stop; do a story about that, okay?
I didn't hear the Billy story this last time, but apparently the mama in the story (that mama is generally much more attentive to her children than I am—Mom, are you trying to tell me something?) made a cinnamon flop for breakfast because Yo-Yo Boy asked me later what a cinnamon flop was. I told him it was like a coffee cake.
"Have I ever had one?" He asked.
"Yes, you probably have," I said.
"Can you make us a cinnamon flop?" he persisted.
"Maybe…"
He didn't pester me about the cinnamon flop, but he didn't let it go, either. I could tell he was curious, and slightly confused, wondering what this floppy food could possibly be like.
So last night after the kids were in bed I googled "Cinnamon Flop". By then those two words had bored a hole down under my skin and had me hungering for some of that floppy cake myself, so my intentions weren't purely altruistic. But then, you probably already caught on to the fact that I don't make a habit of committing purely altruistic deeds—it's not my style. Anyway, I googled up a recipe that looked both simple and yummy.

I'm pleased to report that it was both.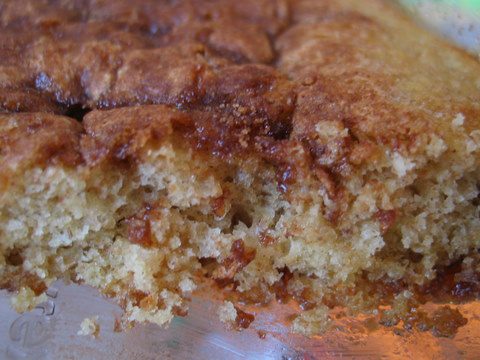 This cinnamon flop is quite similar to the Rhubarb Cake recipe, though not as rich. I like this recipe because it is a blank slate, an easy recipe to play around with: cut back on the sugar, add a glaze topping, throw in some chopped nuts or berries, play around with the spices, add more whole grains, whatever. You can't really mess this cake up.
You are making a flop, after all.
Cinnamon Flop
Adapted from some recipe I found on Google (naughty me, not taking notes—again!)
1 cup flour
1 cup whole wheat flour
1 1/4 cups sugar
3 teaspoons baking powder (is it necessary to use this much?)
Pinch of salt
2 teaspoons vanilla
1 egg, beaten
1 1/4 cups milk
½ cup brown sugar
2 teaspoons cinnamon
1/4 cup butter, melted
Mix together the first five ingredients (the dry ones). Add the vanilla, egg, and milk. Pour the batter into a greased 9 x 13 pan. In a small bowl mix together the brown sugar and cinnamon—sprinkle it over the batter. Drizzle the melted butter over it all. Bake the cake for 20-25 minutes at 350 degrees.