It's the middle of October, the stock market is lurching around like it's drunk (anyone who knows me will find it humorous that I mention the stock market since I do not enjoy/understand/follow financial matters), my garden is just about done, and my larder is full. Three of those statements really are not at all connected to the second one because my freezers and basement shelves would look like they do, regardless of the stock market's sobriety. I just want to be clear about that, so people don't think I'm freaking out or something.
The following pictures and list provide evidence that I did something this summer besides sit around all day and blog—we all know that there's certainly plenty of evidence of that. (Actually, I've probably logged more hours blogging this summer than I did gardening and putting up produce. Just think what all I could do if I didn't spend so much time talking about what I'm doing! But then, that wouldn't be any fun, would it?) It makes me feel productive to see lists and photos, especially on my blog. Because then that turns my blog into A Productive Work Of Art, right?
I need to make a confession, a clarification, an irritating statement of humility: This year we didn't put up many of our basic food staples, such as peas, broccoli, green beans, corn, salsa, and tomato juice, so I'm feeling a little insecure about the holes in our stash. Only a little insecure, mind you. Also a tad bit guilty because I know we could've done better. Not that I really wanted to do better. Though I am sad about not having green beans (thankfully, my mother, bless her heart, did some up for us).
I hesitate to tell you how I feel because I realize it could sound downright scandalous. Like I'm a martyr, or something. How dare I say that I haven't done much when this list and these photos point to the contrary? But listen. You gotta understand where I come from: a rich (Mennonite) heritage of gardening and preserving food and simple living and productivity. Compared to the standards of my ancestors and some present day family members, I'm not really doing all that much.
And when I pause to ponder the Little House series I realize that I'm just taking baby steps. And I'm still wearing diapers.
Everything is relative, you know.
Enough preambling. Let's take the tour.
Here are the shelves in the basement. I did not preserve the cans of paint at the end there. Just in case you're wondering.

A peek into the chest freezer.

And into the upright freezer.

Here is what I am most proud of: my collection of dried foods. It's my candy collection.

I keep some of my canning on display upstairs in the jelly cupboard that Mr. Handsome built for me. (Do you see the pregnancy mug in the upper right-hand corner? My father got that for me as a gift when I was pregnant with The Baby Nickel.)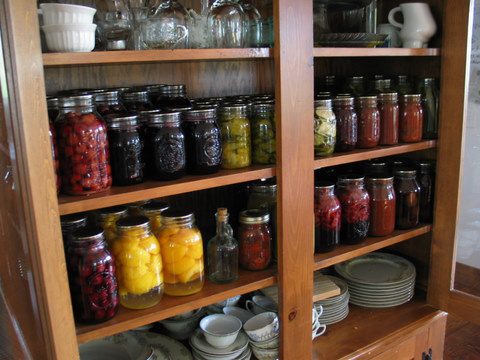 Oh, I almost forgot the potatoes. Back down in the basement, shoved back into the crawl space, and covered with a blanket. I'm not sure how many there are (and there are still a few more in the garden and some curing in the barn)—maybe three bushels? Four?

And down under the counter are the jars of fruit juice. I forgot about those the first time I made the run down to the basement.

I'm afraid I'm not going to be able to use up all our food. Not that we don't have the appetites for it, but because I'll forget about what I have. I tend to do that.
Here's the written list, for those who crave details.
Food Preserved 2008
*Rhubarb: about 16 cups, chopped, frozen
*Strawberries: 20 quarts, frozen, sliced, with sugar; 7 gallons, whole, frozen; 4-6 pints, dried; 7-9 quarts, canned
*Sour Cherries (from my girlfriend's tree): 2 quarts, frozen; 2 ½ quarts, dried
*Blueberries (local farm): 12 pints, frozen; 5 pints, dried; 2 pints, sauce with sugar, frozen; 3 pints, freezer jam (tasteless)
*Sweet Cherries (local farm): 17 quarts, unseeded, canned, with sugar; 4 quarts, unseeded, frozen, with sugar; 3 pints, dried; 4 pints, cook jam (and about 1 pint of flavorless wax cherries, dried)
*Apricots (local farm): 20-plus pints, cook jam; 1 quart (I think more), dried; 2 ½ pints, sauce with sugar, frozen
*Rainbow Swiss Chard: 9 quarts and 4 pints, chopped and frozen
*Apples: 25 quarts applesauce, canned, Lodi; 37 quarts applesauce, canned, Ginger Golds; 39 quarts applesauce, canned, Rambo; 16 quarts juice
*Blackberries (from our friends' woods): 7 pints, canned
*Cucumbers: 17 pints bread and butters, canned; 11 pints salad, canned
*Basil (from my garden, plus my girlfriend's): a countless amount (15 containers, plus maybe 12 muffin tins-worth) of pesto; 2 recipes of pesto torte
*Peaches (local farm), Century and Red Haven: 8 pints, frozen chunks for smoothies; 16 one-half pints, cook jam; 12 pints, pureed peaches with sugar, canned; 2 quarts, cubed for smoothies; 29 quarts, sliced, canned; 4 quarts and 8 pints, dried; 24 quarts, frozen with sugar; 8 quarts, halved, canned
*Tomatoes (local farm and our garden): 18 quarts, stewed; 2 quarts, dried, cherry; 7 quarts, oven-roasted; 21 pints pizza sauce, canned
*Green Beans (from mom): 4 ½ quarts, and she gave us about 40 more bags that she did for us
*Corn: some from my mom, maybe 10-15 quarts
*Nectarines (local farm): 5 quarts, canned; 2 quarts, frozen; 5 quarts, dried; 4 ½ pints cook jam
*Red Raspberries: 20 quarts, frozen
*Grapes: 6 pints, pie filling, frozen; 13 ½ pints, jelly, canned; 34 quarts, juice, canned
*Red Beans: about 34 pounds
*Black Beans: about 2-3 quarts
*White Beans: about 3 ½ quarts
*Potatoes (La Ratte, French Fingerling, Yukon Gold): 3-4 bushels
*Watermelon: fresh eating
*Pumpkins: Enough