I was going to wax eloquent about homeschooling today, but I am instead interrupting my program to bring you a recipe for an apple tart. It can not wait until tomorrow. I must get this recipe off my chest and into your hands immediately. It's an emergency.

This is one of Orangette's recipes. I love Orangette. Yes, I know I had that little falling out with her over chocolate chip cookies, but now, after this tart, all is forgiven. Totally forgiven. Peace and goodwill reigneth. We are bosom buddies forevermore. If she were to walk into my house right now I would kiss her feet. And then offer her a piece of tart. Then she would kiss my feet, of course. Because we are bosom buddies.
Orangette said this tart was simple, but then her instructions were about a mile long causing me to get a case of the silent inner tummy chuckle twitches. However, I will admit that her clear, precise instructions are what make her recipes so easy to follow, and so trustworthy. I'm cutting down on the verbage in this post (this is an emergency after all), so if you need more explanation, please do click on over to her site.
Basically, all you do is make a butter crust which you roll out into a rectangle and then you lay the apple slices on the crust, sprinkle the apples with sugar, and bake the tart. Afterwards you brush the cooled tart with a strained sugar, water, and apple-core glaze. So, you see, it really is a simple recipe.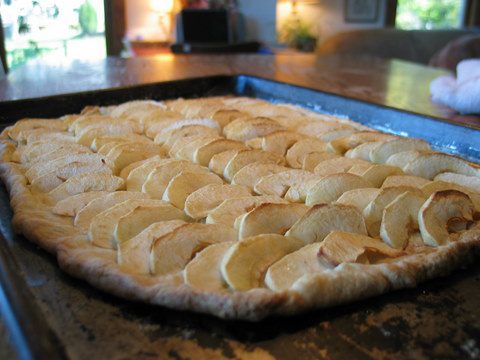 I followed her instructions almost to a T, but not quite. I was feeling a little frisky, so I replaced some of the water with apple cider, and then, get this, I added a sprig of rosemary! I don't normally do things like that—dashing uncalled for herbs into glazes is just not my style, and I almost never presume to improve an Orangette-endorsed recipe. But my oh my—that fragrant green sprig made me feel so high-end and classy that I'll probably start sticking it in everything! My nose, my ears… just kidding.
Another thing: I'm pretty much sold on this butter crust.
Just one more thing: One of Orangette's commenters suggested adding grated cheese to the butter crust.
Eh-hem. Stay with me here, please: If you don't add the rosemary, you could add some freshly grated nutmeg to the butter crust and then simmer the apple cores with a stick of cinnamon…
Apple Tart with Cider-Rosemary Glaze
Adapted from Orangette
For the crust:
1/4 cup cold water
3/4 teaspoon cider vinegar
3/4 teaspoon salt
1 tablespoon sugar
1 ½ cups flour
9 tablespoons cold butter, cut into chunks
Put the dry ingredients and the butter into a food processor and process until you have a dry, crumbly mixture. While the processor is running, slowly add the liquid through the feed tube—the crumbly mixture should almost immediately come together to make a ball of dough. On a piece of plastic wrap, press the dough into a disk, wrap well with more plastic, and refrigerate for at least thirty minutes.
When you are ready to assemble the tart, roll the dough out onto an ungreased baking pan, roughly forming a 11 x 16 inch rectangle.
Peel, core, and slice six or seven tart apples, reserving the cores for the glaze (just set them aside in a little saucepan). Lay the apples slices in tidy rows on the dough. Fold the edges of the dough over to make a crust, or else pinch them up to make a little wall. Sprinkle the apples with a couple teaspoons of sugar (I used Demerara).
Bake the tart at 375 degrees for 25 -35 minutes.
For the glaze:
3/4 cup sugar
½ cup water
½ cup apple cider, optional (if not using the cider, increase both the water and the sugar to one full cup each)
small sprig of rosemary
the reserved apple cores, optional (if not using the cores, use one whole cup of apple cider and omit the water entirely)
Combine all the ingredients, except for the rosemary, in a little sauce pan and simmer over medium heat until the liquid has reduced by about half—it should take about 30 minutes or so. Add the sprig of rosemary for the last minute. Pour the glaze through a sieve and brush over the cooled tart.

Note: Orangette did not comment upon whether or not it was imperative to consume the tart immediately after glazing, but I can report that while the glaze (and I only used about half of the mixture—I see another tart in my near future) did soften the crust a little, it did not take away from the crispy-buttery texture. In other words, wait to glaze the tart till you will serve it, but leftovers will be absolutely fine.