1. I read Sarah, Plain and Tall, by Patricia MacLachlan, for the first time in my life this past weekend. I picked it up off the shelf in the library and had to ask the librarian if it was an abridged version since it was so thin. She said that no, it was the real thing. I read it to the kids in three days (we could've easily done it in one sitting) and finished it up on Sunday night. I don't normally cry when I read to the kids (I do get a little choked up sometimes), but somewhere in the last chapter I started crying and I didn't stop till I finished the book. I don't mean a little sniffle cry; I mean, a tears-streaming-down-my-cheeks-and-Miss-Becca-Boo-flying-into-my-lap-to-hug-me type of cry. It is an exquisite book.
2. My Aunt Valerie gave me a new tip when she last visited me. She told me to save all the fruit juices that you have left in the bottom of your jars and use them to replace some or all of the water in your granola recipes. So in my last batch of granola I included sweet cherry juice, the dregs of the jar of apple cider, and some peach juice. I don't detect a change in the flavor, but it makes me feel kind of smug to do it.
3. I have always cut up my squashes and pumpkins and boiled them till tender and then scraped out the flesh to use in pies and other dishes, but this year I decided to learn how to roast them. All you do is wash the pumpkin, cut it in half, scoop out the seeds, cut it into smaller chunks, and set the chunks skin-side-down on cookie sheets.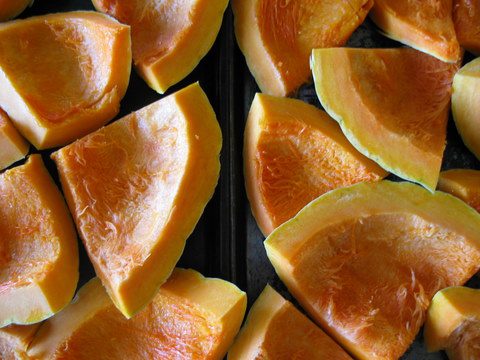 Cover the pumpkin with big sheets of tinfoil (I save them for the next time I do a pumpkin bake) and bake it in the oven at 350 degrees for a couple hours till the pumpkin is fork-tender.

After the pumpkin cools for a bit,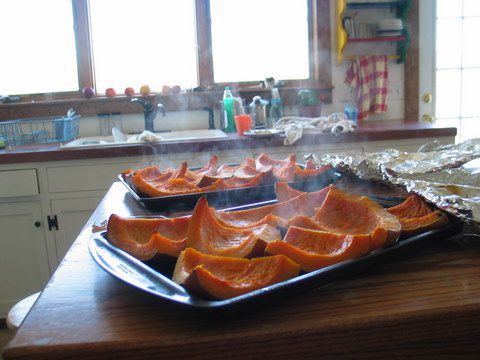 scoop out the meaty flesh.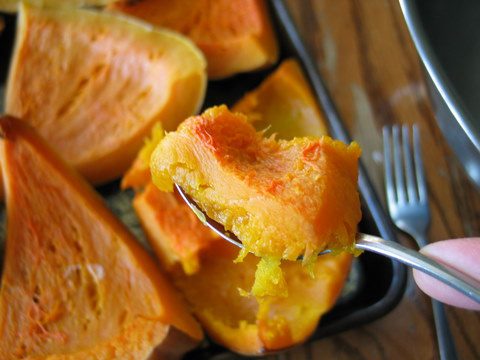 Allow the scooped-out pumpkin to sit in the bowl for a little because some more liquid will ooze out which can then be poured off.

Pack the pumpkin into pint-sized boxes and pop them in the freezer.