Photographs are taken from The Donut Party of 2007
I have some bad news and some good news.First, the bad news: I don't think we're going to have a Donut Party this year. I'm so sorry. I am sad about this decision, actually kind of grieved, but also relieved because for some reason both Mr. Handsome and I have felt stressed and tired lately. We're hoping this decision is for the best.

And now, for the good news: As a small compensation for our failure to carry out our end of the deal (I realize there's no "deal", per say, but I know people look forward to this party and count on us to churn out enough donuts for their annual stuff-fest, so I am struggling with some guilt issues), I will share with you the recipe for the donut dough—it's a keeper.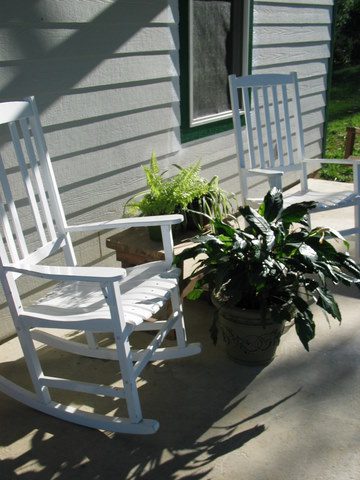 Maybe you will decide to throw your own donut party? That would make me happy, especially if you send me a token invitation. Or maybe you'll simply bake up some sweet rolls and stash them away in your freezer for the lean winter months? Go with whatever is less stressful for you; both options are tasty.
All set up and ready to go
Edna Ruth Byler's Potato Dough
Adapted from the More-with-Less Cookbook.

This is the basic dough recipe from which you can make any number of baked goods, most notably donuts and sweet rolls, but also sticky buns, dinner rolls, raisin bread, coffee cake, and so on.
3 tablespoons yeast
1 cup lukewarm water
4 cups milk, scalded
2 cups mashed potatoes (no milk or salt added)
2 sticks butter
1 ½ cups sugar
14-16 cups bread flour
2 eggs, beaten
2 tablespoons salt
In a small bowl, stir together the yeast and water. Set aside until bubbly.
In a heavy-bottomed saucepan, scald the milk (very hot, but not boiling) and then remove from the heat. Add the butter, stirring periodically until it has melted.
Peel and roughly chop two or three large potatoes and cook (boil or steam) until very tender. Drain well and then, using a hand-held mixer, beat the potatoes until they are silky smooth. Measure out the two cups of potatoes and dump into your very biggest mixing bowl. Add the hot milk and butter. Add the sugar, three cups of the flour, and, once it has cooled to lukewarm, the yeast mixture.
Add the eggs and salt, stir well, and then add the remaining flour. Knead the dough until it is soft and satiny, sprinkle the bowl with flour, and then return the dough to the bowl and cover with a cloth (or plastic wrap) and let rest until it has doubled in volume (about two to four hours).
Donuts
On a well-floured surface, roll out the dough into a big circle about a half-inch thick. Using a large glass (or a big biscuit cutter), periodically dipped in flour, cut out the donuts. Someone else can follow along behind with a small glass (or a small biscuit cutter) cutting out the holes. Lay the donuts and their holes on cookie sheets, leaving some space in between them so they don't touch each other when they puff up, cover with a large cloth, and let rise until they have grown one-half their size, about one hour. It's important not to allow them to rise too much because they will be more likely to deflate when handled later on, and remember, they will continue to rise once they hit the hot fat.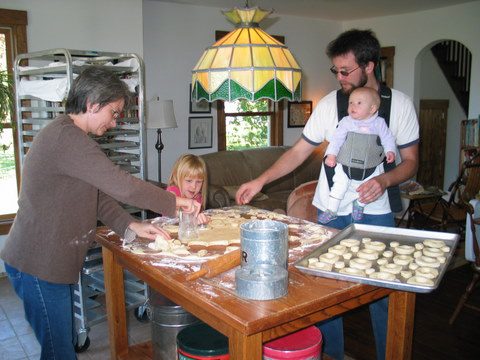 Matt, Monica, and Baby Mara, and Miss Becca Boo (note the industrial pastry cart in the background)
Pour a gallon of canola oil into a large kettle and heat it up until piping hot (but never boiling). I don't go by temperature, so when the oil seems hot enough I plop in one of the donut holes for a test run. It should take about two minutes to fry, one minute on each side. It takes a little finagling to figure out the best oil temperature and frying time, so plan to fry up several small batches before you start frying in bulk.
The party in full swing.
Using a slotted spoon, remove the fried donuts from the hot fat and immediately dump them into the big bowl of glaze (recipe follows). Coat each side with the glaze and then string them onto wooden spoon handles, dowel rods, or long sturdy sticks and rest the sticks over a large empty bowl or wash tub to let them drip some more. Once the glaze has hardened, transfer them to a cookie rack, a cut-open brown bag, or a serving tray. The donut holes can go straight from the bowl of glaze to the cookie rack.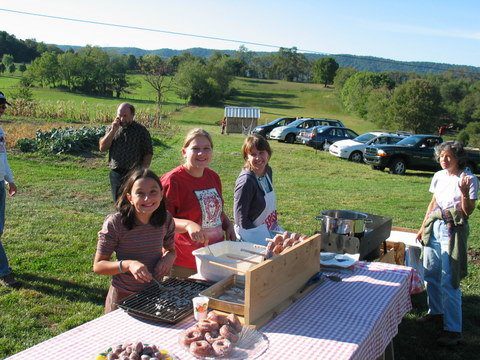 The Frying Assembly Line
In the above picture you can (kind of) see here the really nice donut dripper that Mr. Handsome fashioned for me by nailing two boards together and then cutting the rods off of one of our old drying racks, slicing the rods up into pieces and then sticking them at an angle into the back board. All I had to do was set a cookie sheet under the donuts to catch the drips.
Baby Nickel takes over

Glaze for Donuts
Makes enough for one batch of Edna Byler's Potato Donuts, plus a little extra.
4 pounds powdered sugar
4 tablespoons butter
4 teaspoons vanilla
1/4 teaspoon mace
milk or cream, enough to make a thin glaze
Sift the powdered sugar. Using your fingers, blend the butter into the sugar. Add the vanilla, mace, and milk, starting with about a half cup and adding more as needed. The glaze should be runny enough that it quickly and smoothly drizzles off the stirring spoon.
This glaze can be made ahead of time and stored, well-covered, in the fridge.
We made six batches of the potato dough and had some left over.
Donuts are best eaten fresh, but if you do find yourself with leftovers, do not be alarmed. Simply pop them into plastic bags and then into the freezer. To thaw, remove the donuts from the bag and set them on a plate. When they have thawed, reheat them in the microwave for about ten seconds.
Ps. The kids are a little sad that we're not doing the party this year, so as compensation (and to shoo away those nasty guilt feelings) I promised them our own private donut party. Yo-Yo Boy's primary concern is that he will still be allowed to eat all he wants, and of course I said yes, so he claims he's going to eat fourteen (I have no idea where that number came from).
Maybe I'll call up some friends at the last minute—if I do it without thinking, real fast like, then I won't have time to worry about the weed thicket that's taking over the garden, the finger smears on the kitchen windows, and the fly specks on the walls and ceiling. Who would notice that stuff anyway if I fling a donut at them as they are pulling into the driveway?

Wait a minute here. I think I just implied that no one would care about my unkempt lawn and dirty house if I flooded them with donuts, which means that we could still have the party without worrying about the house. No no no! I went through this already! The decision is final! (I think.)