For the past three years, Mr. Handsome and I have hosted a Donut Party. The first year we just invited a bunch of friends, but the last two years we ended up (intentionally) inviting the entire church. Let me tell you, it is a huge production: hauling home the industrial pastry cart, cookie sheets, and coffee carafe from the church, as well as several flats of coffee mugs; purchasing about 10 gallons of apple cider from our Mennonite Relief Sale; rigorously cleaning up the property and scrubbing down the house; setting up the outdoor gas stove and the tables (old doors stretched out over sawhorses and covered with tablecloths); and finally, mixing up and frying a half-dozen recipes (the directions say one recipe yields 100 donuts, but I make 'em big) of Edna Byler's Potato Dough.
In January of 2007, our church did a series on hospitality and I was asked to give my two cents as a response to one of the sermons. This is what I said (some names have been changed, because I didn't refer to my husband as Mr. Handsome since he did not have that name then, though he was certainly quite fine looking, even back then):
*************************
This past fall Mr. Handsome and I invited all the church to come to our house for a donut party. The morning of the party I woke up sick. My head hurt, I had a sore throat, and I was achy and exhausted.
The previous day I had mashed the potatoes for the dough, but now at 5:30 am, as I stood over the bowls of hot milk and butter and sugar and potatoes, I was dismayed to discover that cold mashed potatoes, no matter how creamy they were when hot, stay in little chunks when re-mashed.
Mr. Handsome said we could call the whole thing off, but I rolled my eyes at him and popped some Tylenol for not only my physical aches and pains, but now also my mental anguish.
At four o'clock, right as the cars started driving in, I plopped the first donuts into the hot fat. Immediately I was surrounded. The Serrels, Glanzers, and Stensons, everyone watching and waiting and snatching the donuts up as fast as I could fry and glaze them. I should have started sooner, I realized.
When I finally got a chance to grab a bite, I was horrified. These donuts that were supposed to be so light and tender were squishy inside! I felt sick to my stomach, ashamed and mortified. How could I serve bad food to all these people? I looked at the cars coming, and I desperately willed them to stop.

Mr. Handsome fetched me a drink of the apple cider. Yuck! It hadn't thawed all the way, so it was all watery and grainy. We should have set the jugs out the night before.
Soon people were returning for seconds. This was a good sign, right? Or were they just eating more so I wouldn't feel bad? My head was in a sick fog; I couldn't think rationally. In any case, they were eating them fast—we had to get another kettle going. Gradually things evened out and fell into a rhythm. Shannon quietly assured me that the donuts were just fine. Really. I tried to make myself to believe her. I felt better when some one, I forget who, thought they shouldn't eat another donut and Elaine loudly declared that she'd eat as many as she could hold. Yo-Yo Boy boasted gleefully that he'd eaten ten.

I looked around. Jamey, Chris, Lee, Eliot, Keith, Nate, and Wayne stood in a row behind me, talking, eating, holding babies, watching everyone. Leah was working steadily alongside me, glazing the donuts. Julie's mother stood on my other side, discussing frying techniques. Tina was snapping photos. Matt was rocking a sleeping Baby Nickel on the porch. Vi and Sara were chatting by the coffee. Eileen, Jen, and Andrea lounged in lawn chairs, and over at the swings Meg and Gretchen visited while their boys played. The trampoline, loaded with kids, was ringed by adults. More kids were down on the dirt pile in the field, and more people were milling in and out of the house. The sky was blue. It was cold, but no one seemed to mind.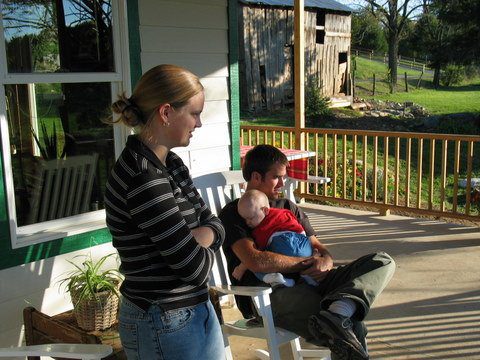 After it got dark, and after everybody drove off, including Hugh and Kathy, the last to leave, who took the last donut with them, Mr. Handsome and I grinned tiredly at each other. It was over. There was still a huge mess to clean-up, but it had been an amazing afternoon.
All these people, they bothered to come. I didn't even know a lot of them very well, and some not at all, and I didn't know if they would be interested in us. However, in the warmth of their graciousness my mistakes had melted. These were our friends. For me, they had made the party.
****************************
I have more to say on this topic, but I'm feeling winded and need to take a breath. I'll be back soon. I promise.