Mr. Handsome transferred the bodacious babes from the wheelbarrow to the picnic table so every time I walk out the door I am faced with a lot of potential, or a lot of work, depending on my mood.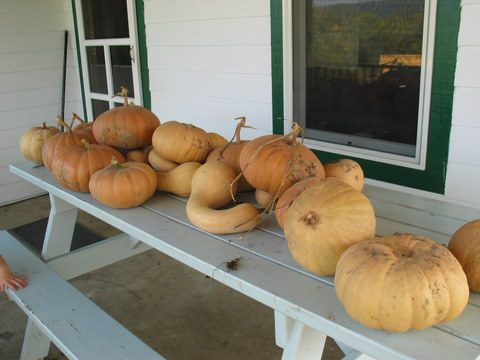 I decided to take the bull by the horns, or the pumpkin by the stem, and tackle the problem, so a couple nights ago I chopped up one of the babes, baked her, and scooped out all her flesh. I made pumpkin smoothies for a bedtime snack. They had potential (that's a nice way of putting it), but in a good way (the majority of the family did enjoy them), so I'm not going to say any more about that endeavor until I tweak the recipe into perfected and bloggable submission.
Not that my other recipes are perfect or anything.

And then I made a pumpkin cake/bars which I will share that with you. Today. Because it's good. Like a pumpkin version of banana bread or carrot cake. The cake did get a little dense on the bottom, which is probably a sign of a baking failure, but I actually liked the texture—moist, light, and dense all at the same time. And if you don't believe that is possible, you'll have to make the cake for yourself just so you can discover what an oxymoron tastes like.
I cut into the cake while it was still warm. Patience is not one of my virtues, and this time around I was rewarded for my lack of virtuosity.

Pumpkin Cake with Cream Cheese Frosting
(Slightly adapted) from Simply In Season

2 cups pumpkin, cooked and mashed
1 ½ cups sugar
3/4 cup oil
4 eggs
1 teaspoon vanilla
½ teaspoon salt
1 cup flour
1 cup whole wheat flour
2 teaspoons baking powder
1 teaspoon baking soda
1 teaspoon cinnamon
Using an electric hand mixer, beat together the wet ingredients (the first five ingredients on the list—I'm counting sugar as a wet ingredient here). Add the dry ingredients and stir well, but not too much. Pour the batter into a greased 9 x 13 baking dish and bake at 350 degrees for 25-30 minutes. Cool completely before icing.
Cream Cheese Frosting
I did not use measurements for this, so the amounts are just my guesstimates.
2 tablespoons butter, softened
4 ounces cream cheese, softened
½ teaspoon vanilla
2-3 cups powdered sugar, sifted
a little milk
Beat the cream cheese and butter until smooth. Add the vanilla and sugar and beat well. Add some milk, a tablespoon at a time, until the frosting is a nice, spreadable consistency. Spread on the cooled cake.

One word of caution: Don't eat too much, or you may turn into a Bodacious Babe yourself. You know, round, curvy, sexy … and orange.