I made dessert for supper last night. I don't normally do that. Usually I have enough trouble rustling up a balanced meal (does applesauce count for a vegetable if it's green and tart?) without worrying about another course. But I'd been eying a recipe for Blueberry Coffee Cake, and since it looked simple, and my dinner needed some blue in it (you did know that you're supposed to have blue foods at every meal, right?—they make you smarter), and we had leftover homemade vanilla ice cream that would pair nicely, I quickly whipped it up and popped it in the oven.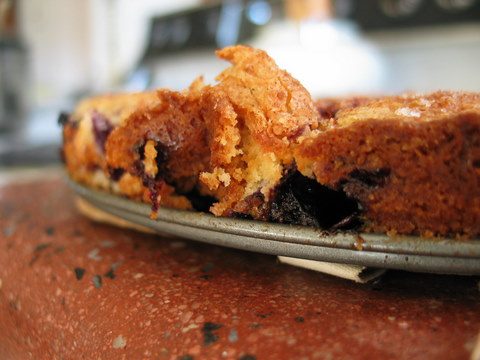 Wowsers! It was knock-out good. And drop-dead simple. Any idiot could make it. Not that anybody reading this would ever be considered an idiot, of course. It's like eating a whole bunch of blueberries held together with a soft cookie dough.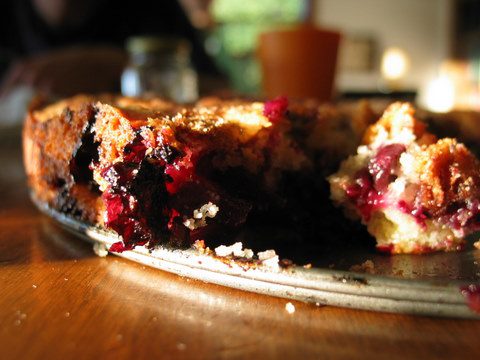 Blueberry Coffee Cake
Adapted from Sarah Beam's blog, Postmodern Feeding
Now, this recipe makes a small amount of batter which doesn't seem like it will even cover the bottom of a springform pan, but I followed the instructions and the result was a slenderly sophisticated cake. (If I eat it, will I then be a slenderly sophisticated woman? But of course.) The cake is to be baked for 55 minutes, but I was disbelieving (woe is me, the Doubting Tomette) because I didn't see how a cake that thin needed that much oven time and so I took it out early. It was still fine, but it would have benefitted from another 5-10 minutes in the cooker.
Updated September 12, 2014: made this with plums instead of blueberries. Press the plums, skin-side down, into the batter and sprinkle with cinnamon sugar before baking. Serve with whipped cream.

½ stick butter
4 ounces cream cheese
1 cup sugar
1 egg
1 cup flour
1 teaspoon baking powder
1/4 teaspoon salt
1 teaspoon vanilla
2 cups frozen (or fresh) blueberries
2 tablespoons sugar and 1 teaspoon cinnamon, mixed together for the topping
In a medium-sized mixing bowl, beat together the cream cheese and butter. Add the sugar and egg. Stir in the flour, baking powder, and salt. Add the vanilla. Gently stir in the blueberries.
Press the mixture into a greased springform pan. The mixture will be stiff, especially if you are using frozen berries. Sprinkle the cinnamon-sugar mixture over top. Bake the cake at 350 degrees for 45-55 minutes.