I have posted almost nothing about food lately. Well, at least not about anything other than bread. But I'm going to change that. Right now.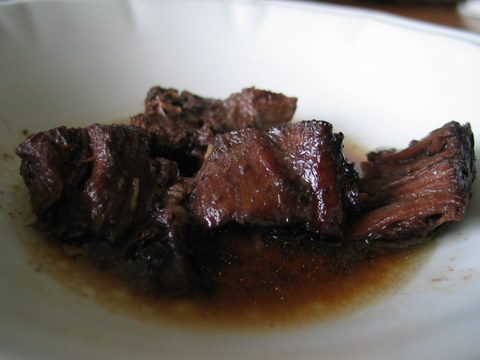 Cooking with beef, besides the ground stuff, intimidates me. There are all the different types of cuts to choose from, and then there's the browning part which is really messy, and then the baking/roasting part and the accompanying struggle to determine when it's done, not to mention that you need to figure out what "done" means to you. It's all very confusing and tiring.
But I have found a recipe that is beyond simple. There are only five ingredients and there is no messy browning and you bake it to death so there's no question as to when it's done. And it's delicious and sophisticated to boot.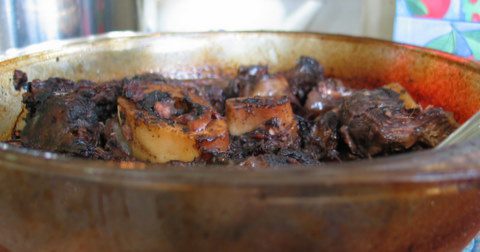 I made it last night for supper and then reheated it for lunch to day and there is still a bunch leftover. That's a good thing.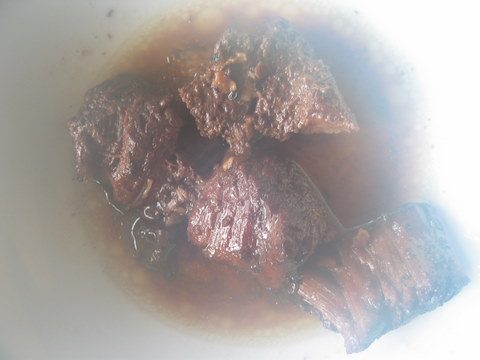 Peposo (beef with black pepper and red wine)
Adapted from Heat by Bill Buford
The original recipe calls for four heaping tablespoons of black pepper, but I use considerably less, about two teaspoons, which is a nice amount of spicy though still too hot for the young and unsophisticated taste buds of the little people in my house.
2 beef shanks, or soup bones with lots of meat still hanging on, or another cut of tough meat
1 bottle of red wine (Buford calls for Chianti, but any kind will do—I'm not that sophisticated), and then maybe some more
1 head of garlic, cloves peeled
1-3 teaspoons sea salt
2-6 teaspoons freshly cracked black pepper
Put the meat in a big baking dish. Sprinkle it with the salt and pepper. Toss in the cloves of garlic and pour the bottle of wine over all. Cover the dish well, either with a lid or some tinfoil. Bake at 350 degrees for one to two hours, and then turn the oven back down to 250 degrees and continue baking for another two to five hours. Check the meat every hour or so to make sure that the liquid isn't evaporating away too much, adding more wine as needed.
Serve with crusty bread to sop up the juices and a glass of red wine. That's all you need.

Anything else is superfluous.