Remember all that Swiss chard that I put in my freezer for us to eat come winter for our family's scurvy prevention plan? Well, I anticipate that I'll prepare that chard by adding it to quiches, so on Saturday I made three quiches, just to experiment with how it tasted (I was using fresh chard, not the chard I had frozen, so I guess it wasn't a very accurate experiment). One was for my Balding Bro's family's supper because they had just moved the town that very day, the other one was for my family, and the biggest one was for the church potluck.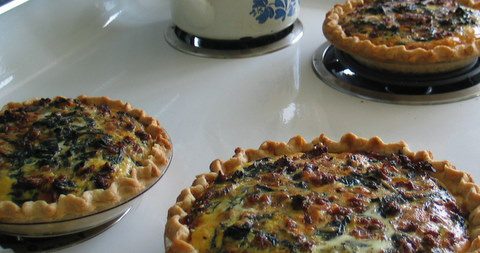 Quiche is a wonderful dish because it is flexible in regards to ingredients, is packed with protein, and it stores and reheats very nicely. The only problem is that it needs to be baked, and no one likes to crank up an oven in the middle of summer, but if you prepare three quiches at a time, then it doesn't feel quite so bad—then you're getting a lot of food for just one hour of suffering.
Quiche
Adapted from Simply In Season



I use the recipe from Simply In Season to figure out the how much custard to mix up, but I just compile the rest of the filling ingredients based on what I have in the refrigerator—breakfast meats are tasty, a variety of cheeses (ricotta, Parmesan, cheddar, etc), and something green to round it out (spinach, chard, broccoli, asparagus, zucchini). Mushrooms, onions, and roasted tomatoes are all great add-ins. For Saturday's three quiches, I used a giant skillet (pre-cooked) of chopped chard, stems removed, one pound of sausage, about four cups of cheese, and three giant onions, caramelized.
Custard:
3 eggs
½ cup cream
½ cup milk
1/4 teaspoon each of salt and black pepper
one 9-inch pie crust
In a mixing bowl, whisk together the eggs, milk, cream, salt, and pepper.
Filling:
Prepare your other filling ingredients. For example:
*caramelize the onions in olive oil
*saute the spinach, chard, mushrooms, zucchini
*brown the meat
*steam the asparagus or broccoli
*grate the cheeses
In a large bowl, toss the cheeses together with the cooked meats and greens. Aim for about one quart of prepared filling.
Assembly:
Lay your pie pastry in the pie pan and crimp the edges. Put the veggie-cheese-meat filling in the crust. Pour the egg custard over top. Sprinkle the quiche with black pepper.
Bake the quiche at about 375 degrees for 40-50 minutes, until the filling is set (it doesn't wobble when you jiggle the oven rack). If you have trouble with the edges of your crust browning too quickly, then lay some tin foil over the quiche for part of the baking time.
Allow the quiche to cool for at least 15 minutes before serving.