It's crunch week, y'all. We're racing the clock to get as much done as possible before flying home on Sunday.
Thank goodness we have two expert workers chipping in this week. My cousin is back (for the third time!) and he done did bring his daddy-o.
The two of them, plus my husband and kids, are whirling around the property like mini tornadoes (the good kind), pouring another porch step, grouting tile, installing doors, putting in the kitchen counter and cabinets, doing the porch roofs, finishing the painting, cleaning up the property.
We won't be quite done when we leave — but the place will be liveable, fingers crossed — so my cousin will stay for another week, trying to get it as close to done done as possible.
In addition to the work crunch, there's the social crunch — trying to pack in as much friend time as possible. Saturday night we stayed up late watching a movie and munching on popcorn, almonds, and craisins at our friends' house. Sunday there was bowling and games and hanging out at Church's. Monday, Marita, a friend from church, and Carmen came over to teach me how to make mofongo.
They also made churrasco and whipped up a bowl of mayoketchup, and I made a cabbage slaw and blondies. Also, Carmen brought along her massage chair so we could take turns fighting over it.
But hang on a sec. I gotta say a little more about Carmen. Just this, really: She is a HOOT.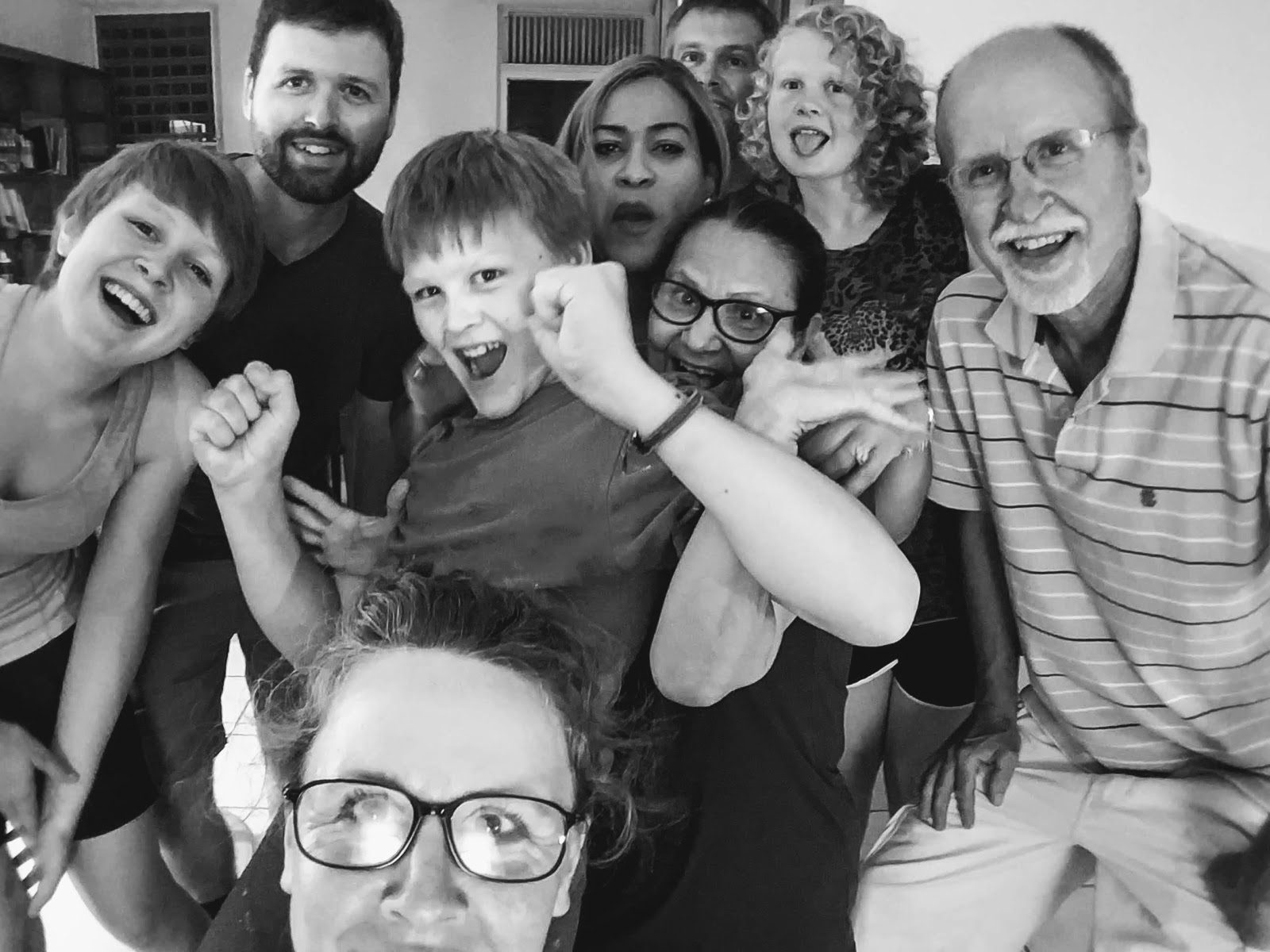 Over at the jobsite, she instigated a game of swords with my younger son, and then, because she was worried that my husband would get upset, she went home and crafted swords from foam noodles. My husband said he looked out the window and there she was, battling it out with the kid!
Also, she doesn't approve of my daughter's new piercing, so when my daughter came out with an ice cube pressed against her ear, Carmen snapped in Spanish, "You're the one who wanted a piercing so now just deal with it, ha!" and to me, "translate THAT!" and so I did, and then she leveled my daughter with the hairy eyeball to beat all hairy eyeballs and we shrieked with laughter, my older daughter loudest of all.
So, continuing on….
Last night I cooked supper for Nilda, Carmen, Nicole, and Norleene (and the two volunteers). All summer long they've been cooking for us, so it's high time we turned the tables, I figured. And then afterward, everyone ran off to a basketball game, and now tonight a friend is coming over for a baking lesson….
And today is only Wednesday, pant-pant.
Two other things before I forget!
First, I never told you about The Pan de Agua Car. Nearly every morning a car wends its way through our neighborhood, a recorded voice telling everyone to take advantage now. When my parents were here, my dad kept asking, What are they saying? What are they selling?
I have no idea, I said. I didn't care to know, really. Ad cars pass all the time, their speakers so offensively loud that I had long since tuned them out as a silent boycott against their rudeness. Whatever that car was selling, I wanted none of it. Just some peace and quiet please.
And then, a few weeks after my parents left, it suddenly dawned on me: that car was selling bread! And then, of course, I had to flag it down to investigate.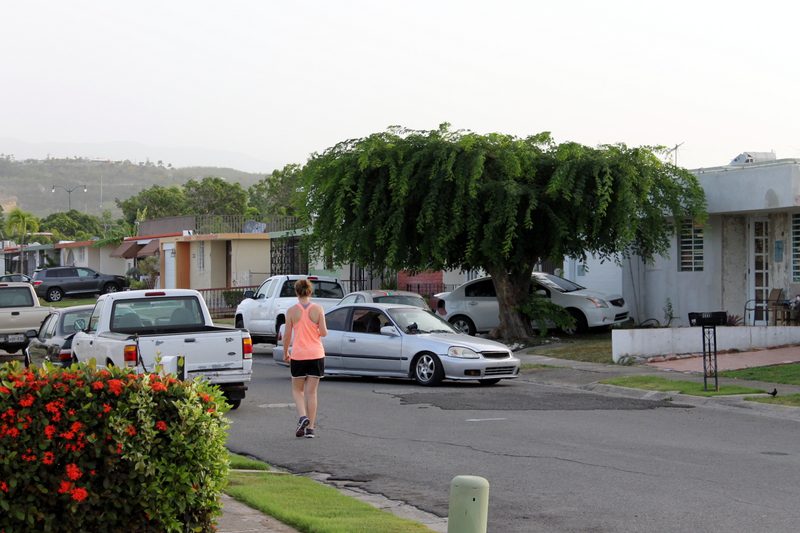 In the backseat was a huge sack of pan de agua, the long thin loaves standing on their ends like a bouquet of flowers. Up front on the passenger's seat, was a box of smaller loaves of pan sobao, and couple bags of sweet buns with raisins.
That first morning, I bought some of everything, and ever since, I've been a faithful customer. Mornings when I hear the recording (which isn't nearly as offensively loud as most, I've realized) and we're low on bread, I snatch a couple pesos from the money jar and dash outside to stock up.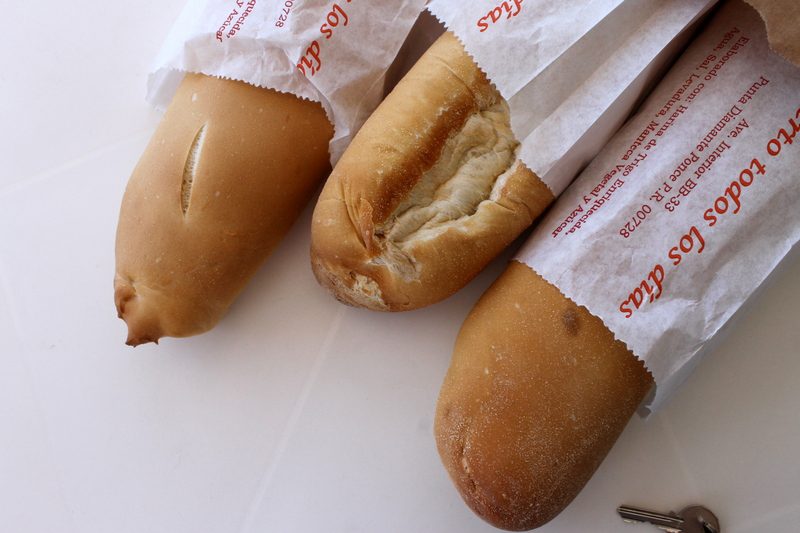 pan sobao on the left, pan de agua on the right
It's super convenient (though I am eager to get back to homemade sourdough!).
Second, a question: Can I pack homemade (unsealed — it comes in old rum bottles) vinegar in my checked baggage?
At the same fruit stand where I discovered parcha, I found a homemade vinegar. It's called pique, and, packed with red peppers, fresh garlic, stems of oregano, and olive oil, it's the perfect blend of flavor and heat.
I pour it on anything — eggs, rice, meat — and have become rather addicted, so naturally I want to bring back a few bottles.
However, I'm not sure the vinegar will be allowed through customs since it's homemade and the bottles aren't sealed. On the other hand, Puerto Rico is part of the US, so maybe they wouldn't be as picky? Anyone have any experience with this?
This same time, years previous: don't wear deoderant, the quotidian (8.29.16), tomatoes in cream, peach crisp, Bezaleel scenes, puppy love, fresh tomato salad, roasted tomato sauce.