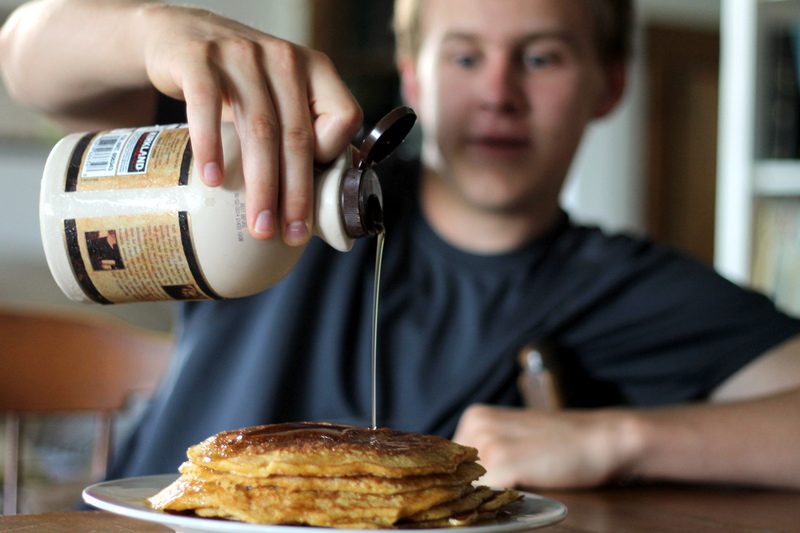 Teenagers are huge eaters, or at least that's what I hear. I have read countless posts in which mothers detail their never-ending struggle to keep their teens' tummies full. We need more nourishing snacks! they plead. We're running out of ideas! At a family reunion, someone suggested we have a grazing bar for the teens, as though teens are insatiable beasts and must be kept appeased at all times.
Ever since the kids were little—and probably before they were even born—I looked forward to feeding a pack of teenagers. I'd be able to cook anything I wanted, and lots of it, too, and then I'd get the satisfaction of watching my children enthusiastically devour the food with gusto, no complaining. Furthermore, in the hollow-leg stage, there would be no such thing as "watching it"—for a few glorious years, the kids would be able to feast on all the cinnamon buns and chocolate cake they wanted and then, never full, turn right around and gobble down baked potatoes, veggie soup, and tomato sandwiches. What fun!
Alas, this has not been my experience. My teens eat boringly healthy quantities of food, get full, and stop. Unless it's something they love, they rarely take seconds. They don't snack, either. Sometimes—and this is the thing I find most baffling—if it's not a meal they like, they're fine saying no thanks and patiently waiting until the next meal. So much for this teen plague of persistent hunger.
Maybe it's too early to talk. Perhaps they'll turn 17 or 18 and suddenly be overcome with episodic bouts of starvation. I really don't know. It's just that from where I sit right now, the whole teens-are-bottomless-pits talk is, I'm sad to say, just that. Talk.
So what's your story? Are you one of those moms frantically searching the web for a good homemade granola bar recipe? Or are you, too, crushed by their non-energetic appetites?
Signed,
An Abject Mother Cook
PS. I'm not that abject. The kids have healthy appetites, and I get plenty of chances to cook. Still, I have been surprised at the absence of a noticeable appetite shift, especially now that they're shooting up like weeds. I find it curious, that's all.
PPS. Now my nine year old, on the other hand… When that kid gets hungry, he's frantic. If I don't toss some food his way right quick, all hell breaks loose.
PPPS. Re that photo: he only ate about two-thirds of that stack before passing the plate to his hovering grandaddy. (Now there's a man who can eat.)
This same time, years previous: the quotidian (9.29.14), a different angle, chocolate birthday cake with vanilla water frosting, ciabatta, dumping: a list, butterscotch cookies, and peposo.