I think I read about this twist on traditional grilled cheese in a recent Bon Appetit. Instead of using butter for the outer sides of the sandwich, they suggested using mayonnaise.
Naturally, I was curious. Would the mayonnaise make the sandwich taste different? Would it get the bread as toasty-crisp as butter does?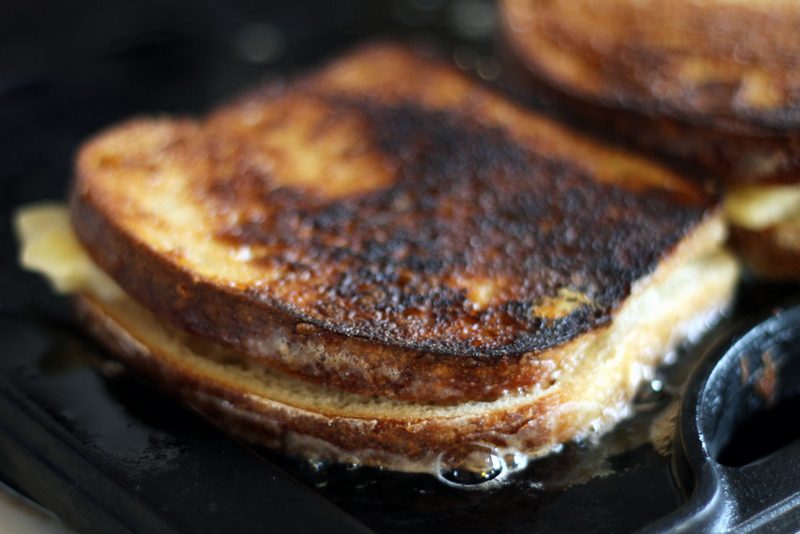 Turns out, the flavor is excellent, but I would never guess my grilled cheese had mayonnaise on the outside. (And since the skillet gets a light butter greasing before adding the sandwiches, there is still some butter flavor.)
But even though there's not a noticeable improvement to flavor, I discovered a couple practical benefits to using mayo:
1. Mayonnaise is way easier to spread. No more ripping up the bread with firm butter!
2. Mayonnaise provides complete bread surface area coverage which translates into uniform golden toasty goodness.
These benefits have me sold. I have been making my grilled cheese with mayonnaise ever since.
A Better Grilled Cheese Sandwich
the bread:
Any kind works, but I'm partial to a sturdy artisan bread like my homemade sourdough. And not whole grains, please. The whiter the better.
the cheese:
A good, melty kind, whatever you like, and a lot of it. Seriously. Pack it in there. (The sandwich in the pictures did not have enough cheese.)
add-ins (optional):
If using add-ins like ham or roasted tomatoes: put a layer of cheese, then the add-in, and then another layer of cheese. This way the melty cheese will bind everything together most spectacularly.
the mayonnaise:
A thin coating on the outside pieces of bread. Full-fat, of course.


the butter:
Just a tad.
the process:
Make sure the skillet is fairly hot before adding the sandwiches and then turn the heat down to medium. Take your time—the longer the better. Ten minutes? Fifteen? Rotate the sandwiches to get them evenly toasted.
Do you have any killer tips for making a better grilled cheese sandwich?
This same time, years previous: the quotidian (6.2.14), when the studies end, on pins and needles, the quotidian (6.3.13), meat market, chocobananos, of a sun-filled evening, the best chocolate ice cream ever, sour cream ice cream, on hold, and hypothesizing.