I didn't grow up with home-canned spaghetti and pizza sauce. Up until several years ago when I started making my own, I was content to add a couple cans of plain, store-bought tomato sauce to a pot of sauteed onions, garlic, green peppers, and herbs. It worked, and I was happy.
But then I started experimenting with my own sauce and promptly fell in love with both the method and the results. It's a slow process, and not a very pretty one, truth be told, one that involves buckets of sweat and boatloads of dirty dishes. Broken down, the process goes like so: the tomato picking (or acquiring), the blanching, peeling, and coring, the chopping, simmering, and pureeing, and then, of course, the canning. If you're making a pizza or spaghetti sauce, there's also the onions, garlic, and peppers to clean, chop, and saute, the fresh herbs to gather, clean, chop, and measure, and so on and so on, till your kitchen walls are redly be-speckled and you're swearing under your breath.
I totally understand why some people might be daunted. Heck, I'm daunted some days.
And yet, I still do it. Keeping one eye cocked on the lazily simmering pot of tomatoes as it reduces, playing chemist with fresh and dried herbs, ladling the final product into pint jars—it's a process packed with satisfaction, dirty kitchen be damned.
Over the past couple days, I've been experimenting with some new tomato sauces. My friend (I think she took pity on me after looking at pictures of our dismal garden) called me up to see if I wanted two five-gallon buckets of tomatoes. Well, duh, yes.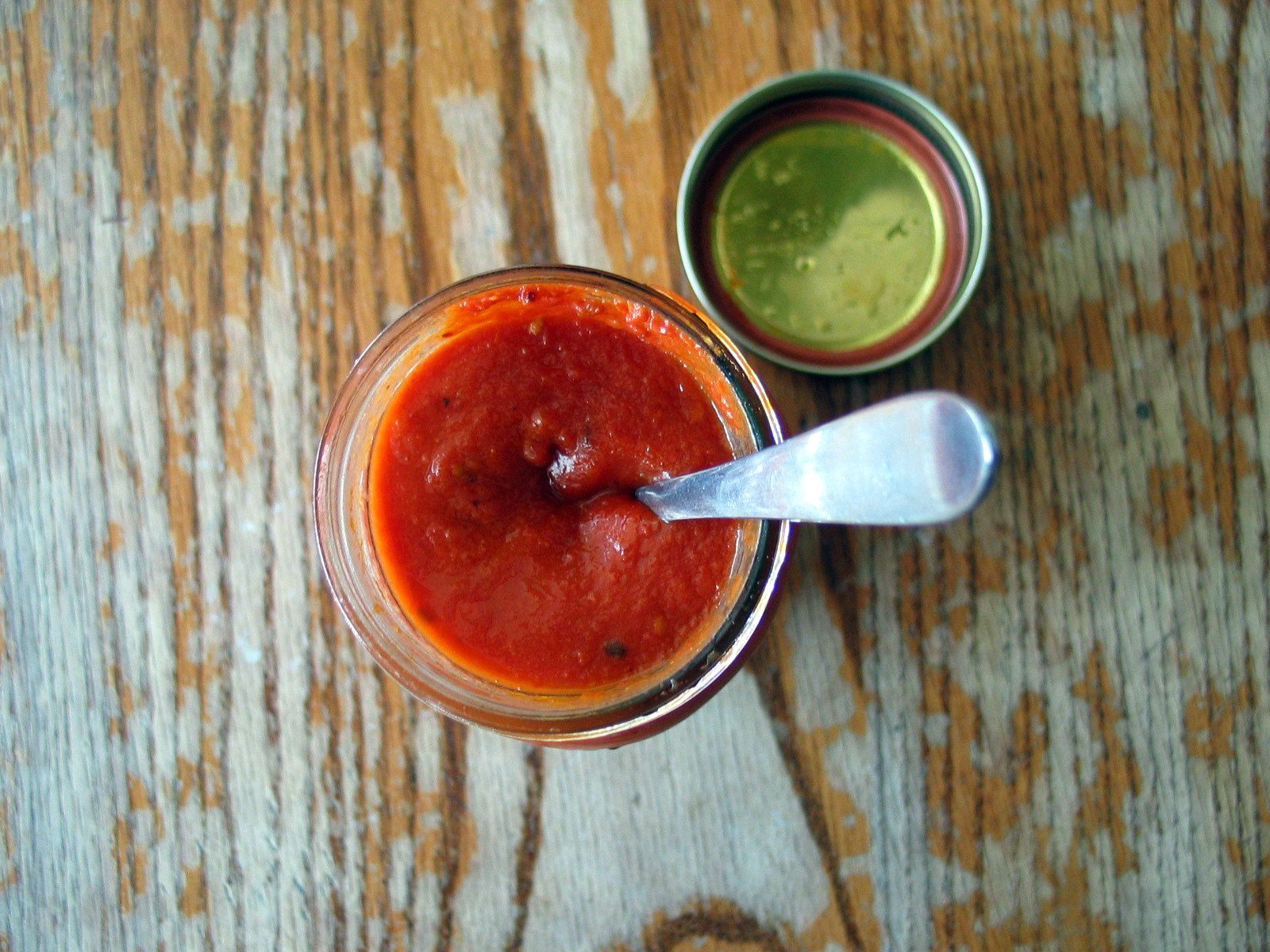 The day she called, I had gleaned several pounds of tomatoes from our pathetic garden and was already experimenting with SouleMama's carrot tomato soup, so when the buckets of tomatoes landed in my lap, I happily branched out to experiment with a new pizza sauce (more on that later) and this roasted tomato sauce.
It's the simplest sauce I've made to date, so listen up, people. There are only three steps.

1. Roast: toss halved tomatoes with olive oil, salt, and pepper, and roast them in a hot oven for three-quarters of an hour.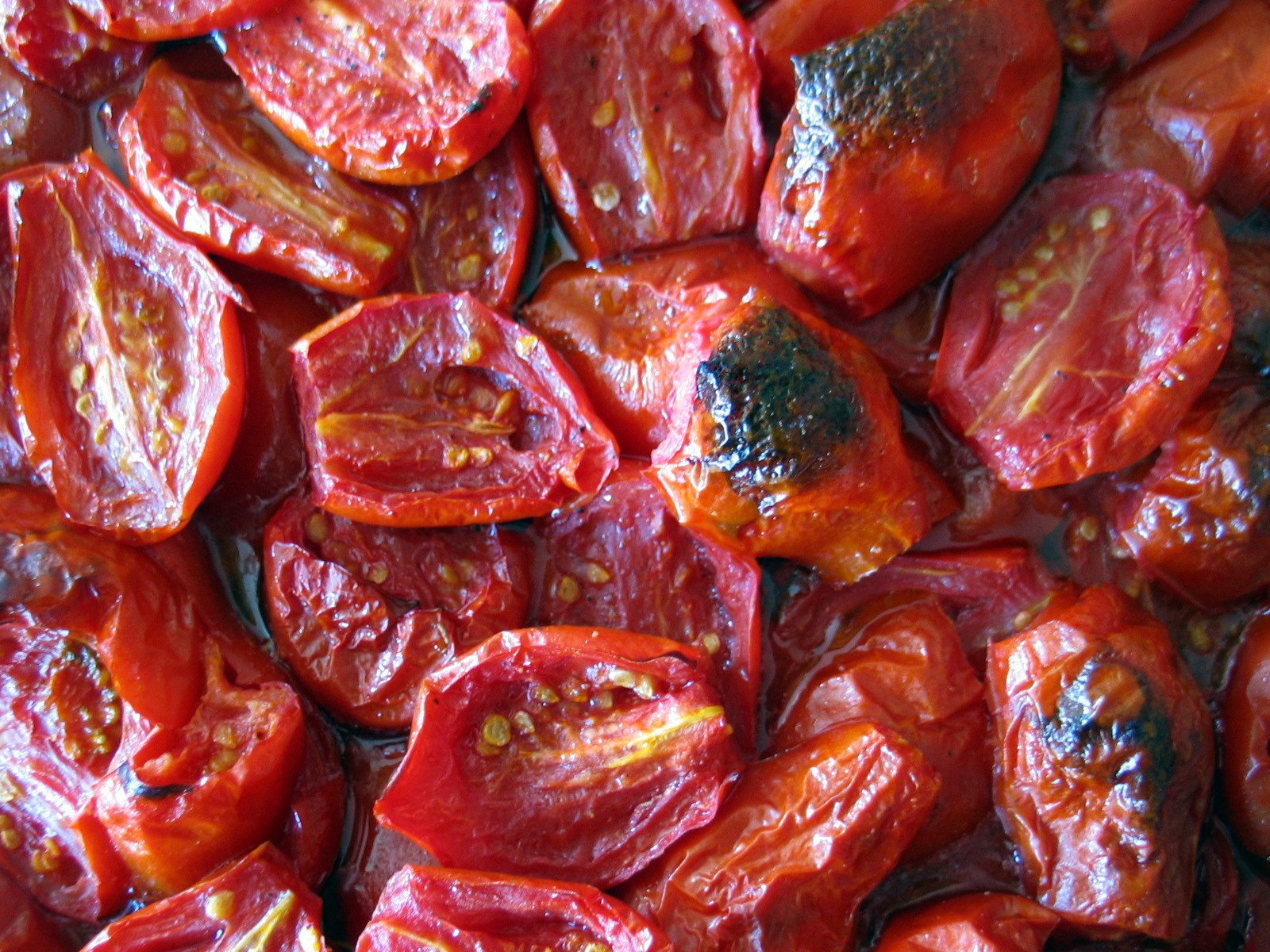 2. Blend: whiz them up with a hand-held immersion blender (Eh? You have not a magic kitchen wand? Fool! Cheapskate! You mocketh the culinary arts with your inauthentic wizardry! Take thyself to a kitchen store and buy one henceforth! Now, away with you!)
3. Can: ladle into mason jars and process in a hot water bath.
Attention Weary Kitchen Workers! Please note, there is no blanching, no peeling, and no stove-top reducing. Verily, I tell you, straighten your aching shoulders and attack those last few tomatoes with renewed vigor! Hark, your job is nearly done! Delicious sauce will soon be yours.
And is it ever delicious, oh my. Thanks to the time in the oven, the sauce is richly flavored and caramel-y sweet. It's gorgeous, too—a dark red, flecked with bits of black from the tomatoes' blistered backs. Vibrant, musky, sexy, oo-la-la, and yum. It's all of that, and more.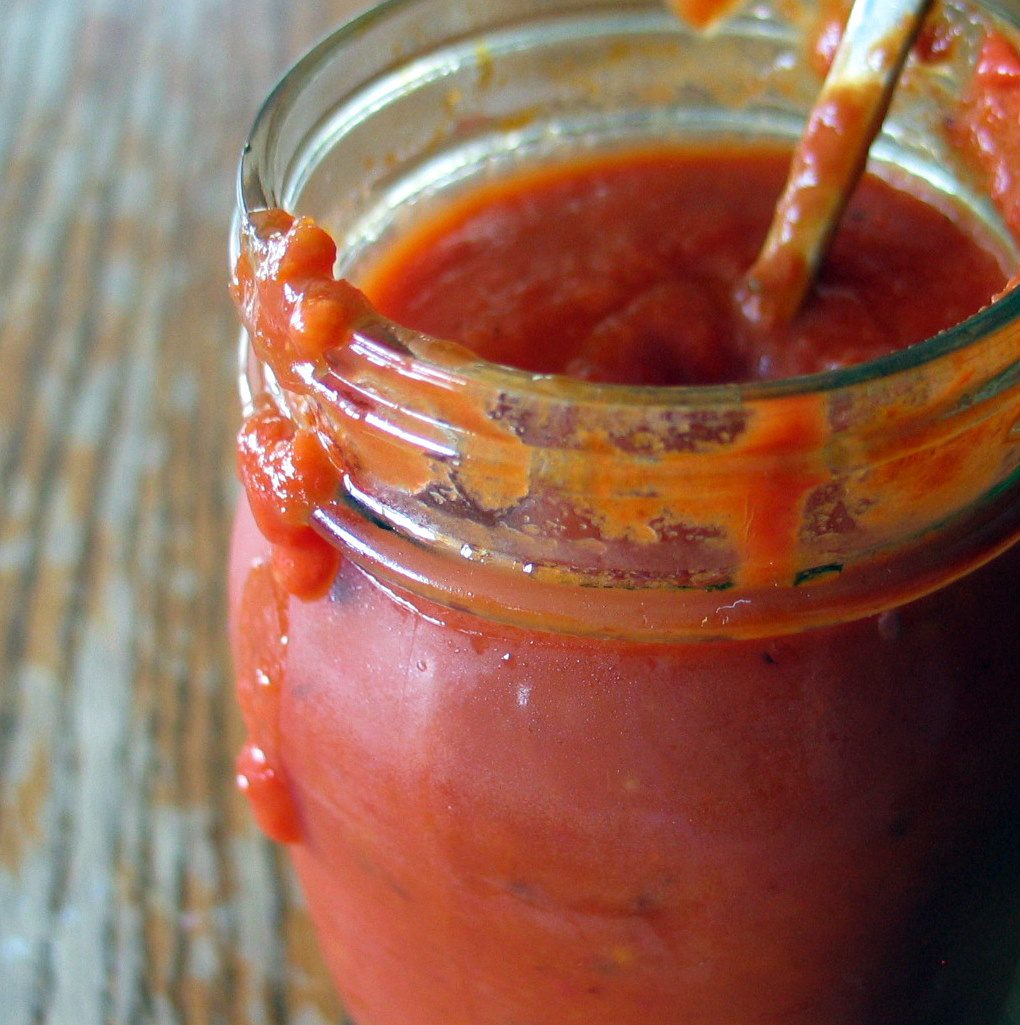 Roasted Tomato Sauce
I add citric acid (purchased in the canning section of my grocery store) to the jars when canning as a precaution against the olive oil's neutralizing qualities; if you omit the oil (but don't!—it tastes so good), there is no need for the acid.
8-9 pounds paste tomatoes, washed, cored, and halved
½ cup olive oil
sea salt
½ – 1 teaspoon black pepper
citric acid, to add to the jars before/if canning
Toss the tomatoes with the olive oil, 2 teaspoons salt, and pepper. Divide them between two large baking sheets and bake at 400 degrees for 40-50 minutes, rotating the trays halfway through. The pans will fill up with tomato juice (careful when turning!) and some of the tomato tops will blister black.
Dump the roasted tomatoes into a large stock-pot and whiz well with an immersion blender. Or, if you no magic kitchen wand, you can get the job done with a blender. (If, by any chance, your sauce isn't as thick as you'd like, now's the time to cook it down a bit more—simply cook on low heat, stirring every few minutes.)
Season well (I added another tablespoon of salt, a little at a time, tasting after each addition) and ladle the sauce into jars. Add citric acid (½ teaspoon for quart jars, 1/4 teaspoon for pints), wipe the rims, lid, and process the jars in a water bath—once the water boils, allow 15 minutes for pints and 20 minutes for quarts.
Yield: approximately 6 pints
This same time, years previous: apple crisp topping, pasta with sauteed peppers and onions