Every year the women on my mom's side of the family get together at my Aunt Dr. Perfection's house for our annual fall soiree. We descend upon her house, hungry for the fantastic food she fixes, ready to spend the next 24 hours eating, talking, eating, lounging (we rotate between the front porch, the back yard garden, and the sunroom), and eating some more.
Obviously, she's a good cook. Otherwise we wouldn't eat so much.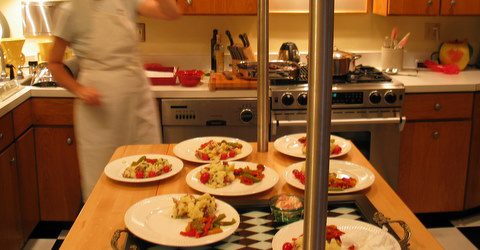 A couple years ago, she served us a cold corn soup. It was spectacular—cold, creamy, lemony—so I copied the recipe down (from one of her cookbooks, possibly a Williams-Sonoma book) and brought it home with me.
This past week my mother sent me a couple boxes of exceptionally sweet and delicious white corn that my father had grown. It was nearly bedtime when the corn arrived at my house (we had met halfway between our houses in one of our send-a-child-to-the-grandparents' expeditions), so I cooked it up for a bedtime snack, and then cut the rest off the cob and tucked it into the fridge. A couple days later I dug my aunt's soup recipe out of my recipe box and got to work.
Cold Curried Corn Soup
Adapted from the recipe book that my Aunt Doctor Perfection has sitting on her little wire shelf in her kitchen.

This is a great soup to have on hand during the hot days of August (that actually haven't been so hot this year). Serve it as a first course to a fancy meal, as a simple lunch, or as a refreshing mid-afternoon snack.
2 tablespoons olive oil
1 small onion, finely chopped
2 small potatoes, peeled and coarsely chopped
5-6 cups of fresh corn
2 ½ teaspoons curry powder
5-6 cups chicken stock
juice from one lemon, about 2 tablespoons
salt
white pepper
thin lemon slices
some sour cream, about half a cup
some finely chopped parsley, about 3 tablespoons
In a medium to large soup pot, saute the onion with the olive oil. Add the potatoes and the corn and saute for another couple minutes. Add the curry powder and cook for yet another minute. Add the chicken stock and the lemon juice and simmer for twenty minutes, or until the potatoes are quite tender.
In small batches and using great caution (I gave myself a talking to about being careful and still I spritzed corny soup all over the kitchen counter), puree the soup in a blender. Pour the pureed soup through a sieve to remove the fiber stuff—you're going for a creamy soup here. This part takes a little bit of time because it seems like the soup will never go through. Just be patient and stir the soup while it's sitting in the sieve, pressing on the sides and jouncing it up and down a little. You should have about a cup of goop left in the sieve when you're all done—feed that part to the chickens. Season the pureed, sieved, creamy soup with salt and white pepper, pour it into a jar (I had a little over two quarts of soup), and put it in the refrigerator to chill.
To serve, garnish with the sour cream, chopped parsley, and the lemon slice. Mmm, perfect.