Last week my husband and I zipped up to Pennsylvania (marveling all the while that our kids were old enough for us to leave them at home alone while we left the freakin' STATE — wasn't it just yesterday that we couldn't step foot out of the house without a diaper bag?) to Mennonite Disaster Service's binational office for a flurry of meetings.
We took a tour of the place, got introduced to a bunch of people whose names I'm still struggling to get straight, had a meeting with all the in-the-know people, ate lunch with the staff and then lingered at the table for another couple hours to dig into more of the gritty details of the Puerto Rico situation and ask all sorts of questions.
they have a whole fleet of these shower trailers:
they haul them to the various job locations for the volunteers
We left the office with a handful of jelly beans from the very large communal bowl, a map with all potential MDS locations starred in red, a variety of newsletters and pamphlets, a brand new t-shirt each, construction helmet keyfobs for the kids, and a whole lot of information buzzing around in our heads.
the bottom left star is where we'll be working
Before heading home, we stopped at Martin's Pretzel Bakery (tradition!) and popped in to visit my grandparents and stock up on apples and cider at their local orchard.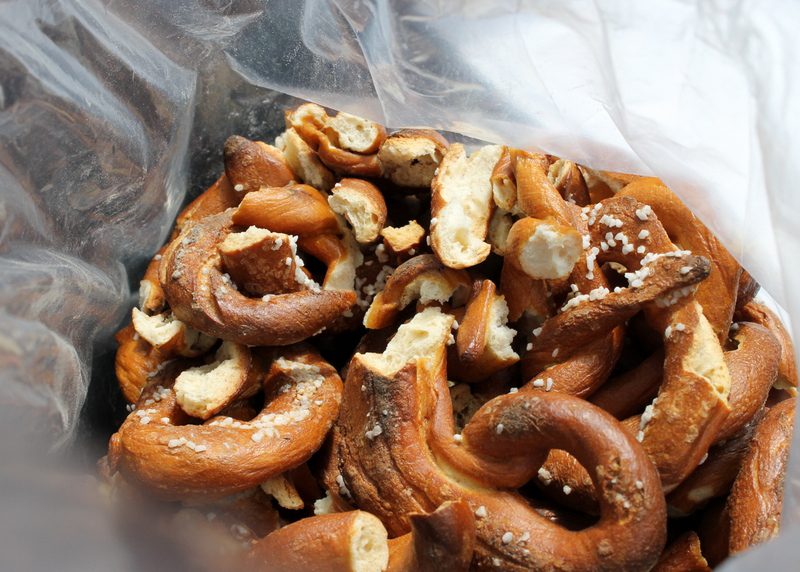 Just a few days ago we received confirmation of our work assignment: we'll be living in the southern coastal city of Ponce, the same place where my husband went in January. There we'll be project directors, overseeing from start to finish the construction of the first of the 16 or so new houses, engineered to withstand both hurricanes and earthquakes (translation: lots of concrete), that MDS has promised to build. Along with supervising volunteers, managing officey stuff, and caring for kids, I'll be blogging and maybe even doing a few stories for MDS. It will be a nice change from toiling away on the book.
his goal is to point out everything the volunteers do wrong

In other news, MDS is working to find us a house (yay!), and we will have a six-passenger truck (they're boating more vehicles down next month). We have a week off, halfway through our term. MDS offered to fly us home, but we declined: "I already know what it looks like here," my husband said. We hope to hit up some beaches (besides the one that we'll be living on, poor us) (also, taking suggestions!), and are hounding the children to hoard their pennies, constantly reminding them snorkeling and scuba diving aren't cheap.
And we just found out that MDS will be sending my husband and me to their training for project directors that will be held in a couple weeks in Saskatoon, Saskatchewan, yikes!
Apparently, this whole adventure is about to get for-real serious. Which is good, because I am so ready to get this show on the road.
P.S. MDS needs volunteers but there is a wait list for Puerto Rico (they cover volunteers' living expenses and food, and they pay 200 dollars towards the plane ticket) so sign up now!
P.P.S. And if you want to help cover our at-home costs, you can support us here (click the line that says "Mennonite Disaster Services"), and thanks!
This same time, years previous: teff pancakes with blueberries, the day we did everything, the quotidian (3.28.16), absorbing the words, seven-minute egg, the quotidian (3.30.15), maple pecan scones, Good Friday fun, babies and boobs, braided bread.