My husband and older son left us on Tuesday night for a few days of volunteering for Mennonite Disaster Service in West Virginia. I'm not sure what they're doing exactly. Building something, probably.
When my husband leaves, it throws me a little. Who will wake me when I need to get up early? Who will make sure there's a fire in the morning and load the wood stove at bed time? Who will lock the house and change the batteries in our running flashlights and pick up Melissa after work and scare away the boogieman?
I can be a little pathetic at times.
This time around though, it wasn't really a big deal. My older daughter takes care of all the animals and empties the trashes and wakes me up in the morning if I need to get up early (though I did, eventually, figure out how to use the alarm clock myself). The younger kids haul over the firewood and hang up the laundry and bicker. All in all, the days have passed rather uneventfully.
It's kind of nice, not cooking hardly any food (because feeding only five people is an absolute breeze) and spending the evenings lounging in front of the fire with the kids, all of us lost in our own books, or else me reading out loud to them from The Education of Little Tree. Today I dropped the kids at Barnes and Noble so I could sequester myself in Panera for a couple hours of writing (after which I treated them all to a donut at our very own, brand new Krispy Kreme), and a couple days ago I dumped them at the library while I met with one of my writing groups.
In other words, I'm coping.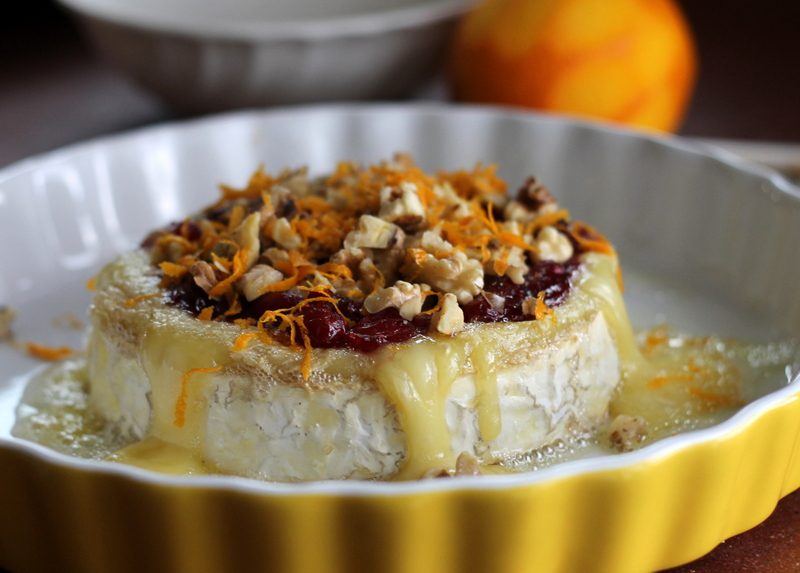 Wednesday night, though, was special. I put the kids out in the barn for the night—
Just kidding! They spent the night at my parents' house!
—and two of my girlfriends came over. For five straight hours, we talked our hearts out. Also, we ate cheese and chocolate cake. It was lovely.
I made a baked brie. It was the same one I made for our Christmas Eve cheese feast, but I cheated and baked it in the afternoon so I could take photos. I figured my girlfriends wouldn't mind being served reheated and already-partially-eaten cheese. (I mean, partially-eaten-from cheese. The cheese wasn't partially eaten. That'd be gross.)
The next day, I served the leftovers to the kids and my mom for lunch and now there's only a smidge left. Sorry, Hubby and Son. If you leave—even if it is to do good deeds—you lose.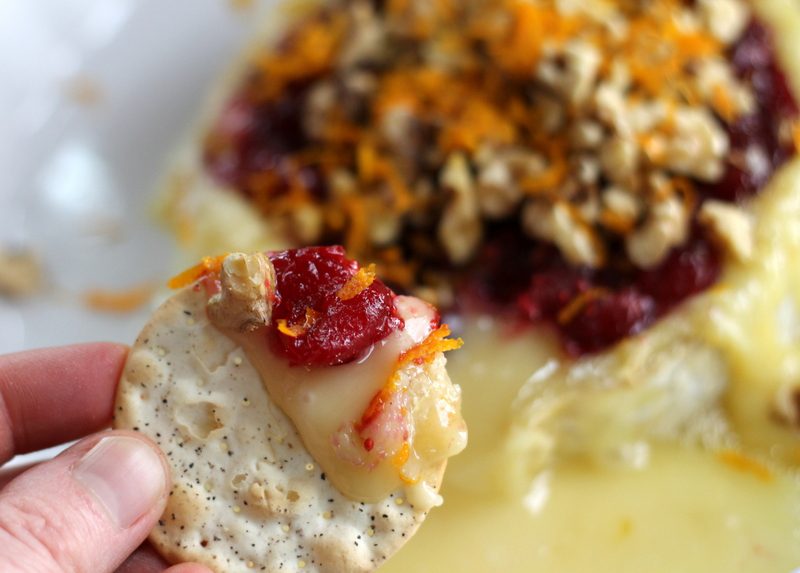 Baked Brie with Cranberries and Walnuts
Adapted from Aimee of Simple Bites.
The proportions depend on the size of your brie. I had leftover walnuts and cranberry sauce, so either my brie was on the small side or I didn't load it up enough.
Also, make sure to cut off the top of the brie. This time, because I just scraped the wax off, there was still a seal and the cheese didn't bubble and ooze (sorry, bad word choice) like it was supposed to.
1 wheel of brie, about a pound
¾ cup classic cranberry sauce
2/3 cup walnuts
orange zest
Cut off the top of the brie and place the brie in an oven-safe dish, cut side up. The pan should be a good bit bigger than the cheese so it has plenty of space to melt and bubble. Bake the brie at 350 degrees for 15 minutes.
While the brie is baking, toast the walnuts in a skillet. Roughly chop and set aside.
Pile the cranberry sauce atop the hot brie and return to the oven for another 5-10 minutes, or until the brie is hot and bubbly and looks a right jolly mess—at least three times as messy as mine looks in the photos.
Top the brie with the walnuts and grate over a flurry of orange zest. Serve immediately, with crackers, pretzels, or toast rounds.
This same time, years previous: the quotidian (2.1.16), object of terror, the quotidian (2.2.15), a Wednesday list, stuck buttons and frozen pipes, itchy in my skin, how we got our house, in which we enroll our children in school, taco seasoning mix, and wheat berry salad.