I haven't seen much of this kid in recent weeks. Between working with his father, volunteering with the rescue squad, and choir, he's been gone an awful lot, but it's the theater that's been the greatest interruption. He doesn't have a big role in Little Shop of Horrors—screaming patient, customer, wino, and, occasionally, the Audrey Two Manipulator—but he is also the understudy for Seymour so he's had to attend nearly every single rehearsal. Leaping up from the supper table every evening and running out the door, not to return until 10 or 11 at night, took its toll. On all of us.
Several weeks before opening, the real Seymour had to step out for a few days, so my son took over. As compensation for his hard work, the director announced that my son would actually get to play Seymour for one of the student matinees. Yesterday was that show.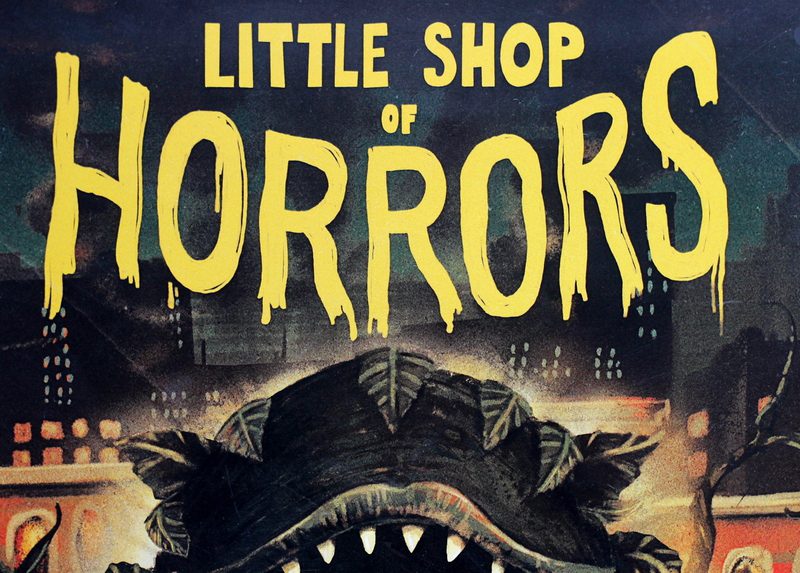 My husband and I had seen the play the weekend before. Seymour does a lot of stuff: dancing, singing, stage business, lines, lines, lines.
"How in the world will you know how to do all those things if you haven't rehearsed?" I asked, thinking of my shaky nerves despite my many hours of hands-on rehearsals.
"I don't know," said my son. He was getting worried.
The night before his show, my son ran through the entire show, as Seymour, for the first time. Afterward, the leads stayed behind to run trouble spots until my son felt comfortable.
Yesterday morning, my husband took off work to meet us—and my parents and a handful of friends—at the theater. I was apprehensive. Would I have to watch through my fingertips?
And then the show started, and my boy danced and sang his way through the entire thing, and I was thoroughly and delightfully entertained, whew.
The end.
Except not. Because after the show, my husband went back to work, the younger kids went to a friend's house, my older daughter went to do yard work for another friend, and I went to a meeting. My older son, after eating a celebratory hamburger with his mentor, went home and, just for the heck of it, put the car on the porch.
Right.
After I scooped my jaw out of my lap and attached it back to my face, I got out of the van and went into the house, passing the large piece of machinery parked on my porch on the way. My son was in the kitchen, buzzing about on an adrenaline high.
"Um, hello?" I wasn't sure whether I should be angry or not. "Do you want to explain yourself, please?"
"Aw, Mom, I folded all the laundry and put it away so you can't be mad."
When my husband got home, he didn't say anything for about three minutes. Just stood there, shaking his head. Apparently, a few weeks ago, my son had mentioned the porch parking idea to my husband who pooh-poohed the whole thing and then added, "But if you figure out a way to get it up there, I'll be impressed."
What a kid, impressing us twice in one day. (Which is more than enough, if you ask me. I don't think my nerves can take much more.)
PS. Backing the car off the porch was a nail-biting affair. I could barely watch.
But he pulled it off without a hitch, and by the skin of his teeth, lucky boy because anything broken was going to be on him.
PPS. This is the last weekend for this high energy, fun show, and tickets are selling fast. My kids loved it.
This same time, years previous: winter squash soup with corn relish, field work, the quotidian (10.22.12), donut party, part III, moments of silence, party panic, and love, the tooth fairy.