Two weeks ago, my older daughter's riding instructor, Leslie, went to the hospital with heart problems. On Saturday morning we learned that things didn't look good. A few hours later, just when the blizzard was winding down, my daughter got the phone call that Leslie had died.
in limbo, before the sad news
The grief was tidal, a flood of tears and then, when they subsided, a flurry of phone calls and the scrambling to pitch in and help. There was a farm to take care of, after all, and a couple feet of snow to complicate things.
Leslie's sudden death triggered a rapid chain of events, jarring in their finality. Almost immediately, the farm started shutting down. Horses have been sold and relocated, Leslie's dog went to a new home, tack is being sold. Soon Buttons, an old horse that Leslie couldn't bear to part with, will be put to sleep and my daughter will be there for the procedure. Throughout everything, my daughter has stayed involved, mucking stalls, finding homes for the animals, snacking on the leftovers from the funeral meal, sorting and cleaning, and connecting with the other workers. There is healing in the closure.


The day after the memorial service, one of Leslie's sisters invited my daughter and her friend, up from South Carolina for the funeral, to the farm to pick out some things to remember Leslie by. My daughter came home with a framed picture of a horse (of course), one of Leslie's t-shirts, and a pair of her old riding boots. The boots are tight but she wears them anyway.
All too abruptly, my daughter lost a job, instructor, and dedicated cheerleader. She's handling Leslie's death well—so well, in fact, that I sometimes wonder if I'm feeling the loss more intensely than she is. From my vantage point, I see the big picture, can weigh just how much has been dashed. Through their shared love for horses, Leslie met a need in my daughter that my husband and I never will. Leslie respected and nurtured my daughter's interests in ways I can't, simply because I don't understand that part of my daughter's world. At the farm, with Leslie, there was such potential. And now it's over. This is what hurts me most.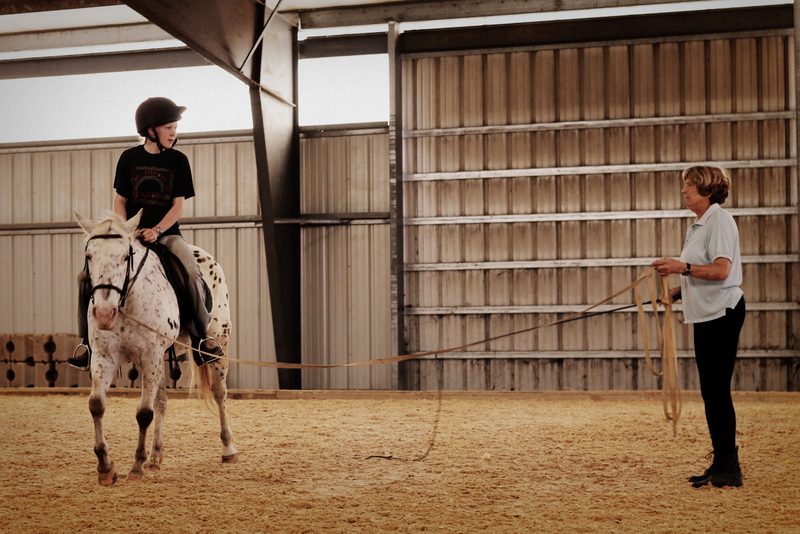 in the very beginning
For months, my daughter's Mondays and Thursdays have been spent at the farm. Tomorrow is her last official day of work; all the horses should be gone by the weekend. New good things will come—already are, in fact—but for now, whenever I drive by the farm I get a twinge of sad. Leslie and her farm were such a gift to my daughter. All of us feel the hole.
This same time, years previous: a Wednesday list, itchy in my skin, in which we enroll our children in school, travel tips, the perfect classic cheesecake, ice cream cake, and lemon tart.