On New Year's Day, we piled into the van and drove to Pennsylvania for a weekend of family, friends, and good food. My son drove—his first notable drive on I81 (the evilest of highways)—and I rode shotgun. Aside from one almost-missed exit (thanks to my husband's faulty directions), it was a low-stress driving lesson, whew. We ate lunch at Subway, took advantage of the free coffee deal at Sheetz (the kids had a blast with the cream and sugar machines), and popped in at my grandparents' for a quick visit before eventually heading to my friend's house for the night.
Amber's House
Amber and her family live in the house she grew up in. We've been friends since we were in utero (it's possible), so I've always felt at home in her home. It's magical, the kind of place dreams are made of: thick stone walls with deep set windows (the sills make excellent plant benches), three cellars at three different levels, staircases so steep they make you feel like you're hauling your sorry butt up Mt. Everest, gardens galore, a five-story barn, a half-mile lane, a sometime-there creek, outbuildings, etc, etc, etc.
My kids positively, absolutely, completely, and totally adore the place. There is so much to do, explore, see, savor! This particular visit they played hide-and-seek, hiked through the meadow to the creek in search of freshwater clams, made a fort in the haymow, used the mow-shoot as a slide, fed the animals, and played with the kittens. My husband chipped in with barn floor repairs and wood splitting. I washed dishes, gave Amber a birthday foot massage (she's ticklish, so I was probably torturing her), snacked on homemade beef jerky and dried apples, and talked myself silly. We ate shaggy tigers and apple pudding cake for supper, and the next morning, after my husband and I got back from our run, hot chocolate and cinnamon buns were waiting.
We had to drag ourselves away—so much fun we were having!—and ended up arriving late to our next destination point…
The Gathering, Part One: Ham at Brad and Zoe's
The annual event is kicked off with a noontime ham dinner at my cousin Zoe's house. (Zoe also happens to be Amber's niece. And Amber is my second cousin once removed. Have fun with that.) For the most part, I sat at the kitchen table, drinking copious amounts of coffee and yakking with the aunts and cousins. There were games and great uncle piggy-back rides. The guys moved a piano. Some cousins had an egg cracking contest. It is said that you can't crack an egg in a one-fisted squeeze, so my son tried and the raw egg shot out of the end, nailing my cousin in the arm and face.
Around five o'clock, people started wandering into the kitchen. They didn't say much, but their presence was unnerving. Are they hungry already? Zoe asked. Should I get out more food? Soon the island was covered with plates of cheeses, meats, veggies, crackers, and fruit, and after a bit we cleared a section to make room for the cookies and cakes. At bedtime, everyone made their way back to their homes (or host homes). A few of us lingered around the kitchen island, drinking water and talking about shared Netflix accounts and urine because we're exciting that way. My husband and I slept upstairs on the bed, the kids spread around us on the floor in their sleeping bags.
The Gathering, Part Two: Brunch at Jim and Val's
The next morning, Uncle Jim and Aunt Valerie (Zoe's parents, and Valerie is also Amber's older sister), made the traditional feast: waffles, made-to-order omelets, granola, sweet rolls, fruit, pudding, scrapple, coffee, bacon, etc.
Afterward, we lounged about, playing games and visiting. There were more kittens to play with (we brought home two!), and my son attempted another fireball but got bested by the wind. We took a family picture, and some of us ate chips loaded with fresh horseradish just for the nasal passage-searing fun of it.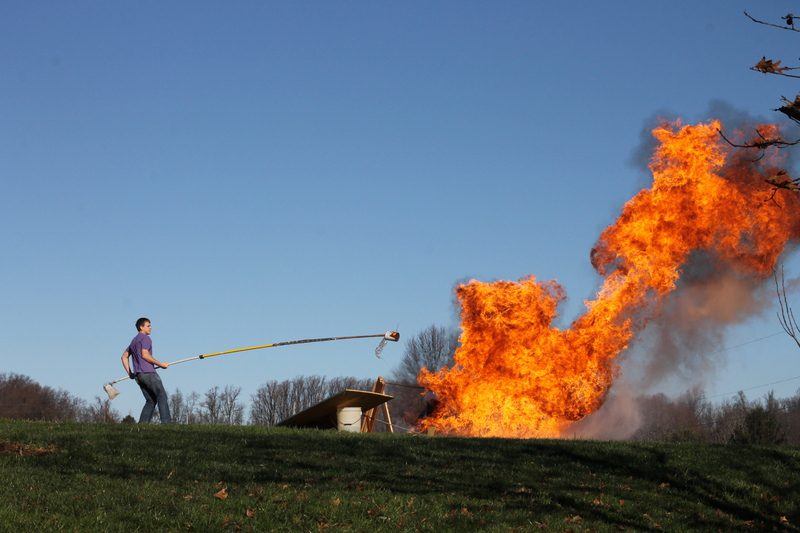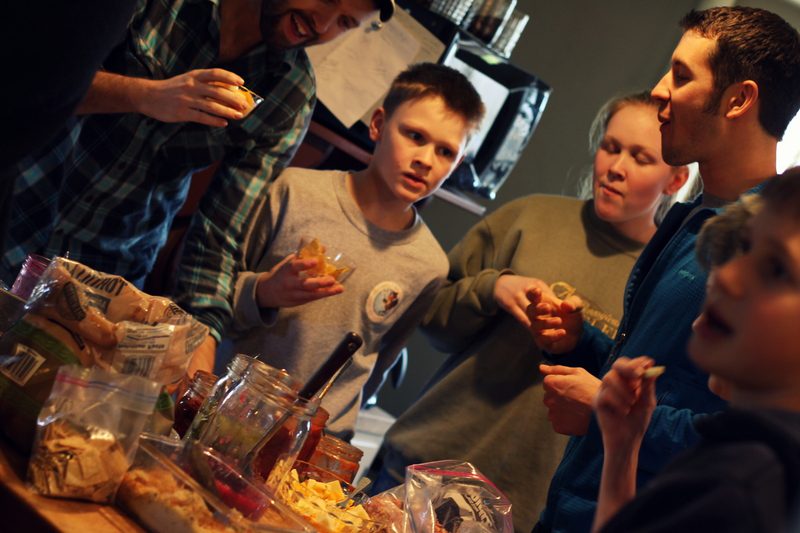 And that, my friends, is how we kicked off 2016. Happy New Year!
This same time, years previous: what it means, date nut bread, between two worlds, so worth it, salted dulce de leche ice cream with candied peanuts, turkey noodle soup, and what I did.