For years now, I've wanted to raise pigs. I didn't want to have a big production or anything, just one or two piggies for the meat. I even went so far as to spend hours talking pig details with our neighbors who butcher pigs every winter and know all things farm related. But my husband wasn't on board. Pigs schmigs, he scoffed. You forget. I am not a farmer. Eventually, I dropped the subject.
And then one of my husband's co-workers called him and said, "Hey! I'm on my way back from PA and I have pigs. Want some?"
And my husband was all like, "Whoa! That's so cool! We should totally get some pigs!"
And I was like, "Huh? Are you saying something? Because there's this buzzing in my ears."
About twenty-four hours later, we said yes. And twenty-four hours after that, my husband hauled two pink piggies out of the back of the van.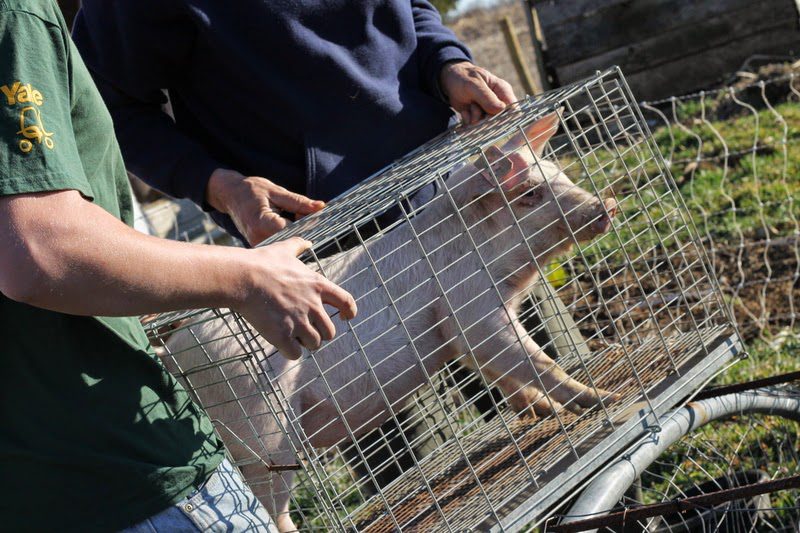 All the kids were excited, 'cept for my younger daughter. "I don't want you to get pigs!" she hollered. "I don't like meat! We need a new kitten! Wah-wah-wah!"
We're planning—at this point, at least—to outsource the slaughtering, though the kids (minus the one) and I are lobbying to butcher at least one of the pigs ourselves. "Do it for the kids," I hiss at my husband. "It's their education. Just think of all they'll learn!" So far, he's remained unmoved. Then again, we have pigs, which is proof enough that there's reason to hope (and keep badgering).
As is our custom, we're doing everything backwards and wrong. The pigs are currently (and temporarily) bedded down in the garden, which is very taboo (bacteria-loaded poo and all that), and we don't have a fence set up for them or easy access to water or anything else needed for raising pigs. But this is how my husband rolls. There must be a pressing need before anything gets done. Lucky us, two pooping squealers in the back yard makes for the best sort of pressing need.
Good thing they were his idea, not mine. I think we'll be fine.
This same time, years previous: the creative norm, no buffer, and a fast update.