Before heading off to work, my daughter always tells me if she has a jumping lesson scheduled for that day and what time it will be. She's forever hopeful that I will come watch.
Days she is at work, I hold in the back of my mind an awareness that she's working with horses and accidents might happen. When she's jumping, my awareness is heightened. I'm not fretting and worrying, and most of the time I'm not even aware of my awareness, but when the phone rings, I get a slight ping of what-if panic, a little kick of adrenaline.
A couple weeks ago the phone rang. It was my daughter. She was supposed to be in the middle of a jumping lesson. Cue the adrenaline rush.
Her (at least it was my daughter and not the instructor, whew): Hi, Mom. It finally happened.
Me: Yes…?
Her: I fell off.
Me: Are you okay?
Her: Yeah, I'm fine. My mouth still has sand in it, but I'm going to go get another drink of water.
Then she filled me in about how the horse was going over the jump and did some weird wiggle thing mid-air and she went flying, landing ten feet away. Her shoulder and hip were sore, but otherwise she was just fine.
Her: I'm going to finish the lesson now. I just wanted to tell you.
She called again after the lesson was over. "It was the best lesson ever!" she said. "Now I know what falling off is like!" She made it sound like such fun that I wished I'd been there to see the drama firsthand.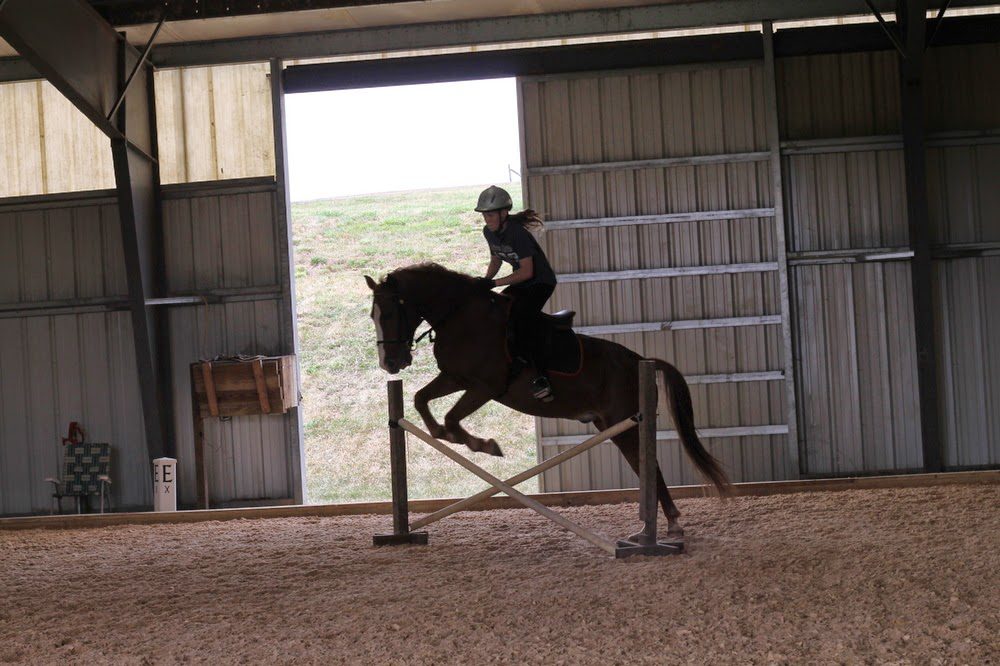 Last week, at her behest, I showed up for a jumping lesson, camera in hand. I find her lessons super confusing because horse-speak is a completely different language. But it's interesting, too. I always learn bunches.
For example:
*My daughter is doing "gymnastic jumping." It's called this because the horse is doing two consecutive jumps—he goes over, down, and over again. Voilà, gymnastic jumping.
*It seems like the lesson is as much for the horse as it is for my daughter. The horse is like a second person, opinionated and moody with a mind of his own. The instructor is forever asking, Did you start that canter or was that the horse? And the entire lesson centers around warming the horse up and then getting him in a good frame of mind for listening. It's fascinating.
*The instructor can tell when the horse "has a poop in him" and whether or not he can wait to go. (!)
First jump.
Between jumps.
Coming off the second jump.
No mishaps occurred while I was there, though there was one point where the horse nearly went down.
It was over in a second and no big to-do was made, except for the instructor scolding the horse for being "sloppy."
The barn is dark and there's lots to watch, so it wasn't till I got home and had a chance to study my photos that I saw even more of what is happening. Like how my daughter always chews her lip before taking the horse over the jump.
Also, I got to admire her makeshift riding boots: my old ankle boots with the mismatched laces. Classy.
This same time, years previous: clouds and apple pie.