When it comes to peach desserts, I am finally gaining ground. We've eaten countless batches of our much-loved peach cobbler recipe, and as of a couple weeks ago, I have a peach crisp I'm satisfied with. (I have yet, however, to bite into a peach pie that is anything other than bland.)
I used to make my peach crisp by slicing peaches and then capping them with a butter-oat topping. It was fine, but in a pallid, this-needs-ice cream sort of way. Dressing up the peaches (à la the cobbler method) goes a long way in creating juicy, flavorful fruit. In other words, sugar makes it better. This is a dessert. If you want something healthy, just eat the peach.
My other great discovery is—and this might strike some of you as a no-brainer—chop the peaches, don't slice them. I used to slice my peaches as I do apples for pie. But then I'd end up with a slippery slice of peach on my spoon and no topping. Or all topping and no peach. It was awkward. And disappointing. Chopped peaches make the eating deliciously convenient. I'm not even joking.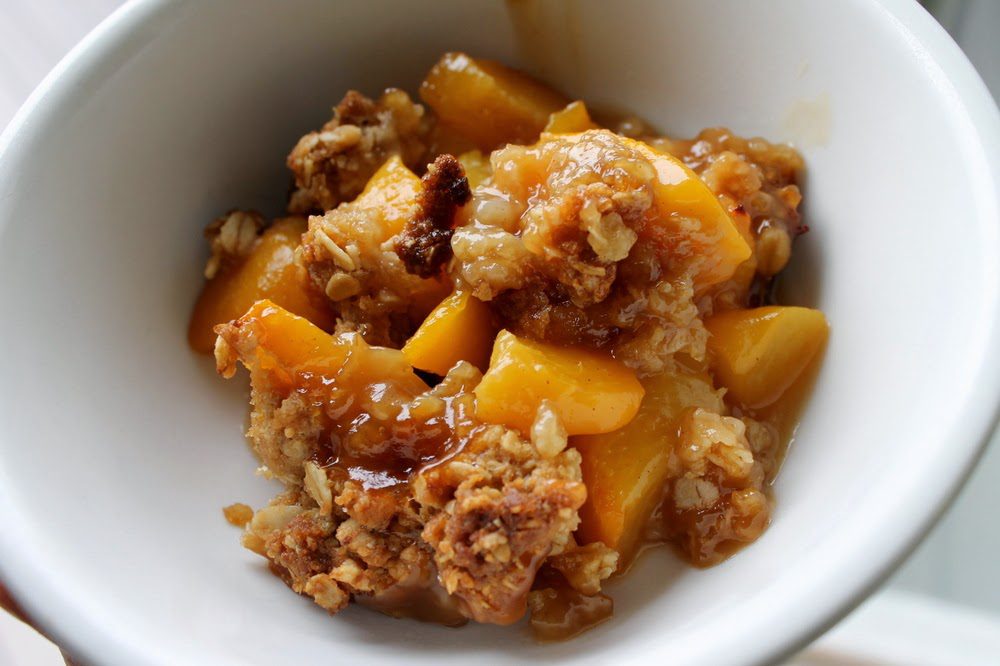 Peach Crisp
If I'm feeling pious, I sometimes dial back the butter for the topping—maybe 14 tablespoons instead of 16. I rarely feel pious.
for the fruit:
8-10 cups chopped peaches
2/3 cup brown sugar
2 tablespoons flour
1/4 teaspoon cinnamon
1/4 teaspoon salt
juice of one lemon (or about 2 tablespoons)
Stir together the brown sugar, flour, cinnamon, and salt and toss with the peaches. Tumble the fruit into a 9×12 baking dish and sprinkle with the lemon.
for the crisp:
1 cup quick oats
1 cup rolled oats
1 cup flour
1 cup brown sugar
1 cup butter
Combine all the ingredients in a large bowl. Using your fingers, mix well until all the butter is incorporated.
Arrange the clumpy oat mixture over the fruit.
Bake the crisp at 350 degrees for 30-40 minutes, or until the topping is golden brown and the fruit is bubbling madly. Serve warm, with milk or vanilla ice cream.
This same time, years previous: Bezaleel scenes, the quotidian (8.27.14), fresh tomato salad, buttery basil pesto, and odds and ends.