I first made these chocolate cookies while we were in Guatemala. I didn't exactly like them—too sandy or something. But I figured the unappealing element was due to my ingredient/baking limitations and not to a bad recipe. So last week I tried again. I'm glad I did.
This is an oil-based cookie recipe, so no beaters and no creaming, yay. Just stir everything together with a wooden spoon and you've got dough as dark as midnight. I added some mini mint chips to the recipe which transformed them into something rather sensational. Mint Chip ice cream lovers, this is the cookie for you.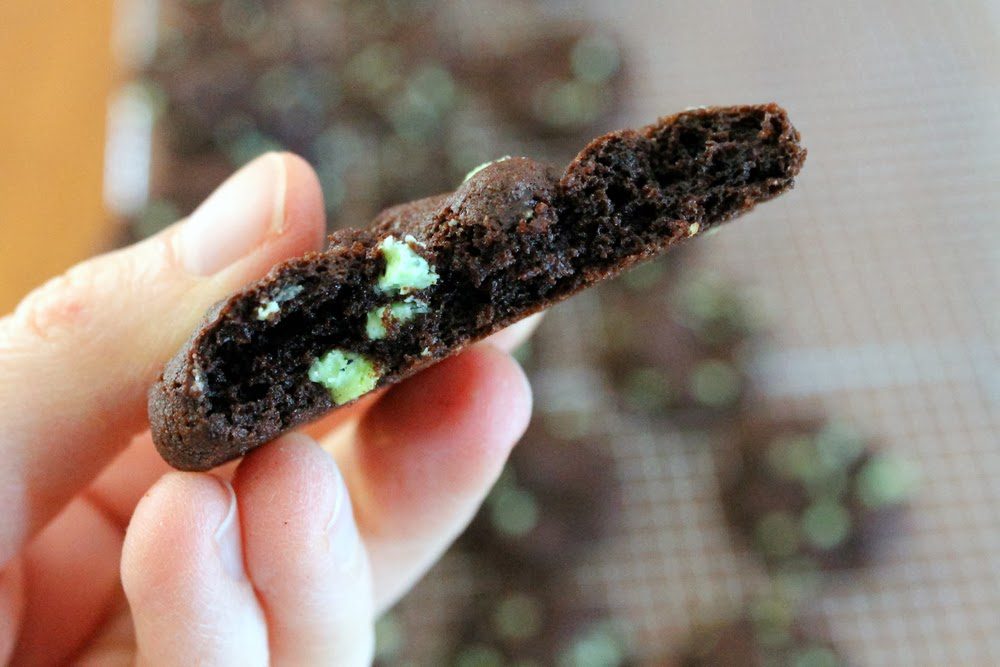 There's another batch of dough sitting in the fridge right now. This time around I added some cocoa nibs along with the mint chips. I plan to bake up a tray right after lunch to go with my afternoon coffee. I'll let you know if the nibs were a smart idea or not.
Chocolate Mint Chip Cookies
Adapted from Dinner with Julie
2 eggs, beaten
1 cup sugar
1 cup brown sugar
½ cup oil
1 tablespoon vanilla
1½ cups flour
1 cup cocoa powder
1 teaspoon baking soda
1/4 teaspoon salt
1 cup mini mint chips
In a mixing bowl, whisk together the eggs, sugars, oil, and vanilla. Add the flour, cocoa, baking soda, and salt, and stir to combine. The dough will be stiff. Stir in the mint chips. Let the dough rest for ten minutes (or, if not ready to bake, cover and refrigerate).
Scoop the dough (I make mine the size of ping-pong balls) onto greased cookie sheets and bake at 375 degrees for 7-10 minutes. I like mine to be soft and chewy, so I take them out when they are puffed and cracked but still wet-ish. I always end up wishing I had taken them out even sooner.
Update: The cookies are better without the cocoa nibs. KISS. (Keep it simple, stupid.)