It all started when I discovered (via Cup of Jo) the mountains of how-to girl hairstyle videos. We watched several videos in quick succession, the kids clustered around me at the desk, and then we set up shop: brushes, bobby pins, water spray bottle, bands, and socks.
I did a crown braid on my younger daughter. It wasn't perfect, but it was pretty darn good (and shockingly simple, too). The hair bow braid was a bit trickier—I made a few errors and didn't finish it through to the end, but the concept made perfect sense (and for this hair styling-challenged mama, that's saying a lot). But it was the sock curls that were the most exciting.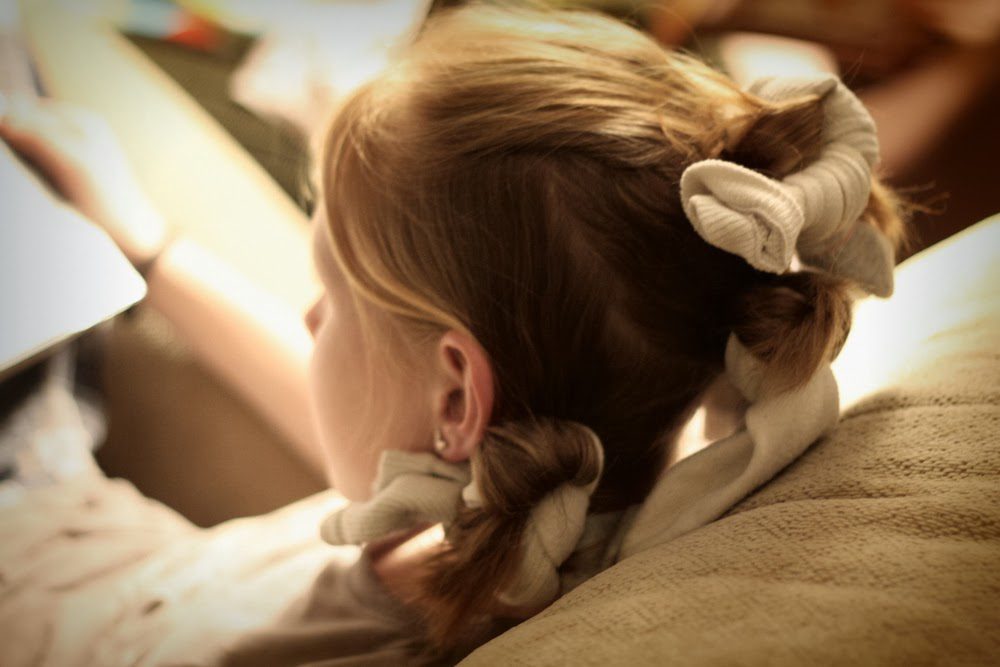 Just roll the hair up in socks, knot, and sleep. In the morning, unknot, tousle the hair at the roots to loosen the curls, and that's it.
Socks removed and before the curl shake-out.
It didn't work as well for my older daughter. Her hair is really thick and heavy, and it's layered so it keeps slipping out of the knots. I probably should buy some type of curl-set-spray thing to put in her hair before rolling it up.
Ignore the stricken face. She's faking it.
However, the sock curl method works perfectly for my younger daughter's thin, naturally wavy hair.
As the day wears on, the bouncy curls relax into soft ringlets that make me slightly jealous.