We have fully acclimated back to life in the States, I think. The glow of the rediscovered ordinary has faded to comfortable shabbiness. I'm a little sad because I liked the buzz I got from normal stuff like a soft mattress, toast, measuring cups, and apple cider. It was magic.
Now I've re-engaged in my private and persistent battle with boredom. I often feel at loose ends. The days are full with the kids and their studies and adventures and scuffles. I do lovely, self-fulling things like write, read, visit with friends, and watch movies. I think and ponder and work myself up into ranting tizzies over world affairs and cultural idiosyncracies.
But it's not enough. (And no, nothing is ever enough. This is my personality, my Achilles heel, my poke-y thorn.)
I think back to times in my life when I was completely boredom-less. There was that afternoon when I was an almost-teenager and I spent hours playing in the ocean, fully absorbed. There were the natural births of three of my children and the all-engrossing task of getting them into the world. There were the intense, rather awful months of fostering a difficult teenage girl. There was the bellydancing. There were the weeks when I was involved in a play. There were the first three months of survival in Guatemala.
Not to over-analyze the situation, but I think I might thrive on pressure just a little. Also, being productive. Maybe being in front of people, too. And since I'm not about to put myself into a pressurized situation willy-nilly (I have to have stellar reasons and be fully sold in order to put myself and my family through such stresses), I think my best bet is to work at being productive. So…
I'm taking up knitting.
It's a pretty mild solution (sorry to be so anti-climatic) but I'm hopeful it will work. Doing something with my hands will (please, please, pretty please) rein in my antsy mind and insatiable desires. (Yikes. That sounds a little more risque than I intended.) In my free moments, I'll have something to pick up and zero in on. The soft yarn, the clicky needles, my eyes staring at one spot, the making something will work together calm me. (Good grief. Now I sound like a jittery druggie.)
I've done this before. I got a so-so scarf and a now-trashed hat out of the deal, along with a solid sense of accomplishment (questionable though it may be). I'm slowly gearing up for the plunge: getting the yarn box down from the attic, pestering friends, studying patterns (which is foolish since they're as legible as hieroglyphs to my un-knitting-educated eyes), and purchasing supplies. My fingers are itchy to start. It's like I have that I've-been-trapped-inside-all-day-and-need-to-have-a-walk-NOW feeling, but it's all consolidated into my fingers.
Knitting isn't the long-term solution, make no mistake. I'm fully aware that it's simply a coping mechanism, a way to bide my time and ponder until I land on the next rock-my-world, go-go-go, thrill-seeking, push-my-limits (and everyone else's) project.
I sound crazy. It's one of the risks of being candid.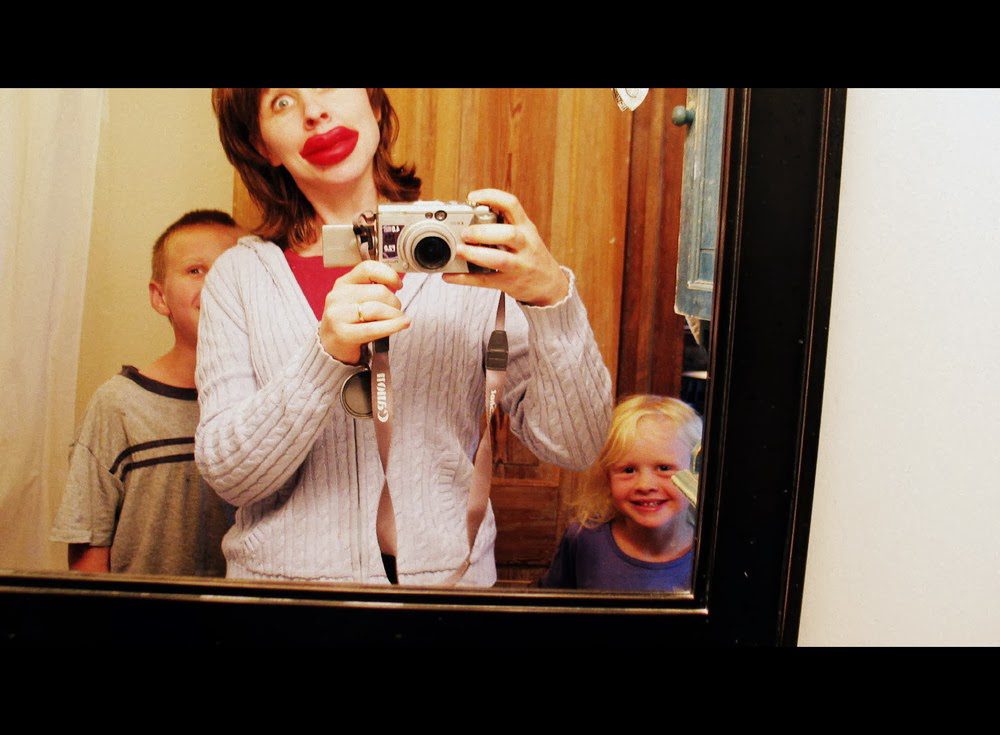 From the archives (I told you it's an ongoing problem).

So come on now. Be candid. What's your crazy? (And if you say you don't have one, I won't believe you.)