Day 11, continued
The road between El Jícaro and our community is not paved.
We walked this road every day while we were building our house, we brag to the kids.
There's where we took the short cut…
There's where people drive down to the river to get sand and wash their trucks….
This bridge got washed out in the hurricane…
There's where Papa forded the stream in his underwear.
As we approach our village, we scrutinize faces of the people we pass. Do we know anybody? We drive by the first house without recognizing it. But then we start to see familiar buildings, and then—there's Doña Aurora's gate! Pull in! (We built our house on Doña Aurora and Don Humberto's property, and we even lived with them for a couple months while we finished up our house.)
We turn in and my husband jumps out to open the gate.
I get out of the truck and here comes Doña Aurora walking down the steps towards us, an incredulous look on her face. We hug fiercely, all of us crying, then step back, look at each other and laugh, and then hug some more.
Within minutes, Aurora is taking us on a tour of the property. She shows us the new well, the fruit trees, the corn field with four different varieties of corn (an experiment funded by an outside group). As we finish up the tour, she hollers across to her daughter's house, "Guess who is here!"
News travels fast—her daughter yells back, "Jennifer?"
I respond with a loud hallo, and then I'm wiggling between two strands of barbed wire and hugging Jeaneth, her newborn baby wedged between us.
"making" tortillas with Jeaneth
Doña Paula, Jeaneth's mother-in-law, is in the garden, hoeing. There are more clinging hugs, more tears. "We never thought we'd see you again! We thought you forgot us!" This is what everyone says, over and over again.
My favorite part of this picture? Jeaneth's hands.
Also note, no plastic covering on the diapers.
Just as we feared, no one knew we were coming. Their letters of the last few years never got through to us, and vice versa, so it's been years since we've had communication. And, as no other foreign volunteers have ever returned, they'd given up hope.
What a miracle! they tell each other, shaking their heads.
The men come in from the fields. Children cluster round. The children we left thirteen years ago are now young adults, married and with children of their own. It's both heartbreakingly nostalgic and gratifying to see that life has, indeed, gone on.
Don Kilo slaughters a kid (a goat kid, not a child) in honor of our arrival.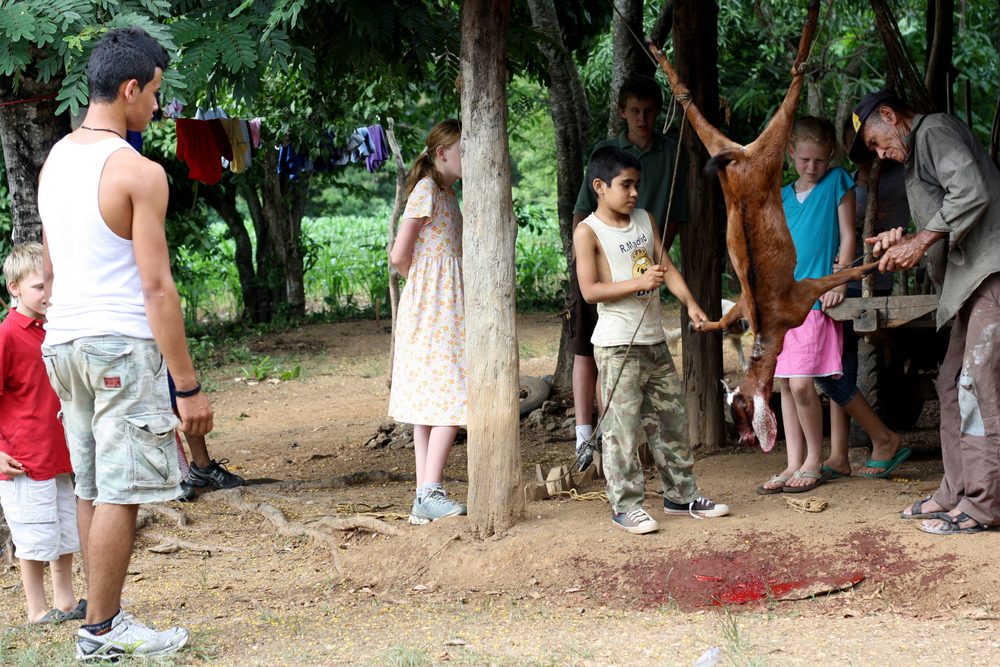 No small children are permitted to watch the killing, but afterwards they all gather to watch the master machete-wielder at work. Don Kilo's wicked knife skills impress my husband to no end.
My younger son quickly makes friends with Jeaneth's boys.
cooking the tortillas over a barrel stove
My younger daughter becomes bosom buddies with Aurora's granddaughter.
Soon my children are running back and forth between and through houses, exploring wells, discovering shortcuts, and chasing pigs.
I need to do laundry, so Jeaneth sets me up at the well.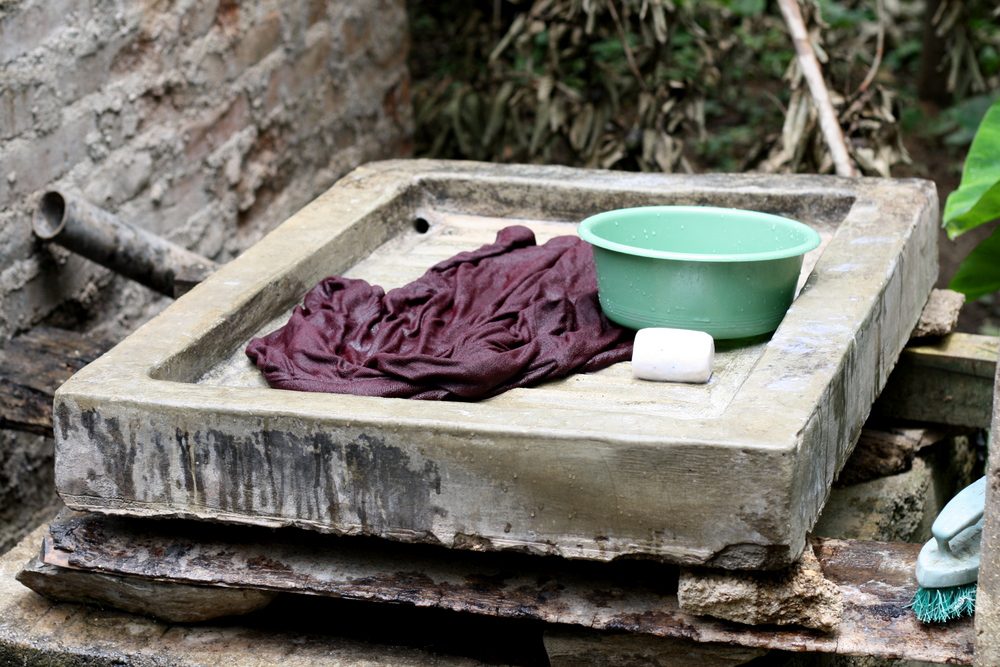 I welcome the solitude, a brief reprieve in the storm of emotions. Afterwards, she helps me hang the clothes on barbed wire and I hope I haven't just succeeded in poking holes in all our clothes. (I haven't.)
I visit with Doña Paula while she makes cuajada, something I've watched her do so many times before…
dog on her kitchen floor
David, the youngest of Aurora's 12 children, shows us our old house which is now his house.
He and his wife and their little girl sleep there, but they have a kitchen (with wood-burning stove) up at his mother's house.
Thirteen years ago, we were the new family, posing for pictures on that same porch.
Our little house now has green walls, and a peace corp worker who lived there painted some trees on the walls, but aside from that (and minus our pretty lamps, cozy rugs, and rocking chairs, tables, mini fridge, and gas stove), it looks pretty much the same: sturdy and cute.
I am standing in the far corner of our one-room house.
People didn't believe it was possible to build a second story (loft),
but we proved them wrong.
David takes us on a walk down to the well where we used to get our water.
In the beginning, we hauled the water up in a little bucket, and later my husband helped them seal the top and add a rope pump, but now the well is used mostly for watering animals. The baby trees that Doña Aurora planted are huge—it's practically a forest.
Everywhere we go, there are pictures of us on people's walls and in their photo albums.
My parents and younger brother with Jeaneth's two babies.
And everywhere we go, people feed us.
Doña Paula plies us with large mugs of milky, sweet coffee and fresh rosquia and mango cake (I taught them how to make cake!) from the previous day's baking. Doña Aurora is dismayed that we won't be eating supper at her house and shows me the freshly killed chicken simmering away on the stove.
But we're having goat for supper up at Doña Paula's, I apologize.
What? You're eating there? But what about all the food I made for you! she says, pretending to be stunned by my "betrayal."
Irritated with her controlling, possessive behavior (she and I have always had a prickly relationship), I refuse to eat. My husband, however, accepts a plate. And then she hands out loaded plates to the children, too. They have yet to recuperate from their big lunch and look at me, panic in their eyes. You don't have to eat it, I say. Just taste it and then hand it back and say thank you.
That evening, the women's group and some of the husbands gather for dinner at Doña Paula's house. Her daughter Silvia has come from up the road, and Teresa has come from a community an hour and a half away.
The women fill us in on all the group's activities:
*After all these years, they are still an active group.
*They have a community "bank" and each year different members take on the role of accountant and president.
*They have guided three other communities in forming women's groups and starting "banks."
*They are a registered group, which means that the government sends new projects their way because they know the women of Casas Viejas will get the job done.
*They make braided bread and French bread at Christmas.
*They have taught other women's groups how to make donuts and the metal cake pans that my husband taught them to make. "We teach anyone who is interested," they say proudly. "There's no point in keeping what we know a secret."
*They tell me, "We have had other groups and organizations come to help us, but you were our base. We didn't do anything before you came."
I helped to get them started, sure, but they—these hardworking, capable, intelligent, go-getters—did all the work. I am so, so, so incredibly proud of them.
After supper, we get baths down at Doña Paula's well, in the dark. It's … an adventure.
And then we head over to our little house to sleep. David and his family have generously turned the whole place over to us. I am briefly dismayed by the sleeping arrangements: two beds—one a single and the other a smaller-than-normal double bed—and a hammock.
My older son sleeps in the hammock, just like he did when he was a baby, and Doña Aurora tucks him in.
The rest of us line up like sardines and do our best to find a comfortable spot on the rock-hard beds.
To be continued…