A couple weeks ago, at the end of that particularly excruciatingly sluggish week, my husband and I and a couple friends checked out a local, pick-your-own blueberry farm. Actually, it's not really open to the public, but we know a person who knows everyone here, so with a little string pulling and name tossing, we got ourselves an appointment with the blueberry bushes.
Turns out, they weren't the most loaded berry bushes. There were more loaded bushes elsewhere on the property, but they had been picked the day before. Really though, I didn't much mind. I was picking organic blueberries in Guatemala and that was enough to make me squeal happy. My husband and I picked seven pounds between the two of us, and at US$1.30 a pound, it felt like a steal.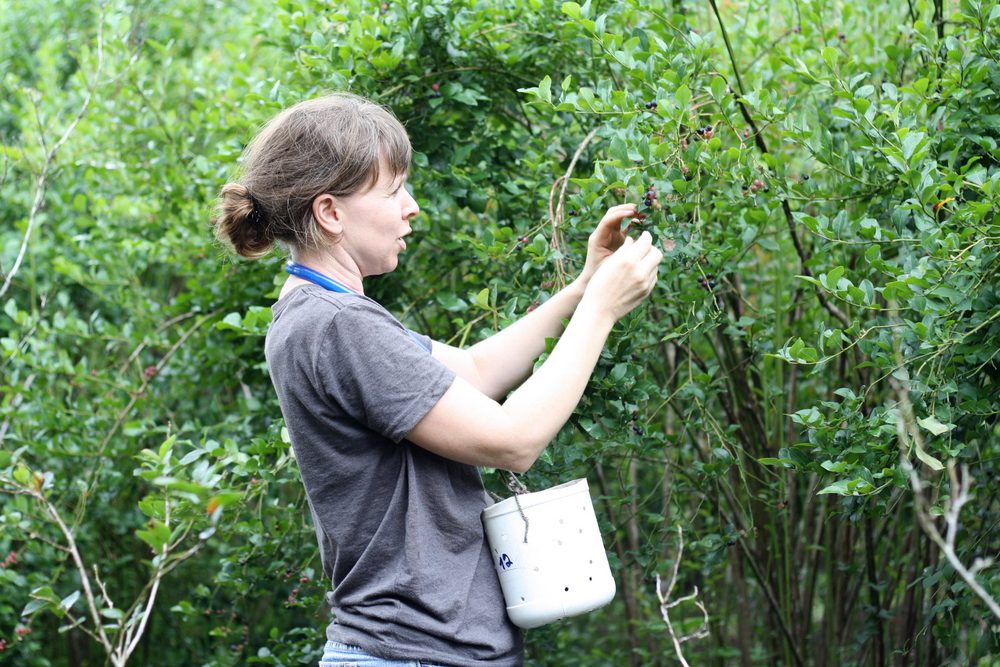 Ho, ho, ho! I'm gonna eat you!
Back home, I got the two pie pastry disks I had made earlier that morning out of the fridge and set about making pie. I almost never make blueberry pie since using up all that painstakingly picked fruit in one fell swoop feels obscenely extravagant. Instead, I usually opt to freeze my berries in one cup bags so that a few berries can flavor a whole bunch of food, such as oatmeal, granola, fruit salads, etc. But with no big freezer, all the berries had to be used up within a couple days, so pie it was. (I did freeze four 1-cup baggies; old habits die hard.)
Despite not being a blueberry pie expert, the pie was a smash hit. I used Elise's recipe as my template and made adjustments as I went. I worried a little that the filling would be runny, but it was perfect: it held its shape while still being saucy juicy.
For dessert that night, we ate thick wedges of warm blueberry pie with vanilla ice cream. It was all I hoped it would be…and more.
Ps. The next day there was this blueberry cobbler and the rest of the ice cream. And the next day there was blueberry baked French toast. And in between there was granola and oatmeal with blueberries.
Blueberry Pie
Minimally adapted from Simply Recipes.
I have no food processor to simplify the pastry-making process, but a perfectly excellent pastry can made with just your own two hands and a bowl (and some measuring cups).
1 recipe (two disks) rich butter pastry
5-6 cups blueberries
1 tablespoon lemon juice
½ teaspoon lemon zest
1/4 cup flour
½ generous cup sugar
1/4 teaspoon cinnamon
2 tablespoons butter
sugar and milk, for top crust
Roll out one of the pastry disks. Use it to line a 9-inch pie pan.
Put the berries in a large bowl. Add the juice and zest and gently toss. Add the flour, sugar, and cinnamon and toss together. Tumble the berries into the pastry-lined pie plate. Dot with the butter.
Roll out the remaining pastry disk. Cut slits in the top. Lid the pie with the pastry. Crimp edges. Brush the top crust with milk and sprinkle liberally with more white sugar.
Bake the pie at 350 degrees for about 45 minutes. Once the fruit juices begins to bubble over, place the pie on a baking pan to collect the drips. (Don't do this earlier—you want the bottom crust to get as brown as possible). The pie is done when the crust is deep golden and the berries are bubbling madly. Cool to room temperate (or almost). Serve with vanilla ice cream.