After that bluesy post, here's the flipside: I'm pretty darn proud of how quickly we've transitioned this time around. When we signed up to go to Nicaragua for three years back in '97, the entire first year was spent in language school, living with a different host family nearly every single week (it was as dreadful as it sounds), and then building our own house out of handmade adobe blocks. We didn't even attempt any official work.
This time around, things are a little different. There is no language study. We've been in Guatemala for two-and-a-half weeks and so far we've had a day and a half of in-country orientation, moved to our location, started work, gone house hunting, moved, and really started to settle in.
Our second moving truck. (The first one didn't show.)
Next week we are supposed to travel to Santiago Atitlán for team meetings and I'm dreading it. Not because I don't want to go to team meetings, because I do, but because I hate to leave this place. It's my home and I'm a homebody and I like it here. That I feel this way so soon after moving to a foreign country is a little bit miraculous, I think.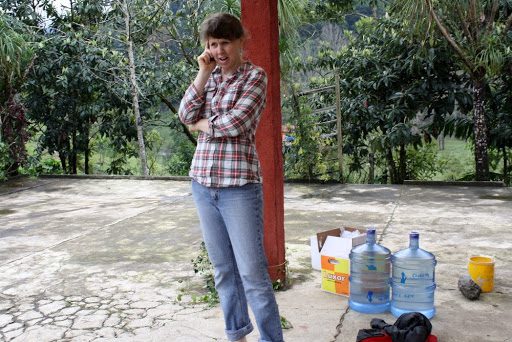 I have a cell phone and I'm not afraid to use it.
Which doesn't mean this transition isn't hard (see previous post). Some things are really wonderful and some things are really frustrating and exhausting. We seesaw back and forth between the two in a most erratic fashion. You'll get some posts that have us soaring sky high and some posts in which we just banged our butts on the hard ground. It'll even out…eventually.
The view from the back door. (It looks a little homier now.)
Anyway, we didn't get our house all by ourselves. I contacted some ex-MCCers who live in Cobán, and they, the mother of the family in particular, have gone way above and beyond the call of duty to help us feel at home. When the mother heard about our living situation, she contacted a bunch of potential landlords and then ended up meeting us in town, driving us out to this place, and helping us assess it and work out the details.
Cleaning the rain-drenched porch.
The next day we moved in, and that night she and her daughter showed up with a (delicious) ready-to-bake casserole for our supper. She had called ahead and asked if we needed anything from the store. I said, bread, bananas, and eggs, please, and if it's not too much trouble. She said okay, and then showed up with bags of groceries: mixed nuts, tuna, crackers, cookies, cornflakes, milk, fresh vegetables, homemade jelly and bread, spices, pastries, pastas, a giant honeydew, juice, etc. There was even a basket with candles and a Guatemalan cloth for the table, and an assortment of toys for the children. I was so overjoyed and thankful I nearly cried. We feasted that night. And after our lunch of one boiled egg each, plus tortillas and salt, it was a much needed feast.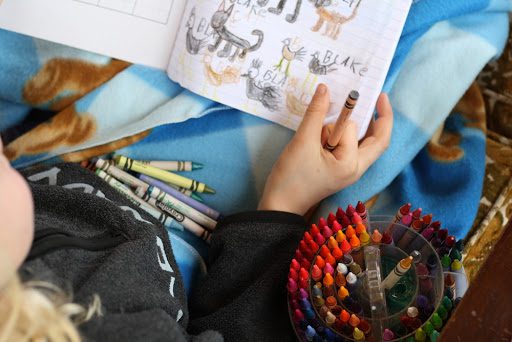 rest time art
This family has continued to help us settle in. They have offered us the use of their vehicle and given us much-needed contact information, such as names of reliable taxi drivers, laundry women, repair men, etc. If it wasn't for this family, we wouldn't be nearly as settled as we are.
The end of a very rainy day.
We are incredibly grateful and deeply indebted.