The other day I stepped out on the porch and my daughter screamed at me to stop.I looked down.
What I thought was a stick—and what I nearly stepped on—was a bug, er rather, a very large and scary-looking millepede.
We all gathered 'round, snapping photos, gesticulating wildly, and trying to ascertain (by drawing on our vast stores of millipede knowledge) whether or not the creature was poisonous.
We finally decided it was better dead than alive—aren't bright colors often synonymous with I'm Poisonous Please Kill Me…or did I just make that up?—and the creature was disposed of.
(Since then, we've found them in the house. Also, I've learned that they are not poisonous. This, however, does not make me not like them any less.)
A couple days later, José came running up to the door. A bird had just crashed into their window, he said. It was lying on the ground, stunned, and since I like to take pictures, he thought I might want to come see it.
I didn't really react—I'm not much of a bird person, let alone a stunned bird person—so, when José realized I wasn't hopping to it, he brought to bird to me.
And then I saw why he was so excited. It was a hummingbird.
Well. I got my camera out right quick and did that poor stunned bird some photography justice.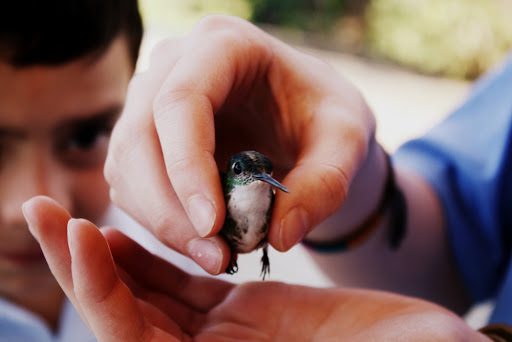 I had never seen a hummingbird up close—it's miniscule body and shimmering feathers were quite the eye candy.
It started waking up a little, opening its beak (can you imagine the
headache it must've had, crashing into hard glass with that pointy
thing?) and flicking its tongue. José carried it back up to the house and gently set it free.