My newspaper column ran yesterday. It was about cinnamon sugar breadsticks.
I had to sit on the recipe for more than two whole weeks while I waited for it to be published. It was agony. I was all squealy-giddy over it and there I was, stuck. With no way to tell you. It was food blogger purgatory. I thought I'd die.
But I didn't, and now I can finally share the recipe. Thank goodness.
I've made these breadsticks on three different occasions. First, I made them on the day that I invented them (duh). Second, I made a double batch when my husband's sister and her five kids were visiting. Third, I made them this morning immediately after I brought in the paper. I had to push my husband aside while he was reading the column so I could see the ingredient list.
The kids weren't thrilled that we were having oatmeal for breakfast, but when they heard that we'd have a mid-morning study break with fresh cinnamon sugar breadsticks and milk, they perked right up.
They devoured the whole pan in two shakes of a rat's tail. I knew they would.
These remind me of cinnamon buns, fresh dinner rolls, and donuts, all rolled into one. They are so easy to make that they're practically mindless. In fact, they're almost perverse in their simplicity—no recipe this slapdash should ever be so rewarding.
But hey, I'm not complaining.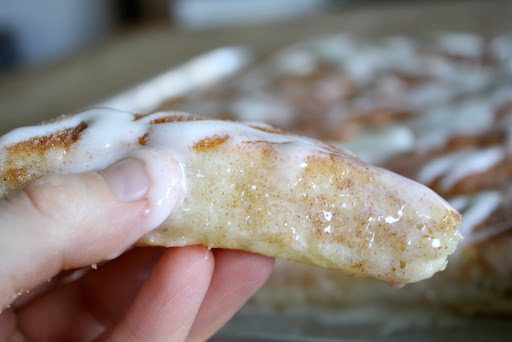 Cinnamon Sugar Breadsticks
2½ teaspoons yeast
1 cup warm water
3 cups bread flour
3 packed tablespoons brown sugar
1 teaspoon salt
1/4 cup oil
4 tablespoons butter, melted
½ cup white sugar
1 tablespoon cinnamon
1 cup confectioner's sugar, sifted
½ teaspoon vanilla
milk or half-and-half
In a small bowl, combine the yeast and warm water. Set aside for five minutes.
In a large mixing bowl, combine flour, brown sugar, and salt. Stir in yeast and oil. Knead until satiny smooth. Flour the bowl. Return the dough to the bowl, cover with a cloth, and let rise until doubled.
Grease a large, sided baking tray. Roll/press the dough so that it covers the bottom of the pan. Cut the dough down the middle lengthwise and then crosswise about 11 times, aiming for about 24 sticks. Cover the dough and let rise for 30-60 minutes.
Bake the breadsticks at 375 degrees for about 12 minutes. Brush the hot breadsticks with the melted butter and sprinkle generously with the cinnamon sugar (you will have some leftover).
Combine the confectioner's sugar, vanilla, and enough milk to make a runny icing. Drizzle it over the breadsticks. Serve warm.
Updated March 2014:
The overnight version: mix up the dough at bedtime and put it straight into the refrigerator in an airtight container. At 3-4 am when you get up to go to the bathroom, put the container on the counter, remove the lid, and cover the dough with a cloth. When you get up for real, roll the dough into the baking tray and follow the recipe as specified.
This same time, years previous: camping, lemon butter pasta with zucchini