Our tomatoes never quit producing, but I did.
Here we are almost to the middle of October, and the patch is filled with straggly vines, heavy with rotting fruit, the ground squishy with tomato goo. I'm sure I could've harvested at least several more bushels, but I didn't have the need for them, let alone the interest. Even the occasional tomatoes that do find their way to my kitchen windowsill to await Death By Serrated Knife more often than not die the slow tortuous Death By Rot. My taste cravings have changed with the seasons, switching from tomato sandwiches and fresh tomato salad to stews made with chunky canned tomatoes and roasted tomato sauces. Bottom line? I'm tomatoed out.
I do, however, feel sort of guilty about all the tomato carnage out there in the garden, so last weekend I marshaled my resolve and attempted to make a little kitchen magic with the hard green tomato. Red tomatoes are so last season, you know?

A year or five ago—my aged memory fails me—my friend gave me a quart of her canned green tomato curry. Maybe it was when we moved into this house? Maybe it was when my last baby was born? Maybe it was just a random act of kindness? In any case, I liked it very much, but even though she shared the recipe and eventually posted it on her blog, I never got around to making it—probably because, like this year, I was always tomatoed out by the time I finished with the tomato mayhem, or perhaps because we've had a couple bad tomato harvests and there were never any end-of-the-season green tomatoes to turn into curry. Like I said, I don't remember.
But this year, after a lot of constant staring out my kitchen window at the tomato-loaded vines, I got to thinking about that jar of green tomato curry. I thought and thought and thought, after which I (finally—good grief, it takes a lot of thinking to get me actually doing something!) clicked over to her blog to see how much sweat and toil it would cost me. What was this? I thought, staring at the recipe. Only six cups of green tomatoes? Goodness, this wasn't some insurmountable undertaking. This I could handle.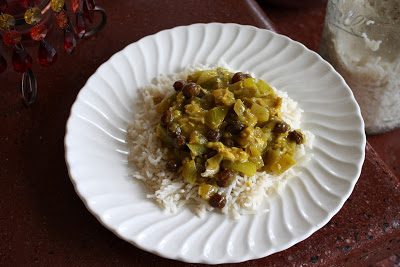 I made the curry last Saturday when my parents were visiting. I had spent the morning feasting on donuts and the afternoon running errands, so by the time I got home, I was hungry and tired, as were the seven other souls under my roof. So I sent my husband out to the patch to pluck a bowl of hard green tomatoes, put a pot of rice on to cook, and thawed a bag of leftover roasted chicken. A chop-chop-chop later and supper was on the table. Really, it was that quick.
We topped the curry with coconut, chopped almonds, and plain yogurt. It was a feast, and the best kind, too—flavorful, filling, and classy in its elegant simplicity.

Green Tomato Curry
Adapted from Jane's blog, Thy Hand Hath Provided
Jane says you don't need to core the green tomatoes, but I did. Old habits die hard.
You can use chicken broth or water in place of the coconut milk.
If canning the curry, use canola oil in place of the butter and water in place of the coconut milk, and don't add the chicken. Jane says one recipe yields 5 pint jars—process the jars in a hot water bath for 30 minutes.
2-3 tablespoons butter
2 large onions, chopped
4 tablespoons curry powder
1 tablespoon cumin
3 pounds (about 6 cups) green tomatoes, washed and chopped
½ cup brown sugar
1 cup coconut milk (see head note)
1 cup raisins
4 cups roast chicken, roughly chopped
1 teaspoon salt
1/4 teaspoon black pepper
2 tablespoons lemon juice
condiment suggestions: chopped almonds, coconut, plain yogurt, toasted sunflower seeds, green onions, chutney, etc.
In a large saucepan, saute the onions in the melted butter till translucent. Add the curry powder and cumin and cook for another minute. Add the chopped tomatoes, brown sugar, coconut milk, and raisins and simmer until the tomatoes are fork-tender, about 20-30 minutes. Add the chicken, salt, black pepper, and lemon juice and heat through. Taste to correct seasonings and serve over rice, with condiments.
This same time, years previous: pie pastry, with lard and egg (by far my favorite quiche crust), green soup with ginger, happy pappy-style cornbread