Potlucks always throw me into a tizzy. What to make? What to make? What to make whattomakeWHATTOMAKE?!?
I get a headache from worrying and stressing and then my husband gets a headache by default (thanks to all my kvetching) and then I invariably forget (or neglect) to work ahead and by the time Sunday morning rolls around I'm frantically running around the kitchen trying to throw something together while still doing the regular Sunday morning prep and—well, it's quite the drama.
So at the last church potluck, I tossed creativity to the wind and made our regular Sunday lunch: waffles. That meant I carted all the waffle stuff—irons, ladle, spatula, batter, syrup, fruit, whipped cream, etc—to the park and set up shop on one of the picnic tables.
At first people didn't have a clue what I was doing. I got lots of blank-confused-bewildered looks, but then they started catching on and by the end people seemed pretty jolly about the whole thing. I think they thought I was being inventive and going all out or something, which was totally wrong. I was just doing the lazy, old hat thing. Waffles are programmed into my Sunday personage. Waffles I can do.
But not all potlucks come with an outlet and space for last minute cooking. 'Tis a shame, I know.
The last potluck I was at was the first meal of church retreat—Friday evening supper. It was much more doable than a Sunday potluck because:
1) I'm normally planning an evening meal so an evening potluck fit into my day easy-peasy.
2) There was no church and Sunday school separating the cook time from the eat time. That wait time always throws me something fierce.
(For the detail hungry among you: I made two dishes. The first was a pan of leftover baked potatoes, chopped up and fried with some bacon and then topped with pepper-jack cheese and baked till melty. The second dish was a casserole dish of pasta with ground sausage, feta, and roasted tomato sauce topped with a layer of blackened zucchini rounds and then mozzarella cheese. I was using up leftovers—can you tell?)
Now I'll be the first to admit (actually, my husband is usually the first—he's such a dear) that I have a bad habit of doing complicated things at potluck time. Like tostados (frying the tortillas at home, and then, at site, topping them with refried beans, salsa, cheese, and a squirt of sour cream from the corner of a cut plastic bag), or waffles (see above), or beignets (talk about a crazy Sunday morning!). If I'm not going complicated, I go simple-boring: applesauce, brownies, and a bag of chips. I need to find middle ground.

So clearly, it's high-time I made a list of potluckable foods. Foods that can be made ahead of time. Simple foods. Yummy foods (who wants to bring home leftovers after all those people have hovered/touched/salivated over it, huh?). Nutritious foods. Foods that can sit and be none the worse for wear. Foods that don't take much brain energy to prep and transport.

I'm dividing my list, not by food category, but by the temperature at which the foods need to be served and/or the appliances needed for serving. You know, like an outlet or a stove or a refrigerator.

But before I get to the food, one word about tools. When indulging in the potlucking lifestyle, good tools are a big help. Though that's kind of a silly thing to say because I don't have much of what I consider necessary and I still potluck, so whatever. But if I were to make a list of important tools, this is what it would include:
*a trusty crockpot
*an insulated carrier, with hot and cold packs (the zipper's busted on mine so I don't use it as often as I might)
*stainless steel trays (potluckers everywhere, be envious!)
*a pie carrier (I'd be more inclined to bring pies if I had one) (hint, hint, darling husband-o-mine)
*a basket that fits a 9×13 pan (want!)
*matching stainless steel cups (again, want!)
*a big basket for hauling all the pans, trays, and cups (though a wash basket will work in a pinch)
(Hm, that was more a wish list than anything. Proof I am a not a potlucking expert.)
Now, for the food!
Room temp (stuff that can sit out for several hours and be okay):
I mention specific cakes, pies, etc, when, in fact, many kinds will do, because I am less stressed when I have details to jumpstart me.

oatmeal muffins
scones (too many to link to)
bread, with butter and jelly
ants on a log
pepperoni rolls
spicy Indian potatoes
peanut noodles
spinach-cheese crepes
pumpkin cake
rhubarb cake
caramel popcorn
marshmallows
elf biscuits
earthquake cake
shoofly cake
apple pie
sour cherry crumb pie
Chilled, via cooler or refrigerator: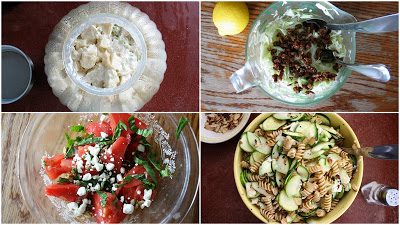 deviled eggs
mustard eggs
applesauce
hummus and pita chips/crackers
chips and salsa
fruit salad (though if the fruits are frozen, they can sit out for several hours, thus landing this salad squarely in the room temp category)
veggie tray
pesto dip and crackers
potato salad
cabbage slaw
fresh tomato salad
Greek pasta salad
zucchini pasta salad
rhubarb cream pie
pudding
Oven-hot (dishes that can be prepared at home and then baked on location):
Of course, many of these dishes can be baked at home and then rewarmed just prior to eating, or kept hot in an insulated carrier.

baked hash brown potatoes
breakfast enchiladas
egg-and-ham casserole
baked French toast
waffles! (irons and outlets required)
cottage potatoes
quiche
macaroni and cheese
baked spaghetti
sweet and sour lentils
tortilla pie
lasagna (I can't believe I haven't shared my recipe with you yet!)
baked lentils with cheese
Indian chicken and rice
baked corn
beef empanadas
enchiladas
Crockpot-hot (foods to be prepared at home, then transported and kept warm in the crockpot):
Quite a few of the dishes in the oven-hot category can be adapted to fit into this category.

potatoes in cream with Gruyere
baked beans
braised cabbage
Indian-style corn
potatoes and onions
fatira
golden chicken curry
barley and beans with sausage and red wine
That's my list! If you have suggestions/ideas, feel free to shout them out in the comments (don't forget to include links). I'll edit and change this list as needed, and there will be a link for this post on the sidebar. I expect it will get lots of hits on Saturday nights, right around 9 o'clock.
Happy potlucking!
This same time, years previous: cornmeal whole wheat waffles, hard knocks, Greek pasta salad