Earlier this week I had to return my Marion Cunningham breakfast cookbook to the library. That morning, with my husband standing close by for moral support, I slowly, somberly, removed the florescent orange and green sticky notes from the pages. Thirty-five of them, to be exact. The brown scones, the steamed puddings, the Richest Bread Pudding in the History of Humanity (my title, not hers) would not get to materialize in my kitchen (yet). I was aggrieved.
I had contemplated calling the library to see if they'd sell me the book as long as I sent them a new copy, but that would've been foolish considering that I'd have to pay for installation fees or something. It's just that I could hardly bear to rip out all those sticky papers, the bright indicators of my careful reading and wise discernment.
I caressed the plastic jacket cover and turned the book, now bald without its zany hairdo, sideways to study the pages. After their six weeks in my home, they were thicker and ripply, thanks to the splatters of butter, egg, and milk. Clearly, I had loved the book. I hoped the librarians would understand.
It was on the eve of the sticky-note removal ceremony that I made my last recipe from that book: caramel oatmeal topping. In other words, oats tossed in a caramel sauce and then baked in the oven until crispy. The end result is, well, caramelized oatmeal, crunchy bits of buttery, vanilla-scented oats. It's as good as it sounds.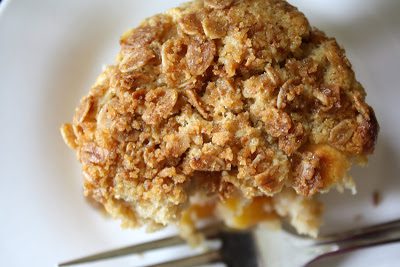 What could a person do with caramelized oats? It'd be a better question to ask, what couldn't a person do with caramelized oats. They can go anywhere, and go they should. Sprinkle them on ice cream, yogurt, applesauce, roasted peaches, cooked oatmeal. Use them in place of streusel on a peach-white chocolate-ginger muffin. Add them to a bowl of cornflakes and granola for—miracles of miracles—homemade honey-bunches of oats! They're good plain, too, eaten out of hand, but once you go there you might not be able to stop.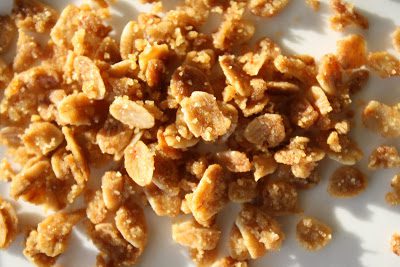 Caramelized Oatmeal Topping
Adapted from The (much-loved) Breakfast Book, by Marion Cunningham
These golden flakes of sweetness could be adapted out the wazoo. Instead of vanilla extract, add maple. Stir some cocoa powder or cinnamon into the caramel, or add coconut and almonds to the oats before coating with the hot caramel. Other additions might include puffed rice, dried apples, cacao nibs, etc. This could get dangerous, no?
Note: I can't remember if it's a quarter teaspoon salt, baking powder, or baking soda and Google is not coming to my rescue, blast it all. Next time I go to the library, I'll look it up and get back to you. In the meantime, a little salt is always a good thing…
On second thought, I'm pretty sure it's not salt. I think it's baking powder. Maybe?
Updated: I bought the book and it is indeed SALT.
2 cups rolled oats
1 stick butter
1 cup packed brown sugar
1/4 teaspoon salt
1 teaspoon vanilla
Melt the butter in a saucepan and add the brown sugar and salt. Bring it to a boil and cook for one minute, stirring continually. Remove the pan from heat and stir in the vanilla. Pour the hot caramel over the oats and toss till coated. The mixture will feel grainy.
Spread the oats into a greased 9×13-inch baking pan and bake at 325 degrees for 15-20 minutes, stirring every five minutes. At first it will slump into a solid sheet of caramel during its five-minute stints in the oven, but eventually it will become more brittle and flaky, which is one sign that it's almost finished baking. The other sign is that it's a dark golden brown.
Store the cooled oats in a glass jar. Sprinkle on everything.
Yield: 4 cups
This same time, years previous: oven s'mores, dreaming, on our way, smartly