It's not a nice thing to do. In fact, it's kind of bad. Maybe even cruel. Like delivering a double whammy punch below the belt. Ouch ouch.
But I'm going to do it anyway. I'm going to push my stuff on you and then walk away. (Though I may turn around a couple times to see how you're holding up.)
Cause, see, I am the newest crack(er) pusher on the blog-ock.


Yes ma'am, I done did whip up a batch of addictive treats in my very own kitchen. And then I proceeded to lose every ounce of self control and had to stick the blasted stuff in the basement freezer to keep it away from me, and then—oh woe is me—I took the junk to church and doled it out to unsuspecting, innocent souls. Mercy!
When my husband saw the empty jar on the kitchen counter, his eyes got all big and he said, "You mean it's all gone?"
"Well yeah, hon. What did you expect?"
These babies aren't only known as crack(ers). They do have another, more benign and less sinister, name: elf biscuits. But I think that's pretty much the same thing as calling it crack(ers) because clearly, elves must be on something fairly powerful in order to get all the stuff done that they get done, right?
Still, your fellow parishioners won't look quite as nervous if you hand them an "elf biscuit" instead of a piece of "crack." Just a tip from the pro. You're welcome.


The recipe is easily memorize-able: 2 sticks butter, 1 cup each of sugar and nuts, and some crackers and chocolate. See? That just rolled off my fingers.
Never before has it been this easy to get your fix.
Again, I'm sorry.


After I wrote most of this post I got such a profound craving for crunchy, caramel-y, chocolate-y deliciousness that I got up off the couch and made myself another batch. This time I took pictures, too. But most of them turned out blurry since I had the anticipation shakes.
Just KIDDING! (Except not about the blurry part.)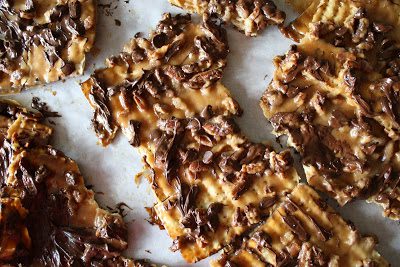 As I was finishing off the caramel, the Baby Nickel, who was watching the process with rapt attention, said in a forlorn little voice, "I looked for the stuff yesterday [at the potluck] and couldn't find it. I couldn't find it!" I totally understood his desperation. And when my older son realized that I never saved him any from the potluck (he was biking with a friend mentor [and seeing another black bear!]) and got all accusatory, all I could do was apologize profusely and point to the trays of fresh crack(ers), Soon, honey, soon!
I'm such an awful mother, corrupting my children like this! If you, unlike me, have any common sense at all, you won't make these.
Really.

Don't do it.

Just say no.

WALK AWAY ALREADY.
Love,

Your Local Crazy Blogger-Pusher Lady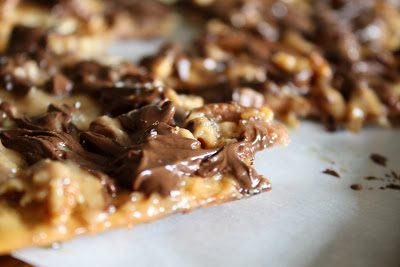 Elf Biscuits

Otherwise known as Crack(ers)
My recipe is a combination of my friend-cousin Shelah's recipe and Deb's of Smitten Kitchen, but you can find the recipe anywhere and everywhere on the web. (The Elf Biscuit name comes from Shelah and the special cracker spelling comes from Deb.)
I used white sugar this time, but next time I might use brown. Also, a little vanilla in the caramel wouldn't be a bad idea.
There are lots of variations. Use a different kind of cracker, or some white chocolate, or M&Ms. Or what about pretzel pieces in place of nuts? And don't forget the classic graham crackers, chocolate, and mini marshmallow combo.
crackers such as matzo, graham, saltines, or club

2 sticks butter

3/4 cup white sugar or 1 cup brown sugar

3/4 cup pecans

1 cup chocolate chips

coarse salt
Line a jelly roll pan (or two 9×13 pans) with crackers. I used matzo (about four crackers) and I LOVED them.
In a large saucepan, melt the butter and stir in the sugar and nuts. Bring it to a boil, stirring frequently and then cook for about 3 minutes. Keep stirring. Remove the kettle from the heat (now's the time to add vanilla and salt, if you wish). Pour the caramel over the crackers. It will not cover them evenly, but don't worry about that.
Bake the crackers at 350 degrees for 12-15 minutes. The caramel will darken (but don't let it burn), bubble, and spread out evenly over the crackers.
Remove the pan from the oven and sprinkle with the chocolate chips. Let them sit a minute before spreading them out a little with the back of a spoon. Sprinkle with coarse salt. (This step might not be necessary if you're using a salty cracker like saltines or club.)
While the crackers are still a little warm, move them from baking pan (a metal spatula works well for this) to a sheet of parchment paper. (If you let them cool all the way in the pan, they might be impossible to get off.)
Cool completely (a fridge/freezer helps the chocolate to set up faster), break into pieces, and store in an airtight jar. Foist on everyone you meet…because keeping this addiction private has serious ramifications. As in, you will get fat.
This same time, years previous: nectarine red raspberry freezer jam (note the word "freezer" in the title—the jam doesn't work so well if you try to store it on the shelf with the canning), granola bars