I WANT TO COOK SOMETHING AND DON'T KNOW WHAT. STOP. SEND INSPIRATION ASAP. STOP. (P.S. Thank you.)
That was what I tweeted two Fridays ago. Shortly after that outburst I channeled my angst, entered my kitchen, and made the following:
Green lentil hummus
Granola
Brownies
A large pan of roasted sweet cherries (with bourbon and sugar)
Blueberry almond baked oatmeal
There may have been some other stuff, but I can't remember it now.

I've made this particular kind of baked oatmeal two times (the first time with red raspberries) and I am in love with it. It's mildly sweet with an extra kiss of lovely from the tart-sweet berries. The almonds give it a delicious crunch. And as for the cinnamon-flecked, buttery oatmeal itself, it is less cake-y and more solidly oatmeal-y than my other baked oatmeal. Just a small serving fills me up completely, giving me enough energy to make it all the way to lunch, no problem. (Except for the problem of eating too much because I just can't stop myself.)
The weird thing is, my family doesn't like this oatmeal. It's a highly controversial dish, with my kids loudly moaning and groaning, my husband mumbling (to me) under his breath, "It just doesn't have any flavor," and me throwing up my hands and wailing, "WHAT? No flavor? It has TONS of flavor! It's so buttery and cinnamon-y and sweet and…and…PERFECT! What is wrong with you people!"
I've resigned myself to the idea that I might not be able to win my family over to this breakfast delicacy but I am not relinquishing my firmly-held belief that this is indeed a perfectly delicious breakfast feast. And their unsophisticated palates are certainly not going to stop me from blogging about it.

So now I turn the dish in question over to you. Make it and tell me what you think, okay? (But only if you love it. For I can handle no more controversy.)
HELP NEEDED IN THE BAKED OATMEAL BATTLE. STOP. SEND REINFORCEMENTS ASAP. STOP. (P.S. And thank you.)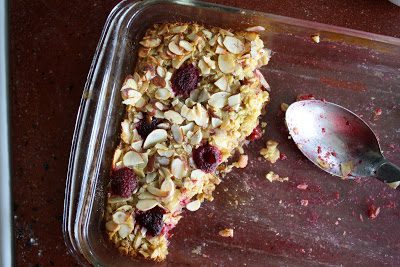 Berry Almond Baked Oatmeal
Adapted from The Hazel Bloom who in turn got it from Heidi Swanson's book Super Natural Every Day
A double batch gives me a week of yummy breakfasts. That amount fits my 7 x 11-inch pan quite nicely.
I get as much of the work done the night before by mixing up my dries and wets and then storing them separately (on the counter and in the fridge, respectively).
1 cup rolled oats
3 tablespoons sugar
½ teaspoon baking powder
3/4 teaspoon cinnamon
1/4 teaspoon salt
1 cup milk
1 egg
2 tablespoons butter, melted
1 teaspoon vanilla
1 1/4 cup berries (raspberry, blueberry, etc.)
1/4 cup sliced almonds
Combine the first five ingredients in a small bowl and set aside. In another bowl, beat together the next four ingredients and set aside.
Put 1 cup of the berries in the bottom of a smallish, greased baking dish (about 5″ x 8″). Sprinkle the dry ingredients over the berries. Pour the wet ingredients over the dry, making sure that all the dry gets wet (but don't stir). Sprinkle the remaining berries over the oatmeal and then the almonds.
Bake the oatmeal at 375 degrees for about 30 minutes, or until your kitchen smells heavenly. Serve warm, topped with milk.
This same time, years previous: cottage potatoes, fruit cobbler, orange julius