We did corn on Saturday.

Lots and lots of corn.

The kids stuck with us all morning, husking and silking, but by afternoon they had fizzled and it was mostly just me and my hubby plugging away, boiling, cutting, and bagging.

I didn't actually want their help for those parts anyway—there was too much heat, sharp, and sticky going on.

We didn't get as much corn as I hoped, I think because some of the corn was on the small side (boo to the husband-and-son picker duo).

But the ears were gorgeous—I think we found three bad spots total.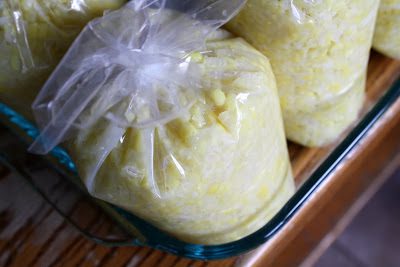 And we'll have another, smaller picking later this week. It will be enough for the winter, that's for sure. So I'm not complaining.

The kids discovered that since I was in corn up to my elbows, they could get away with using my camera. For once I got lots of pictures of me, mostly of my midriff.
In the course of the day, I managed to do two really, really stupid things.
First of all, I sunburned my back. It was totally unintentional, and Mr. Handsome, the sunburn police (whenever I'm out in the garden he accosts me with, "ARE YOU WEARING SUNBLOCK?") never even thought about it.

Because I was working in the shade, you see. And it didn't occur to me that I could get burned while hanging out under a bushy tree.
But you can. Boo.

The second stupid thing I did was listen to my husband when he said to come over and help him get the corn out of the boiling water. This was stupid because—and the thought did cross my mind as I walked over to help him, making me doubly stupid—when one person is working with boiling water and an ear of corn slips and splashes back into the kettle, they know it is happening and can jump back in time. But the other person, the one standing on the opposite side of the kettle of boiling water, has no idea that an ear of corn has just slipped and so that person—ME!—stands there like an idiot while boiling water splashes all over her tummy, arm, and down her leg.
I yelled and hollered, my husband laughed (he insists it was from surprise—BOO), and my baby said, "Mama, your tummy has tears!"

And then my kids fought over who would get to take pictures of the carnage.
I suppose you could say that the third stupid thing would be that I was wearing a cami with the bottom pulled up. That's a stupid thing to do when you're working outside and a) you're a fair damsel and b) you're dealing with boiling water.
But it was hot outside!
And the breeze around my middle felt so deliciously wonderful!
And it's totally unfair that guys get to walk around with their shirts off!
If I had more experience living life with a bare belly, I probably wouldn't have had all those stupid things happen to me. Because practice makes perfect, right? (And no, I don't mean perfectly stupid, either.)

I made this roasted corn last week with the corn that my brother gave us.

And then I made it again, but a triple batch that time. Because it has lime and feta and so therefore is a fabulous summer dish/salad/whatever-you-wanna-call-it to keep in a jar in your fridge, ever ready to be called into service on a hot day when you don't feel much like cooking. Amen.

Roasted Corn with Lime and Feta
Adapted from the August 2011 issue of Bon Appetit
The original recipe called for Manchego cheese and minced jalapeño, of which I had neither. The Feta and minced green bell pepper stand-ins were nothing to be ashamed of.
6 ears corn
2 tablespoons olive oil
2 tablespoons butter
1/4 cup minced green pepper
2-4 tablespoons minced fresh chives
1/4 – ½ teaspoon red pepper flakes
2 teaspoons lime zest
2 tablespoons lime juice
½ cup feta cheese
S&P to taste
lime wedges, for garnish
Roast the un-husked corn in a 450 degree oven for 15 minutes, turning once or twice. Let cool before shucking and cutting kernels from the cobs.
Heat the oil in a large skillet and add the corn. Cook for about 5 minutes or until the corn starts to get tinges of golden brown. Stir in the butter and remove from the heat.
Put the corn into a serving bowl and toss with the remaining ingredients (not the lime wedges). The cheese will get a little melty—not only is that okay, it's delicious. Taste to correct seasoning and serve immediately.
The corn can be chilled in the fridge, but allow to warm to room temperature before serving, or give it a quick zap in the microwave.