I posted a picture of this dish well over a year ago and promised you the recipe but then never—woe is me—delivered. I am so sorry.

Let me say right up front, the orzo was a grave mistake. My husband, who liked the dish, called it Maggots on Spinach and all I could do was laugh because he was so right. The recipe calls for small pasta, like orecchiette or small shell, so do that, okay?
Disgusting analogies aside, it really is a delicious meal. It's kind of impossible to go wrong with bacon, pine nuts, Parmesan, spinach, and a balsamic vinegar reduction. (Though the kids were noticeably absent from the peanut gallery for this meal.)
The vinegar reduction might sound all fancy-schmancy, but it's not. Put a half cup of vinegar in a small saucepan and simmer it till it has reduced by half—it takes all of 5 minutes. What you get is a sweet vinegar syrup, that, when drizzled over the pasta, is the icing on the cake, er, pasta.
Of course, you could leave it off, but I don't recommend it because the vinegar is what makes this dish. (I'm thinking it might also make a whole lotta other dishes—like how about a drizzle on a lettuce-radish salad?—just that much better.)
The dish improves with a little age, making it the perfect thing to take to a potluck (which, come to think of it, is where I was when I first tasted it), or for a cool meal for a hot summer evening. I had the leftovers for my lunch the next day—just a brief blitz in the microwave to take the chill off and I was swooning all over the place.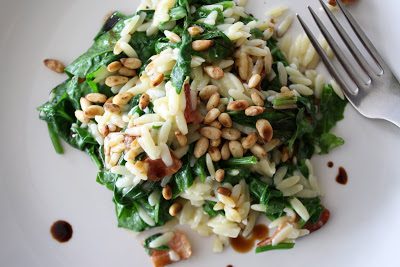 Small Pasta with Spinach and Bacon
Adapted from the December 2008 issue of Cuisine at Home via Helen, a woman who puts the luck into the pot ('cause she brought the dish to the potluck, get it?)
This is a wonderful dish to make during the height of the spinach season (use baby spinach [I didn't], if at all possible). There are a number of steps, but none of it is complicated and much of it can be made ahead of time.
Also, treat this recipe as more of a formula. You can leave out the anchovy paste, sub toasted almonds for the pine nuts, and use all pasta water in place of the chicken broth.
Just don't forget the vinegar.
½ cup balsamic vinegar
11 ounces (about 3 cups) small pasta such as orecchiette
4-6 slices (about 6 ounces) bacon, cut into smallish pieces
3 tablespoons minced garlic
½ teaspoon anchovy paste
½ cup chicken broth
1/3 to ½ cup freshly grated Parmesan cheese
6 ounces fresh (baby) spinach
a handful of chopped fresh parsley
1/3 cup pine nuts, toasted
salt (if not using anchovy paste) and black pepper, to taste
black pepper
Cook the pasta according to package directions. Drain the pasta, reserving ½ cup of pasta water, and set aside.
Put the vinegar in a small saucepan and simmer over medium heat for about 5 minutes, or until it has reduced by half. It will be thick enough to coat the back of a spoon. Set aside.
Fry the bacon in a large pot. Transfer the bacon to a plate to cool and discard all but two tablespoons of the fat.
Into the hot fat, toss the garlic and anchovy. Once the garlic has started to brown, add the chicken broth and reserved pasta water and simmer for 2 minutes. Remove the pan from the heat and add the bacon, pasta, and Parmesan—stir to combine. Add the spinach, parsley, vinegar, and a couple grinds of black pepper. Toss gently until all the spinach has wilted. Sprinkle the pine nuts on top and serve.
This same time, years previous: three reds fruit crumble