So yesterday, to hoist myself out of the food rut I've been in, I sat myself down to make some plans. I listed off food that I have on hand that I want to use up. I asked the kids what foods they wanted me to cook. (I was very clear that their suggestions were just that, suggestions, and that I might not—nay, probably wouldn't—make what they said.) I sketched a brief menu. (Kind of.) I called my mom. I did a belly dance workout.
All the time I was puttering around, I was prepping myself, marshaling my reserves, stoking up my cooking energy, and then suddenly—BOOM! I exploded into the kitchen, slapping kettles on the stove, running down cellar for food, measuring, grating, stirring, yelling at the kids to get out of my way, and, in general, making one enormous mess.
Oh yes, and cooking up a whole bunch of food, too. I made macaroni and cheese (using up a some leftover Christmas cheeses), cooked carrots with browned butter (Miss Beccaboo's request), and peas. I made a pan of baked oatmeal for the next morning's breakfast. I shaped bread loaves and put them in the fridge to proof. And last minute, I popped open a quart of sour cherries and baked them up into a delicious cobbler for our dessert.

It may not sound like all that much food, and it isn't, really, but I did it all in about an hour. And after not cooking much for a couple days, it was nothing less than a breakthrough. I even washed a small mountain of dirty kettles and bowls before sitting down to eat.
We don't usually have dessert for supper, so the cherry cobbler was the cause of much cheering and hollering … and scarfing. All of it got eaten up right then and there. And then more than one pair of eyes cast mournful glances at the pan's sad emptiness.

What's so wonderful about this cobbler is that it can be whipped up in the thick of crazy cooking, baked while dinner is being eaten, and then brought to the table piping hot. Scooped steaming hot into bowls and then baptized with cold milk, it makes a comfy-cozy winter-time dessert. (Or if you want to dress it up a little, serve it with vanilla ice cream.)
The other thing that's so wonderful about this cobbler is that it makes use of almost any kind of fruit—fresh, frozen, or canned. At this time of year I'm always searching for ways to creatively use up my canned fruit, so I usually go that route. Stone fruits (peaches, plums, apricots, cherries) are excellent choices, as are raspberries and blueberries.

The other thing that's so wonderful about this cobbler is that it's easy easy easy to make. Equal parts flour, sugar, and milk, with some baking powder and salt. Well, at least that's the original recipe—I reduced the sugar a bit, throwing the even proportions slightly out of whack. Which leads me to the next point…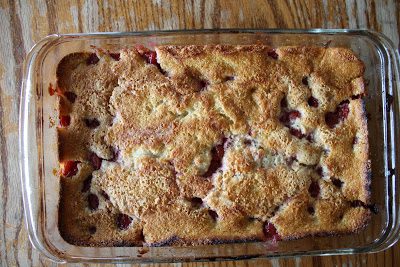 The other thing that so wonderful about this cobbler is its versatility. Use all white flour, all whole wheat, or a combination. Or add in some different grains: spelt, cornmeal, oat flour, a bit of wheat germ, etc. Add more sugar, or less, depending on your tastes and the tartness of the fruit. Sub in some brown sugar, or maple syrup or honey, or maybe even a touch of molasses. Play around with the spices, add nuts (I added some almond meal to the cobbler that you see in the pictures), candied ginger, or some dried fruit. (Disclaimer: I have not tried all these variations—I'm just thinking out loud. Use your discretion when experimenting and don't blame me if it goes all wonky.)

Yet another thing that's so wonderful about this cobbler—and this is perhaps the most wonderful part of the whole deal—is that it tastes delicious and the whole family loves it.
Amen and The End.

Quick Fruit Cobbler
Adapted from the More-With-Less Cookbook by Doris Janzen Longacre
I have doubled the original recipe. A single batch (half of what you see below) is supposed to go in a 9 x 9 pan, so you'd think that a double batch would go in a 9 x 13 pan. However, I have found the 9 x 13 pan to be a little too big. If you don't mind a thinner cobbler, then by all means go for it, but I think a triple batch works best for a 9 x 13. For the recipe that follows, I use an 11 x 7. There. Did I confuse you sufficiently?
1 cup flour (I use a mixture of whole wheat pastry and all-purpose)
3/4 cup sugar (more or less) (plus 2 tablespoons for garnish)
2 teaspoons baking powder
½ teaspoon salt
1 cup milk
4 cups fruit (if using canned fruit, save about ½ cup of the juice, optional)
Whisk together the dry ingredients and then whisk in the milk. The batter will be quite runny. Pour the batter into a greased 11 x 7 pan.
Distribute the fruit evenly over the top of the batter. (If using canned fruit, drain it first, and then drizzle a little of the fruit juice over the fruit-pocked batter, if you so desire.) Sprinkle the two tablespoons of sugar over top. Bake the cobbler at 350 degrees. The fruit and the batter will exchange places. When the fruit is bubbly and the top golden brown (or after about 30-40 minutes), the cobbler is done.
Serve warm, topped with cold milk or some vanilla ice cream. Leftovers (yeah right) can be stored at room temperature or in the fridge.
This same time, years previous: cranberry relish, spots of pretty, inner voices, the bet