I was scrolling back through my photos and realized that I have lots of evidence of kiddling shenanigans that I have yet to share with you. So, no point in dilly-dallying. Let's go!
First up, take a gander at these wallets.

They're made out of duct tape! Yo-Yo learned how to do this at his friend's house and then he bought himself a roll of duct tape and started smacking together a bunch of wallets.

It kept him busy for a couple days—totally worth the eight dollar roll of tape. (Except, I think he got a generic tape because it smells rank. If you're going to do this, buy the real deal.)

Here is Miss Beccaboo learning how to type…while sporting a queenly crown fashioned from a Barbie doll dress and a straight pin.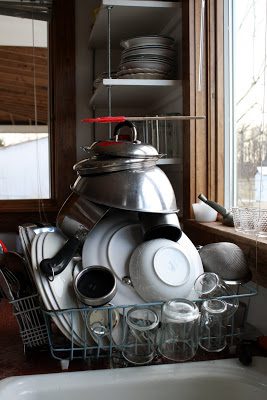 Here is the dish drainer after Yo-Yo finished washing them.
I bought a wig at the thrift store, handed it over to my kids, and crossed my fingers that it wasn't hopping with lice.

My son loves it.

My daughter loves it.

My husband loves it.
Here we have a rigged light switch, courtesy of Yo-Yo. (Ignore the graffiti.)

He wanted to be able to turn his ceiling light off without climbing down from his loft, so he tied two strings to the switch and then ran them up along his ceiling, using hook-y things to hold them in place.

At the other end up in his loft, he tied a Lego piece to the end of each string.

Pull one and then light goes on. Pull the other and the light goes off.
I've been watching an episode from the Cook's Illustrated DVD almost every day. The three younger kids usually join me.

Yesterday we learned how to make pommes anna and then Miss Beccaboo made a pommes anna out of play dough. She had the technique down pat.
The kids have to bring in wood almost daily.

When they get smart, they turn it into a game and make a chain.

Yo-Yo has been hankering after a bow and arrow so Mr. Handsome told him to make one.

Yo-Yo made two.

I'm not sure how this picture ended up on my camera. I think the kids maybe stole it, the dirty little rascals. Anyway, I'm glad to have that picture now because it means I can tell you about the latest bit of terror they have inflicted upon me. See that bust that a woozy-looking Yo-Yo is shouldering? That's a bust of a two-year-old Yo-Yo, done by my youngest brother. (I think?) It weighs a ton. It's pink.
The kids like to stick it places and then wait for all hell to break loose. Actually, they don't usually see my reaction because they're sound asleep, but that doesn't stop them. They set it up some place and then go to sleep and when I come up to check on them I freak out so bad I about pee my pants. Just the other night I walked into Yo-Yo's room, which was eerily lit by an orange electric candle, and there was the bust atop a blanket-draped stool. It nearly did me in.
This same time, years previous: earthquake cake