Last Saturday was my mom's birthday. She and Dad, plus two other families (my brother's and my cousin's), came to our house for the birthday dinner part of the festivities. I made spaghetti carbonara.

Up until the past couple weeks, I don't think I ever had spaghetti carbonara before. I don't think I even knew what it was. Which is hard to imagine, seeing as how we were made for each other. Now that I've seen the light, I know that pre-carbonara, I was just a washed out version of my present self. Colors were muted, songs were off-key, and smiles were lopsided. Now, post-carbonara, my life is so much richer—angels, rainbows, grins—they're everywhere! (And I'm a little bit fatter, too. But that could also be from all the cookies and ham.)

I learned about the recipe thanks to some America's Test Kitchen DVDs I brought home from the library—a book of 4 DVDs with a total of 26 episodes chock-full of Christopher Kimball's bow tie (yikes). But I wanted to see a cooking show and this was what the library had to offer so I took it.

The first show we watched (the kids and I lined up on the sofa, the laptop sitting on the piano bench) was about spaghetti carbonara. The recipe looked enchantingly simple so I pulled some bacon out of the freezer and made it for supper. I looked at a couple other sources to double check measurements and ingredients, but mostly I cooked from memory—I had watched the show before lunch, and hunger and that goofy bow tie (it's a ploy! it's a ploy!) had helped to sear the recipe into my brain.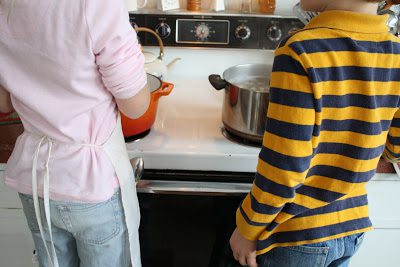 The next time I made it—for the party—I did it all from memory. It was the easiest company dinner I have made in a long time. Since my sister-in-law brought two salads, all I had to do was cook a pot of peas, open a jar of applesauce, slice some bread, and cook the pasta. Which I did at the very end, calling people to the table even as I was calmly (me? calm? yes!) tossing the pasta. A zero-stress meal if there ever was one. It doesn't get much better than that.

A few days later I made it again, still from memory. I needed to take pictures, and well, I still hadn't got my fill of the creamy, wine-y, peppery sauce.

To make spaghetti carbonara, this is what you do: fry some bacon in olive oil (yikes! yum!) and then simmer it with white wine and a minced clove of garlic. While the pasta is burbling away, beat three eggs together with a cup of finely grated Parmesan. Now, drain the spaghetti, reserving a cup of the pasta water. Put the spaghetti in the serving bowl, dump the raw egg-cheese goo on top (the hot pasta will cook the eggs), pour on a bit of the hot pasta water and start tossing. Keep this up for a minute or so, adding more water as necessary. Add the fried bacon and wine-y juices and toss some more. Sprinkle heavily with pepper and serve immediately.

See? I told you it was simple!
I've heard three different stories about how spaghetti carbonara came into being. Kimball says it's because of all the black pepper—like flecks of carbon. But another source (some blog, perhaps?) said it's because when the Italian miners (or tree cutters or whatever) went out into the boonies to do their week (month?)-long stint of hard labor, they could only carry nonperishables like pasta, eggs, bacon, wine, and cheese, and so out there in the bush, these rugged men created this to-die for dish. However, my food encyclopedia reports the obvious—that the origins of this dish are sketchy—but one possibility is that when the American troops occupied Spain in 1944, the local cooks created the dish from the soldier's rations of eggs and bacon.
Truth is, I don't really care how the dish came into being. I'm just thrilled that it's finally made its way into my kitchen.

Spaghetti Carbonara
Adapted from one of the episodes of America's Test Kitchen, Christopher Kimball's cooking show
I dialed back the amount of olive oil from about five tablespoons to two. Rich dishes are good, greasy ones, no.
Keep in mind that just a little bacon goes a long way. I recommend half a pound, but you could get away with much less meat and still have plenty of the bacon-y goodness.
One thing I learned on the show is that when draining pasta, dump it into a colander (but always reserve a cup of the liquid for thinning out whatever sauce you'll be using) and let it sit for 20-30 seconds without shaking (so you don't lose the starch) before dumping it into the serving bowl.
When making spaghetti carbonara, it's important that everything be ready to go once that pasta gets drained. It needs to get to the table straightaway, no poking allowed.
To keep everything nice and hot, preheat the serving bowl by filling it with hot water five minutes before you'll need it.
Variation: I've heard that some cooks add cream to the wine/bacon/garlic concoction…
1 pound spaghetti
2 tablespoons olive oil
½ pound bacon
½ cup white wine
1 clove garlic, minced
3 eggs, beaten
1 cup freshly grated Parmesan cheese
lots of freshly ground black pepper
Put the olive oil in a heavy-bottomed pan and turn the burner on to medium high. Add the chopped bacon (first slice it in half long ways and then chop it up into quarter-inch pieces) and stir it around. Reduce the heat a little and let it sizzle for 10 minutes, or until it's browned and cooked through, but not crispy. Add the garlic and stir it around for half a minute. Add the wine. Simmer for another ten minutes (or so) until the wine has reduced a little.
While the bacon is simmering, cook the pasta according to package instructions.
And while the pasta is cooking, stir together the eggs and Parmesan, heat up the serving bowl, and set the table.
Once the pasta is done, drain it, reserving a cup of the cooking liquid. Dump the pasta into the serving bowl (first dumping out the hot water that was heating it up), pour the egg and cheese mixture on top and, using a set of tongs, begin to toss the pasta. Add the cooking water, a quarter cup at a time, tossing it in after each addition. (I probably use about three-quarters of a cup of liquid.) When the eggs and cheese are thoroughly dispersed, add the cooked bacon, making sure to include all the liquid, both wine and drippings. Sprinkle it with lots of black pepper before tossing one last time.
Serve and enjoy!
This same time, years previous: marmalade glazed ham