I've fallen in love with fruit crumbles. Baked fruit desserts are no stranger to me—I've made many a crisp, cobbler, and pandowdy—but it wasn't until recently that I learned the art of the crumble. A crumble is just like a crisp, except there are no oats involved: mix together some flour, sugar, and baking powder, stir in some melted butter and there you have it—a crumbly crumble topping.

Deb is the one to thank for the abundance of crumbles in this house (ever since I discovered crumbles, I've been exercising my newfound skills with alarming frequency), and while I've tried several different fruit combinations, my favorite is what I've dubbed Three Reds Fruit Crumble: sour cherries, strawberries, and rhubarb.

All these fruits are in season at the same time in our little corner of the world; the rhubarb is on the way out, the strawberries are half-way over, and the cherries are just in.

I don't think there is a better way to celebrate the crimson windfall than to toss the fruits with lemon and sugar, top them with buttery, zesty crumbs, and bake them together until the whole mess is thick, bubbly, and golden brown on top.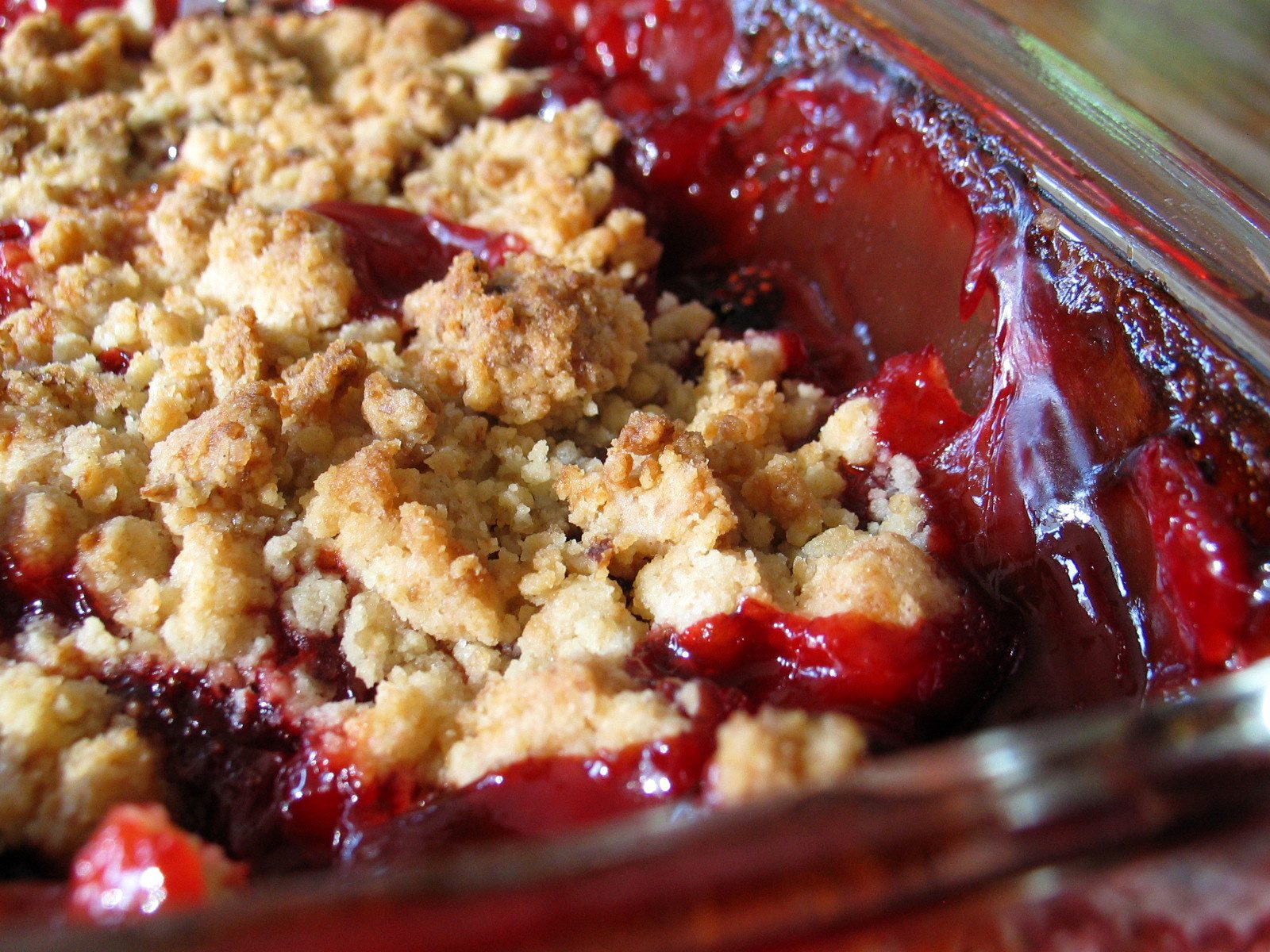 This crumble, my dears, is the reason these fruits are all in season at the same time. It's positively providential, and served warm with sour cream ice cream (hang tight!) on top, and you might just think you've died and gone to heaven.

Three Reds Fruit Crumble
Adapted from Deb at Smitten Kitchen
For the fruit filling:
1 ½ cups rhubarb chunks (approximately 1-inch)
2 cups sour cherries, washed and pitted
2 cups sliced strawberries
juice of one lemon
½ cup, plus 2 tablespoons, sugar
3 tablespoons Therm Flo or cornstarch
pinch of salt
In a large bowl, combine the fruits with the lemon juice.
In a small bowl, mix together the sugar, Therm Flo, and salt. Sprinkle over the fruit and toss to coat.
Dump the fruit into a greased 9 x 13 pan (this is plenty big, so you could downsize a little if you wish). Top the fruit with the crumble mixture (see below) and bake at 375 degrees for 40-50 minutes, or until the fruits are bubbly thick and the crumble part is golden brown.
Serve warm, with (sour cream) ice cream.
For the crumble:
1 1/3 cups flour
3 tablespoons Demerara sugar
3 tablespoons white sugar
1 teaspoon baking powder
zest from one lemon
8 tablespoons butter, melted
Combine the flour, sugars, baking powder, salt, and lemon zest. Add the melted butter and stir till thoroughly combined and crumbly. (This can be made ahead and refrigerated.)
About one year ago: Fresh Strawberry Cream Pie. I made this the other day and the kids ate so much (my fault—I served them too much) that they nearly got sick.