I made gnocchi and I'm inordinately proud of myself. Way more proud of myself than I ought to be, considering how simple it was.

The word "gnocchi" (pronounced nyo-key) reminds me of a fat little dwarf, roly-poly and feisty, but while actual gnocchi are fat and roly-poly, they certainly are not feisty—they are bland and comforting, on a mission from heaven to bring peace and joy to your very soul.

The feisty part kicks in when you dress them up in sauces. I topped mine with tomato and red wine sauce, meatballs, and some freshly grated Parmesan cheese. It made me swoon. (And let me just say here: I had gnocchi in a restaurant a few months back and I was not impressed. This gnocchi, on the other hand, impressed me into raptures, though if you are not accustomed to eating dumblings, it may take a few bites till you begin to cotton to them. It's a different texture—soft and chewy—but one that I find profoundly satisfying.)
Today I had the last few gnocchi for my mid-morning snack. I tossed them with a pat of melted butter, some shavings of Fontina, and a grind of black pepper. And then I started in on another batch via Miss Beccaboo—I gave her a lesson in weighing, cleaning, stabbing, and baking potatoes, all the while calling the instructions to her from my spot on the sofa in front of the fire. I refuse to be without my new favorite food for any amount of time. I have fallen hard. Be still my beating heart and my salivating tastebuds, gnocchi will soon be yours once more.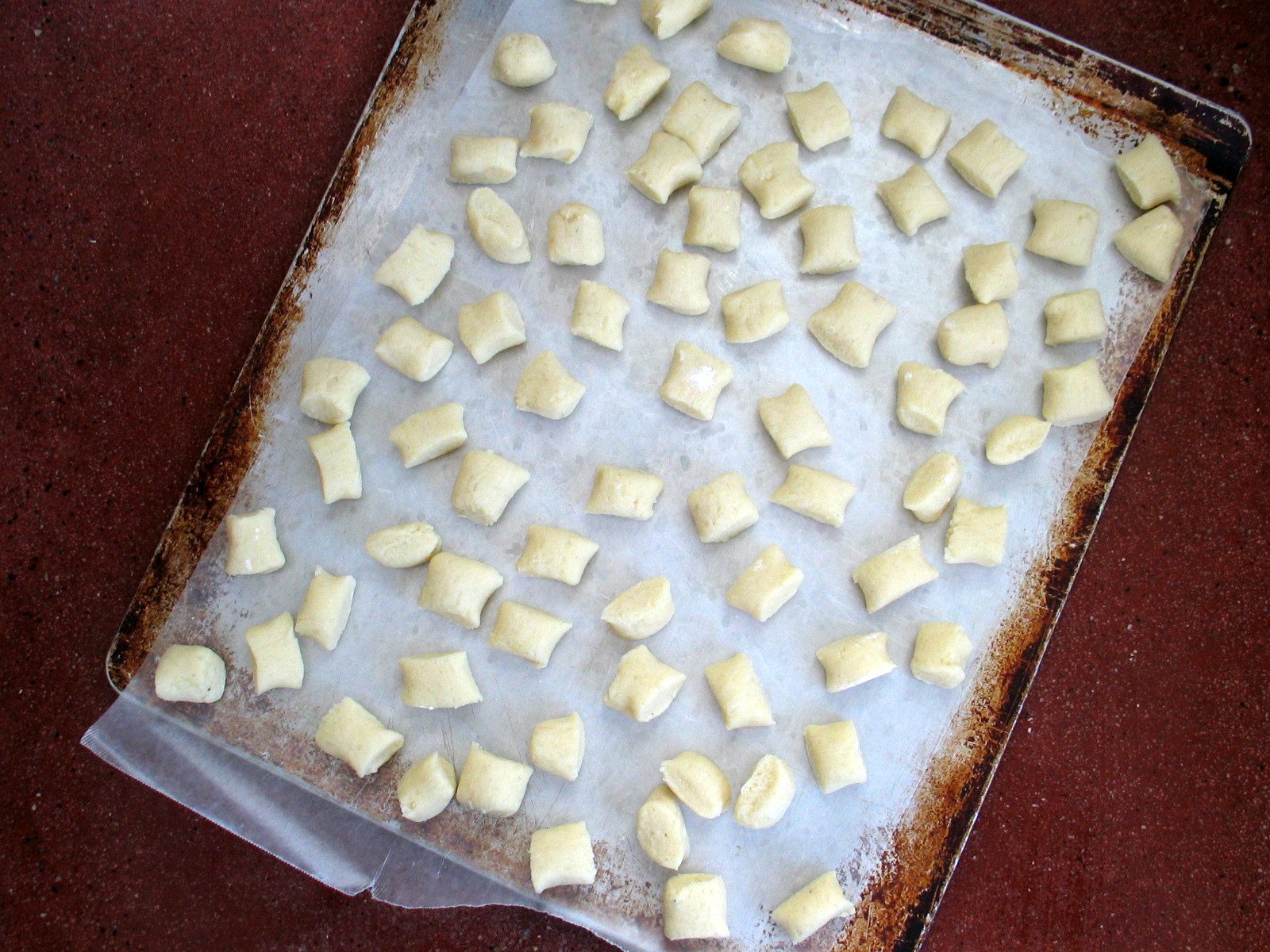 Cooked gnocchi can be kept covered in the fridge for several days—just needing to be briefly heated in the sauce of your choosing—and I've been obsessively imagining what kinds of sauces I might use. Mushrooms make up the bulk of my gnocchi visions (buttered mushrooms simmered in white wine with a shaving of Parmesan for the grand finale, perhaps?), but there is also Alfredo sauce and pesto and just plain browned butter and salt. I can't stop thinking about them.
They couldn't be much simpler to make.

Mash up the insides of some baked potato.

Stir in some flour, an egg yolk, a pinch of nutmeg, and salt.

Knead the dough lightly.

Roll the dough out into ropes and cut the ropes into pieces.

Boil the pieces for a few minutes in salted water.

Scoop them out with a slotted spoon and drizzle them with olive oil.
It's a piece of cake, or rather, a puff of potato.
P.S. I've taken to calling The Baby Nickel "my little Gnocchi" and biting his fat rosy cheeks. (I bite his cheeks all the time anyway, so it's only the gnocchi part that's new.) If I had known about gnocchi back when I started reproducing, I can guarantee that all my children would have gone by that nickname, the fat little white balls of dough they were. ("Were." My babies were. Oh, pangs of sadness, be gone!)

Do you see the resemblance?
Potato Gnocchi
Adapted from the February 2010 issue of Bon Appetit
Note: do not throw out the hollowed-out potato skins! Drizzle them with melted butter, add some S & P, dump on an avalanche of grated cheese (and crumbled bacon and black olives and anything else you want), and then bake them at 350 degrees till the cheese bubbles and browns. Serve them as an appetizer or snack, or as a part of the main meal, and your family will kiss your feet, or at the very least, clean their plates.
1 ½ pounds (about five or six medium) russet potatoes, washed and pricked with a fork
1 egg yolk
1 cup flour
1 teaspoon coarse sea salt
pinch of freshly grated nutmeg
1 tablespoon olive oil or melted butter
Bake the potatoes till fork-tender. Let them sit at room temperature until they have cooled halfway (take your best guess—there is no scientific process involved). Cut the potatoes in half and scoop the flesh into a bowl. Reserve the potato skins for a special treat (see note above).
Vigorously mash the potato with a hand-held ricer. Most of the lumps will be gone, but there will be a few tiny ones still left. Do not worry about those. Add the flour and toss to combine. Add the egg yolk, salt, and nutmeg, and, using a fork, stir to combine.
Turn the crumbly dough out onto a lightly floured counter and gently knead it till it comes together in a nice ball, using more flour as necessary (I didn't need to use much extra). Divide the dough into four equal parts and roll each part into a rope about three-quarter inches in diameter. Using a knife, cut the dough into three-fourth inch pieces and set them on a cookie sheet lined with wax paper.
Fill a kettle a third full with water, add salt, and bring it to a boil. Carefully drop the gnocchi in the water (you'll have to cook them in batches—how many batches will depend on the size of your kettle). When the gnocchi float to the surface, set the timer for three minutes. Give them a gentle stir every minute.
Test to see if the gnocchi are done by breaking one open—it should be even-colored the whole way through—no dark spots of heaviness. If they are not done, return them to the water for another minute. (The recipe said they would take four minutes to cook once they bobbed to the top, but I found that mine took only three minutes.)
Using a slotted spoon, transfer the gnocchi from the boiling water to a plate. Repeat the process till all the gnocchi have been boiled. Drizzle them with olive oil, or melted butter, and toss to coat. At this point they can be stored in the refrigerator for a couple days, or you can toss them with the sauce of your choice and serve immediately.
Yield: four servings
About one year ago: Physics Lesson. We still have not fixed the bumper and probably never will.