Shortly after my birthday, a box from Amazon arrived in the mail. In it were three cookbooks, courtesy of my mother: The Perfect Scoop by David Lebovitz, and The Pie and Pastry Bible and The Bread Bible, both by Rose Levy Beranbaum. I promptly started giggling gleefully, and then I had to whoop and holler too, just to release all that pent-up giddiness.
I've been poring through the cookbooks, patting sticky notes on the pages of recipes that appeal to me and then jotting down the special ingredients on those same bits of paper, the better to make my future grocery lists. I love immersing myself in another person's style of cooking, gradually catching on to their rhythms and methods, getting inside their minds so to speak. And of course I'm learning new information that, when added to some basic kitchen ingredients, gets transformed into something edible, and if I've done it right, delicious. In those cases, I'm not the only one who benefits from that birthday box of books.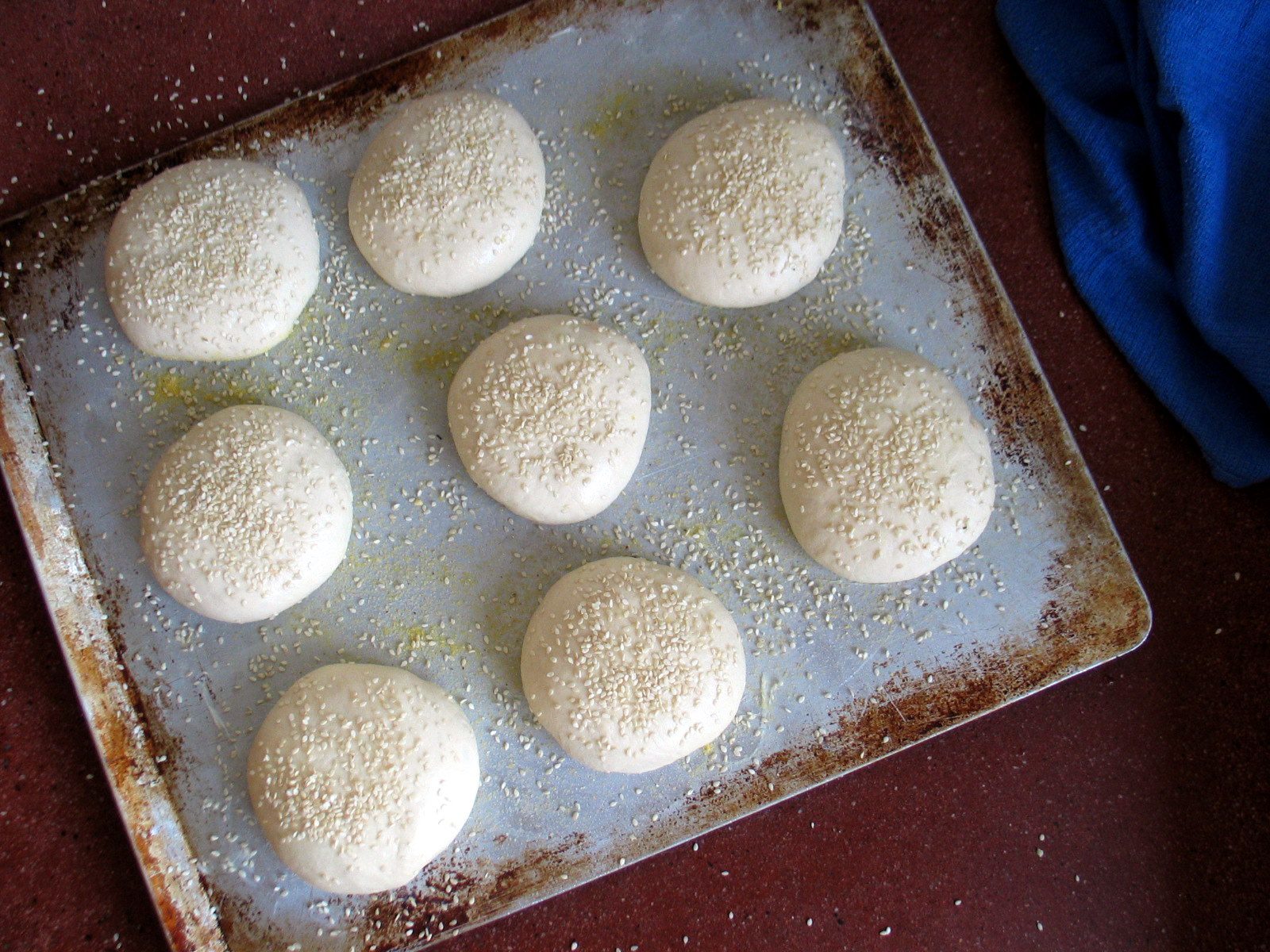 Yesterday I made hamburger buns.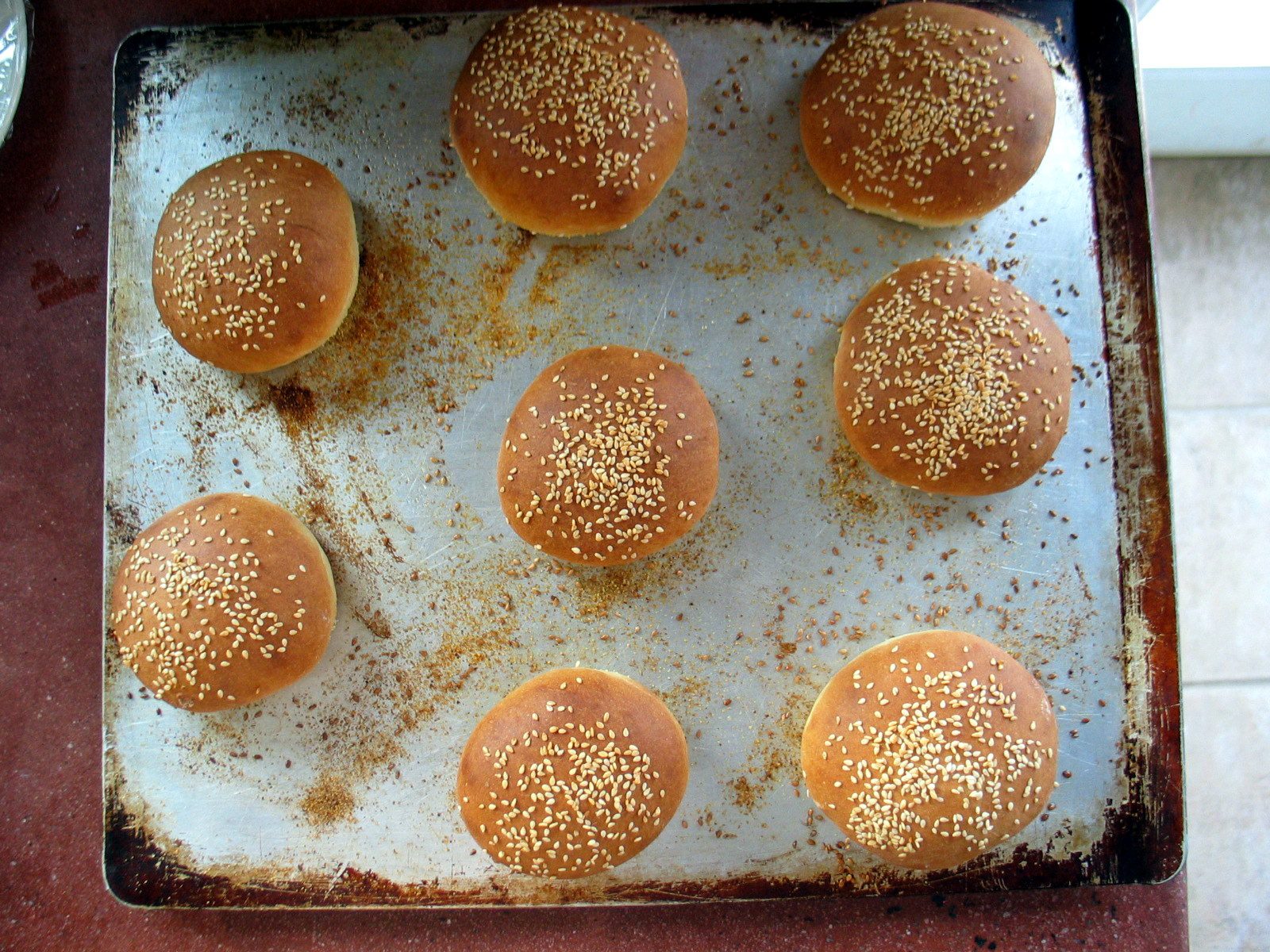 I've made my own hamburger buns before, but the resulting buns were always too bready and heavy and no one really liked them, so it just wasn't worth the effort. As a result, when we eat our burgers and dogs and sloppy joes, they're usually couched in cheap white buns (once in a while, in a moment of extravagance, I do purchase the more expensive brand of fortified air).

But after last night's dinner—sloppy joes on homemade buns and bowls of vegetable soup—I no longer have an excuse to buy those chemically-laced buns from the store. I now can make something better, much, much better—light-as-air homemade hamburger buns. I am totally impressed with myself.

(My kids were genuinely ecstatic. Yo-Yo came out to the kitchen and peeked under the cloth at tray of cooling buns and then ran out of the room yelling to his siblings, "Hey, guys! Mom made buns for supper! She made the buns for the sloppy joes!" Based on their level of enthusiasm, you would think I've never made bread before…)

Light-As-Air Hamburger Buns
Adapted from The Bread Bible by Rose Levy Beranbaum
This bread is not a healthy bread, nor does it pretend to be, but it certainly is a step up from store bought buns, no doubt about it. Rose quotes Michael Betterberry, publisher of Foods Arts magazine, as saying, after tasting this bread, "'Mmmm. . . . This is what Wonder Bread, in its soul, really always wanted to be!'"
Rose's recipes are fussy, but she has a reason (always has a reason) for why she does what she does. However, I cut out some steps and meshed methods and the bread still came out fabulous.
4 ½ cups plus 1 ½ tablespoons (1 pound and 7 ounces) all-purpose flour, divided
1 3/4 scant cups (14.3 ounces) cool water
2 tablespoons plus 1 teaspoon (1 ½ ounces) honey
1 ½ teaspoons yeast, divided
1/4 cup dry milk
9 tablespoons butter, softened
2 ½ teaspoons salt
1/4 cup sesame seeds, optional
For the sponge:
Combine 2 1/4 cups plus 2 ½ tablespoons (12 ounces) flour, the water, honey, and 3/4 teaspoons yeast, stir vigorously, cover the bowl with a shower cap and set aside.
For the dough:
In another bowl, whisk together the remaining flour (2 cups plus 3 tablespoons or 11 ounces), the dry milk, and the remaining 3/4 teaspoon yeast. Sprinkle it over the top of the sponge mixture, spreading it out evenly, but not mixing it in. Cover with the shower cap and set aside for one to four hours.
Mixing the dough:
Add the butter to the dough and mix (either with a sturdy wooden spoon or with a Kitchen Aid mixer) till combined. Let the dough rest for 20 minutes.
Add the salt and mix vigorously for 7 to 10 minutes (a Kitchen Aid is a lovely creation). The dough will be sticky.
Grease another mixing bowl with oil or butter and dump the sticky dough into it. Cover with the shower cap and set in a warm place to rise till double.
Baking the buns:
When the dough has risen, dump it out onto a well-floured counter. Using a knife, divide the dough into 16 pieces. With light hands (don't overwork the dough—you want to keep as much air in the dough as is possible), quickly shape the dough into buns and place them seam-side down on a baking sheet that has been greased and then sprinkled with cornmeal. Pat the buns down so they are somewhat flat. Do not overcrowd the buns (I only had eight buns on each baking sheet)—you want them to rise out and up, not up and into each other.
Cover the buns with a towel and let them rise for 45 to 60 minutes, or until doubled. If using the sesame seeds, spritz the buns with water and sprinkle them lightly with the seeds.
Bake the buns for 15 to 20 minutes (rotating the pans after the first ten minutes) in an oven that has been heated to 400 degrees. Cool the buns completely before slicing (the dough is so tender that it will mush if you cut them while they're still warm).
These are best eaten fresh. If you are not going to eat them within a few hours of baking, cool them to room temperature and then package in plastic bags and freeze. Thaw at room temperature and serve immediately (you may briefly warm them in the oven).
Sloppy Joes
Much adapted from the March 2009 issue of Country Living magazine
I sometimes add 2 tablespoons of tempero in place of, or in addition to, the onion and garlic. If using tempero, omit the salt.
2 pounds ground hamburger
1 medium onion, chopped
6 cloves garlic, minced
4-6 teaspoons chili powder
1 teaspoon dry mustard
½ teaspoon paprika (I used smoked paprika)
½-1 teaspoon salt
1/4 teaspoon ground ginger
2/3 cup ketchup
2 tablespoons Worcestershire sauce
Put the hamburger, onion, and garlic in a large kettle and cook till browned. Stir in the remaining ingredients, reduce the heat to low, and simmer for 20-30 minutes.
Serve on airy rolls.
Note: I am submitting this post to yeastspotting.
About One Year Ago: Ideas and Suggestions, in regards to reading material, fruit juice in granola, and pumpkin.