I don't know what we're going to do. Both our freezers—the upright and the chest—are packed to the gills. It is pure chaos in there, too, a veritable arctic jungle of different colored frozen blocks of vegetables and fruit. I cleaned the freezers out a couple months ago but since then we've added chickens, green beans, broccoli, corn, zucchini, chard, spinach, pesto, and pesto torte, and not in any particular order either. By the time I'm done putting up food, I usually can't stand to be around it for one second longer so I just toss it into the freezer and slam the door. As a result, everything is tossed together and I have no idea what is underneath the top layer.
I'm not sure why the freezers are so full this year because we didn't even freeze any applesauce or peaches, and at present there is no bread in the freezer (not counting one pack of hotdog buns and a couple mini loaves of zucchini bread). In fact, we've been flat out of bread and have been buying the chemical-laced-bags-of-puffed-air version (that Miss Becca Boo refuses to eat—I love that girl!), so I've started baking again, but then I ran into the freezer problem (I knew this would happen, but I proceeded as though I had all the freezer space in the world) so now the bread is sitting on the kitchen counter, all tidily bagged up, waiting for the other frozen foods to get either pulled and eaten, or else to magically disintegrate.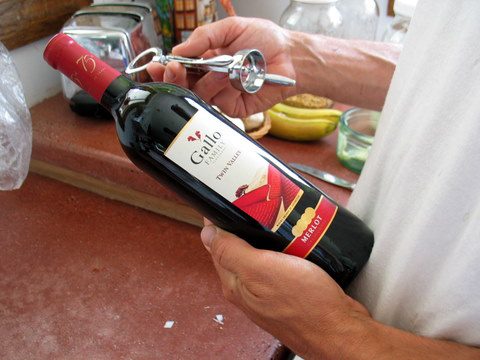 My refrigerator isn't much better off. I have big tubs of tomatoes in there, zucchinis (still!), cucumbers (still!), and jars of refrigerator pickles. I wasn't going to do any canning today, but then Mr. Handsome bought a gallon of milk on his way back from town (we all skipped church but he drove into town to go hang out at Dunkin' Donuts where other guys from our church gather for a "Sunday school class" for men who don't do Sunday school—the class was started by our previous pastor's husband) and we had to make room for that, so I sighed deeply, marshaled my forces, and started in on a batch of Tomato and Red Wine Sauce.

I still feel like I'm having a day of rest, though. (When I think back to last Sunday when we skipped church—two times in a row now, heaven help us!—and did twenty-something dozen ears of corn, and that after doing corn on Thursday, peaches on Friday, applesauce on Saturday, and then finishing off the pickled beets on Sunday morning before dealing with the corn—when I think of all that then I feel almost lazy…almost, but not quite.) While Mr. Handsome ran off to town, I lounged on the sofa and read library books to the kids. Then we watched an hour-long video about Nepal (they showed one of those monks lifting weights with his obviously-otherwise-useless male member, and my kids were so impressed that I felt obligated to give my boys a little never-ever-ever-try-that-yourself speech), and then I read some of our chapter book to the older kids. When Mr. Handsome showed up at eleven with a box of donuts, we indulged in a donut sampling party, and then didn't eat lunch till after one o'clock. Naps came next, and then Mr. Handsome joined me in the kitchen to help with the garlic and onion chopping. Now it's almost seven and time for our family night movie—tonight, Heidi—during which I'll have to get up numerous times to stir the sauce and then to finally can it. I hope to get everything done by nine o'clock so that I can go to bed early and wake up refreshed, ready to go pick more tomatoes.

Tomato and Red Wine Sauce
For a canned tomato sauce, this chunky sauce tastes amazingly fresh and light. I have made numerous different tomato sauces, but this is my favorite.
I use Roma tomatoes but any paste tomato will do.
If you don't have fresh herbs, substitute dry (about a half cup, maybe), though without the flecks of green, the finished product won't be quite as pretty.
Oil isn't typically used in water-bath canning because it neutralizes the acids, thus the reason for the extra lemon juice. However, if you prefer, you can use citric acid in place of the lemon juice (that's what I did this time), one-half teaspoon citric acid per quart of sauce.
8 quarts peeled and chopped Roma tomatoes
10 cups chopped onions
2 heads of garlic, cloves peeled and minced
1 cup olive oil
1 bottle red wine
3 cups of chopped, fresh herbs such as basil, oregano, thyme, and rosemary
2-3 tablespoons salt
1 tablespoon black pepper
3/4 cup lemon juice
In your largest soup pot, saute the onions and garlic in the olive oil. When the onions are translucent but not browned (about 15-20 minutes), add the chopped tomatoes and the bottle of wine. Simmer the sauce on medium-low heat, stirring every ten minutes, for about four hours, or until the sauce reaches the desired consistency. Add the fresh (or dried) herbs, the salt and pepper, and the lemon juice and cook for another ten minutes. Ladle the sauce into jars. Obsessively wipe the rim of the jars to remove all traces of oil. Process the jars in a hot water bath—fifteen minutes at a gentle boil.
Yield: About six to eight quarts of sauce, depending on how long you cooked it down.

About One Year Ago: Vegetable Beef Soup, Mustard Eggs, and Russian Pancakes.