Mr. Handsome brought home a friend's egg incubator and now we have thirty-some eggs cooking in the back hall.

The kids are excited, but to their little, only-in-the-present minds the twenty-one days they have to wait is a forever-long eternity.

They ought to try a 42 week-long pregnancy. Now that's waiting.
***
Why are the insides of my larger potatoes rotten? The outsides of the potatoes are gorgeous and firm, but the very centers are often yucky.
And in the same potato-y vein: Why is it that when I boil my potatoes, the outsides stay firm while the very centers tend to get a bit mushy-slimy? Does it have anything to do with the fact that I test the potatoes for doneness with a fork—do the fork marks allow for the boiling water to enter and sog up my potatoes' insides?
***
Coming home from church on Sunday I realized that I had no quick food on hand for lunch. If it had been just us, we might have eaten granola and yogurt and called it a meal, but Yo-Yo had a friend along and I felt responsible for providing something a bit more well-rounded.
The day before I had cooked some starches to have on hand for the following week—a pot of brown rice and a large pile of new potatoes that I boiled, peeled, and then stuck in the fridge—so those were the foods I had to work with. Not very exciting, huh?
Once home, the kids ran off to play and I headed to my cookbook shelf to work on the food situation. I found just what I was looking for: a quick variation on scalloped potatoes that called for grated cooked potatoes with cheese, onions, and bread crumbs and then melted butter and milk poured over top. I set to work, adding some chopped ham to the potatoes, and for a side vegetable, putting a pot of peas on to boil. (Dessert was raspberry-lemon cake, whipped cream, and seedless raspberry sauce, all pre-made.)
The verdict? Mr. Handsome and I both loved the potatoes—pure comfort food and better than macaroni and cheese—and Yo-Yo's friend had three helpings.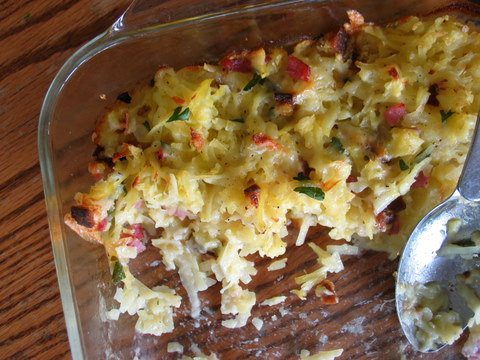 All in all, it was a pretty fine solution to a last-minute, no-thinking-ahead meal. In fact, it was almost exciting!
Cottage Potatoes
Adapted from Mennonite Country-Style Recipes by Esther H. Shank
Add sausage or bacon in place of the ham, or omit the meat altogether.
8 cups cooked, peeled, and grated potatoes
1/2 cup minced onion
2 tablespoons parsley, chopped
1 teaspoon salt
1/4 teaspoon black pepper
½ cup bread crumbs
½ cup deli ham, chopped fairly small
1 cup cheddar cheese, grated
1 ½ cup milk
4 tablespoons butter
Heat the milk and butter in a saucepan till the milk is hot and the butter has melted. Stir in the salt and pepper. Set aside.
In a large bowl, combine the grated potatoes, onion, bread crumbs, ham, parsley, and cheese and stir to combine. Put the mixture into a greased 9 x 12 baking dish, pour the hot milk over top, and bake, uncovered at 350 degrees for 30 minutes.
One year ago: Fruit Cobbler. (Excuse the dark, night-time pictures.)