I told you I would post about this Strawberry Margarita Pie, and now I wish I hadn't promised that because I have other, more pressing things (chicken, cherries, and cheese—but I'm not making any promises), to write about. However, a promise is a promise, so here's the pie, coming at you.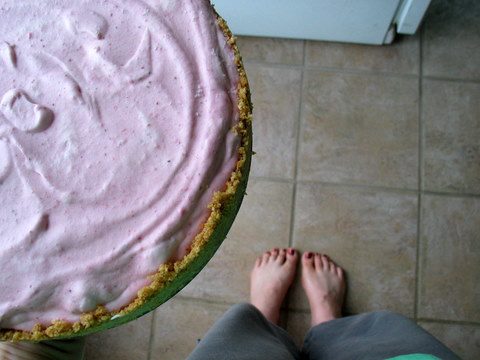 This pie (more a cake, in my mind) is not something I'm going to whip up all that often, and that's possibly the reason I'm dragging my feet when it comes to giving you the recipe. It's not that I don't like the cake; on the contrary, I think it is delicious. It's just that it's not a very practical recipe: my kids can't eat it (though they beg for bites) and many of my friends and family don't like the taste of alcohol. Also, it's not the type of thing that you want to eat with an afternoon cup of coffee, so I don't get around to eating it, choosing instead to eat pastry-type goodies (like those white chocolate and dried cherry scones) with my coffee.

So, under what circumstances would a person like me want to make this cake? It would be perfect for a summer evening gathering of giggling girlfriends because, after all, it's pink.

Strawberry Margarita Cake
Adapted from Cookie Baker Lynn's blog
No baking is involved—a plus for a summertime dessert.
I make my graham cracker crumbs by blending the crackers, a few at a time, in the blender.
The alcohol flavors are not disguised in any way, so if you don't like alcohol, this will not be your thing. But the opposite is also true: If you like alcohol, then you will most certainly adore this cake.

2 cups strawberries, washed, hulled, and sliced
10 tablespoons sugar, divided
1 3/4 cups graham cracker crumbs
½ cup butter, melted
3/4 cup sweetened condensed milk
7 tablespoons tequila
6 tablespoons Triple Sec
1 tablespoon lime juice
2 cups whipping cream
More sliced and sweetened berries and sweetened whipped cream, for garnish (optional)
For the crust:
Stir together the graham cracker crumbs, the melted butter and 6 tablespoons of the sugar. Press the crumbs into the bottom and up the sides of a greased, 9-inch springform pan.
For the filling:
Whip the cream until it forms stiff peaks. Set aside.
Put the strawberries, remaining 4 tablespoons of sugar, the milk, liquors, and lime juice in a blender and blend until combined.

Pour the strawberry mixture into a mixing bowl and beat in one-third of the whipped cream. Once combined, whisk in the remaining whipped cream. Pour the filling into the crust, cover well with plastic wrap, and freeze till solid.
To serve:
Run a knife around the edges of the pan and remove the side. Serve each slice of cake with sweetened sliced strawberries and extra whipped cream.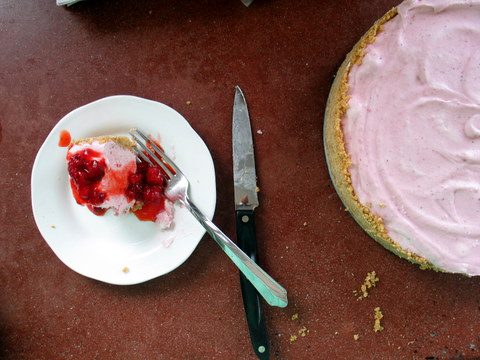 Yield: 8-16 servings, depending on how you hold your liquor.