Like I twittered, I've been craving chocolate, so today I decided to make Silverton's Warm Sourdough Chocolate Cake. I have no idea why I waited so long.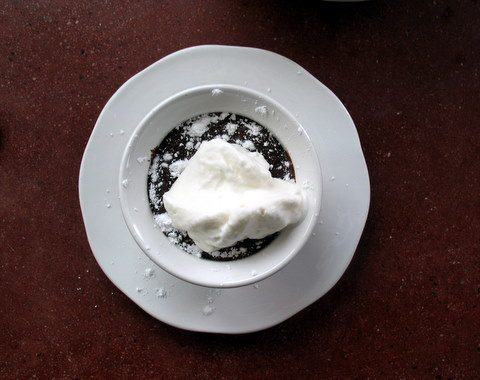 Let's cut to the chase, shall we? News this good is not to be dilly-dallied with.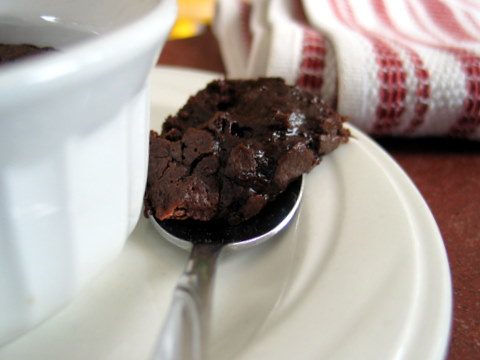 It's a crazy simple recipe, really. All you need is fourteen ounces of bittersweet chocolate, the more expensive and high-end the better since the chocolate is the main ingredient. However, I didn't follow directions and instead (it was all I had) used the bars of Hershey's dark that my girlfriend picked up for me at a discount grocery—99 cents for a half-pound bar—and it still turned out intoxicating. Besides the chocolate, you'll need three-and-a-half eggs, three tablespoons sugar, a quarter-cup of cream and a quarter-cup of starter.

That's it.

Well, what are you waiting for? Snap to it!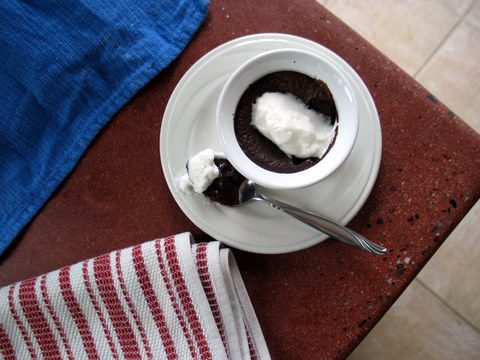 Warm Sourdough Chocolate Cakes
Adapted from Nancy Silverton's Breads from the La Brea Bakery
While supremely elegant, these cakes have no frills, and you may, if so inspired, wish to play around. I kept thinking a little booze might be nice, maybe in the whipped cream I spooned on top, or maybe in the batter itself. Or, if you're not spirit-inclined, you could drizzle over some caramel sauce, or maybe artsily sprinkle about some red-raspberries.

These cakes are supposed to be baked in molds set on oven-safe dessert plates—then, after removing them from the oven, you simply slip off the molds (Silverton says tuna cans with both ends cut out of them will work fine), plate the hot dessert plate on a larger dessert plate and serve. I'm sure it would all be very elegant, but I used ungreased ramekins instead and they turned out just fine. I used four two-ounce ramekins and five four-ounce ramekins because that was all I had, but I think it would be better to use more of the smaller-sized dishes—these are some hefty-rich cakes and you only need a small amount to get your kicks.

The fantastic thing about this dessert is that it can be made ahead, maybe even a day or two, and stored in the fridge in the molds all ready to go into the oven. So you can have your fancy company over and towards the end of the meal you pop the cakes into the hot oven and start the coffee to percolating and by the time you've finished up your dinner, the molten cakes are coming out of the oven. Just dollop or dip the whipped or frozen cream, and there you have it.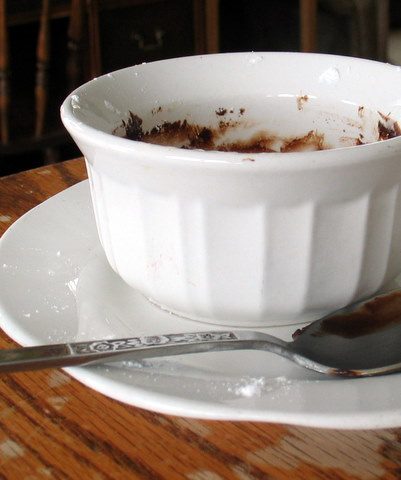 I do not know how these cakes keep. You are supposed to eat them warm, but well, not everyone has enough people on hand to eat up all these little cakes as they come out of the oven. I had one (my second) at room temperature and it was lovely. I'm going to try refrigerating most of them and freezing a couple, just to experiment. Thawed and flash-baked, I bet they'll be as good as new.
14 ounces bittersweet chocolate
1 whole egg
2 eggs yolks
3 egg whites
3 tablespoons sugar, divided (I used vanilla sugar)
1/4 cup cream
1/4 cup white starter (make sure there are no flour lumps)
Break the chocolate into pieces and microwave till melted, stirring every thirty seconds or so. Set aside, but do not let it get cold.
Whip the cream and put it in the fridge.
Whip the egg whites with one tablespoon of the sugar and set aside.
Using a mixer, beat the whole egg, the two egg yolks, and the two tablespoons sugar for about five minutes, until very thick and creamy.
Add half of the chocolate to the egg and sugar mixture, along with the starter and whipped cream. Stir gently, but well. Fold in the egg whites and then add the remaining chocolate.
Fill ungreased ramekins three-fourths full, set them on a baking tray, and bake in a 500 degree oven for five-six minutes. Only the edges will be softly set; the middles will still be quite jiggly and wet.
Serve warm, with whipped cream or vanilla ice cream.
Ps. For a fun bread blog (lots of sourdough), visit Yeast Spottings. I submitted this post to that site, so hopefully I'll be showing up there sometime in the near future.
Also, I'm starting a list of bread links in the sidebar. If you have a favorite bread blog, please send me the link so I can check it out. Thanks!
Update, April 4, 2009
I was right—these freeze beautifully. I just thawed one at room temperature and then heated it in the microwave for a few seconds, topped it with some homemade vanilla ice cream and some sour cherry sauce. I'm swooning.